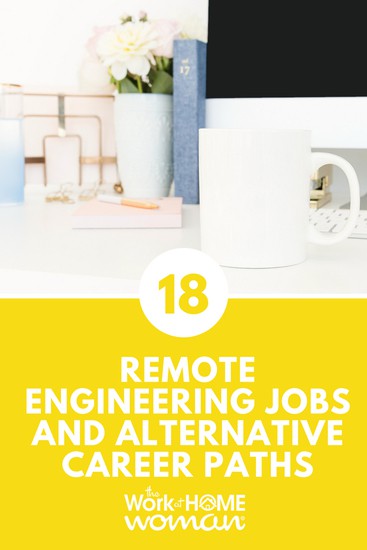 As a gal that's married to an engineer, a daughter of an engineer, and sister-in-law of an engineer, I know how hands-on the engineering field can be, which often makes it difficult for engineers to work remotely.
But, if you're ready to ditch the commute and have a more flexible schedule, I've got good news! There are many companies that hire for remote engineering jobs! And if your passion for engineering is gone, I have some viable alternative career paths as well.
Read on to see what I uncovered.
Companies That Hire For Remote Engineering Jobs
If you still enjoy the logical and solution-focused side of being an engineer but want to have more time with your family, here are some companies that regularly hire engineers for telecommuting positions. I tried to include the types of engineers that each company hires for — but by no means is the list extensive. Be sure to view the company website for full job descriptions and positions available.
Aeolus Robotics employs over 100 different types of engineers and they're always looking for new, innovative individuals who are passionate about advancements in robotics. Telecommuting job opportunities for mechanical engineers and software engineers are available around the globe.
Remote chemical engineers who work for Chemours have a strong passion for the impact chemistry can make on society as well as strong multitasking skills. According to Glassdoor, hourly engineers for the company earned about $24 per hour, and salaried engineers earn anywhere from $73,000 to $135,000 per year.
Contech offers a wide range of remote engineering opportunities. Stormwater design engineers, for example, work with civil engineers, assisting with the design process and helping create solutions to problems related to stormwater systems. Home-based sales engineers work with the engineering and sales team, providing valuable advice and expertise.
Dell, the well-known global technology company, offers a wide array of remote opportunities for computer engineers, software engineers, and more. Positions at Dell are often geared toward those in the computer sciences fields, but they also offer work-at-home engineering jobs in other tech-related areas as well.
Nationwide engineering company, Donan specializes in forensic investigation. Members of the Donan engineering team typically assist with tasks like soil and foundation investigations, fire investigations, and component testing to name a few.
When you think of tech giant, IBM, you probably think of software and computer engineers, but their project portfolio is enormous. With so many different areas of expertise throughout the organization, jobs range from microwave design engineers to reliability engineers, web systems engineers, and more.
Kelly Services is a staffing agency who helps place mechanical engineers, chemical engineers, and civil engineers in the fields of information technology, life sciences, and more. They match thousands of people from around the globe with remote positions within the engineering occupation (as well as other highly-sought-after occupations too).
Kforce is a recruiting website that connects people in the fields of technology and finance. They work with thousands of companies around the globe offering work-at-home job opportunities as application engineers, biomedical engineers, and industrial engineers.
MapD is an innovative and environmentally conscious organization that believes engineers are the backbone of everything they do. They're the inventors of the world's speediest open-source analytics technology system. Remote site reliability engineers are tasked with maintaining this platform and ensuring everything runs as it's supposed to. If you are passionate about making the world a better place, MapD may be a great place to perform remote engineer work.
Stanley Robotics is a tech company based in Paris, France, and is focused on the development of automated valet parking systems. There are many work-from-home job opportunities through Stanley Robotics, such as mechanical engineers, electrical engineers and more.
Another Place to Find Work-From-Home Engineering Jobs:
11. FlexJobs
If you don't want to scour the web searching for remote engineering jobs, check out FlexJobs. It's a paid membership site that specializes in flexible and telecommuting positions. What I love about FlexJobs is they hand-screen every listing for legitimacy, so you never have to worry about scams, and they post listings by job category and telecommuting level, so you'll save tons of time. At the time of writing this post, they had remote jobs for environmental engineers, civil engineers, radio frequency engineers, mechanical engineers, and so many more!
Alternative Career Paths for Engineers:
For engineers who wish to leave the field and work-from-home in a new capacity, there are many flexible options available. Here are some non-traditional work-at-home jobs for engineers with examples of engineers who have found success in the field.
Do you have a passion for cooking, travel, parenting, finance, or fashion? Then starting your own blog could be a great way for you to make money, work-from-home, and write on a topic that you're passionate about. Once you've built up a solid audience to your site through social media, email marketing, and SEO, you can earn money through:
Ad Networks (Media.net, Adsense, or Raptive)
Product creation
My friend, Heather Hernandez from Freebies4Mom, quit her engineering job to become a stay-at-home mom. Wanting to find a way to earn income from home, she started her blog which teaches others how to save money. Heather has been earning a full-time income from her blog since 2009.
If you're interested in blogging, I have a simple step-by-step tutorial right here. Plus, when you sign-up through my affiliate link you get a special discount on your hosting.

I bet you're detail-oriented, great with numbers, and adept at organizing data. Which makes bookkeeping the perfect flexible and alternative career path for engineers. In this occupation, you can choose to work with a telecommuting company, or you can start your own business.
My friend, Melissa Collings of Journey Bookkeeping, quit her full-time engineering job and now runs a successful bookkeeping business from home. In fact, here's what she had to say:
"I knew I wanted a family-oriented business that would allow me the flexibility to grow and also raise a family. I'm now happily able to balance my family life and my professional life with a growing number of clients each month."
Want to find out more about starting your own bookkeeping business? Check out this free training from the Bookkeepers.
As an engineer, you probably know a lot about technology and mechanical processes, throw in the desire to write, and you could work from home as a copywriter. Copywriting is a form of persuasive writing used in advertising, commercials, and promotional materials; and your experience in the engineering field could put you in high demand.
John Cole is a systems engineer who is a copywriter—he even calls himself the Copy Engineer! John has found a ton of success in this field because, as he puts it, he's "a copywriter who understands technology." This unique perspective differentiates John from other writers who may not share the same background.
If you're interested in pursuing copywriting, check out Peter Bowerman's book, The Well-Fed Writer: Financial Self-Sufficiency as a Commercial Freelancer in Six Months or Less.
For more advanced courses in copywriting, check out American Writers & Artists Inc. — they have copywriting courses for all the various niches.
Share your engineering knowledge by creating a unique online course. As an engineering expert, you can contribute your knowledge through eBooks, online lectures, and personalized feedback. Skillshare is a great platform that allows experts in any field to create their own online classes in video format. In fact, Dana Knight is a Ph.D. student in industrial engineering that has used Skillshare to create a number of engineering courses.
With Skillshare, you earn money each time a student signs up for your online class. According to their website, top teachers make up to $40,000 a year. Of course, Skillshare isn't the only platform like this; this article lists a bunch of online platforms that you can use to sell your expertise, whether it's engineering or something else entirely.
16. Become an Inventor
As an engineer, you probably have a ton of great ideas! Maybe you even have a patent or two. If so, you could join the world of entrepreneurship by inventing something new. One such engineer that took this path is Debbie Sterling, the inventor, and CEO of Goldie Blox. As an educated, female mechanical engineer, she saw a huge need for more dynamic toys made for girls—to introduce them to engineering and ignite their passion for STEM learning at a young age. In a male-dominated industry, Debbie has found a lot of success. Her company continues to grow and thrive, all while making a positive impact in the world.
In our technology-focused society, there are lots of businesses that need savvy social media managers who know their way around platforms like Facebook, Twitter, Pinterest, Instagram, and more. Merry Kuchle is a self-made social media manager who has found success freelancing her services. She studied engineering in college but switched career paths years ago to try something new. Here's what she had to say:
"I'm a Chemical Engineer by degree. I left engineering in 2012 after 13 years in the field holding various roles including process engineer, inside sales, account management, and marketing. I now work from home on MerryAboutTown.com.
The choice to leave engineering wasn't predicated on just one thing. My son was born in 2007, and I worked while he was a small child, but once he entered school, I needed more flexibility. Since my husband and I worked in the same field (and often for over 50 hours a week), it made sense for one of us to step back to handle the school challenges our son (later diagnosed with ADD) was having.
It was easy for me to decide that I would be the one to step back because engineering was never my passion. Growing up poor, I chose a career based on earning potential instead of desire. After 13 years, it was time to step away and look for more interesting and creative exploits. Six years later, I am enjoying working from home while raising my son."
Another friend (who worked with my husband) decided to leave her mechanical engineering position behind when both her kids were in elementary school. Her kids were heavily involved in sports and she needed to run them around to games and practices. To help supplement her family's income, she started tutoring neighborhood kids in math.
Remote tutoring is a great opportunity for engineers to utilize their expertise and help others learn. Tutoring allows you to work with a wide range of individuals, from young kids to college students, helping them get their degrees in a variety of subjects, including those involved in the field of engineering.
With tutoring, you can choose to work as an independent contractor for a company like Kaplan or Sylvan Learning, or you can start your own home-based tutoring business.
Conclusion.
There are many opportunities to work from home in the engineering field and many different companies that employ all types of engineers. On the other hand, if you're looking for a new career path, there are many diverse options that will allow you to pull from your pool of experience and knowledge, while still working from the comfort of your home!
Are you an engineer looking for a new career path? Do any of these work-from-home options resonate with you? Drop us a note; we'd love to hear from you!