I decided back in December that this year was going to be my year to go big. I wrote down my goals, set up my roadmap, and set the wheels in motion.
One of these goals was to hire a PR professional to secure some media coverage for The Work at Home Woman's two year blog anniversary. I honestly didn't think past the point of hiring the PR guy.
But then it happened.
I received an email saying, "Austin Live wants to book you"!
I've never been on TV before, and now that it was a reality, I was very nervous. What if I get tongue-tied? What if my voice quivers? What if I get stage fright?
I only had a couple of days to prepare for the interview, but here is what I learned and I hope you can benefit from these tips when you make your debut TV appearance.
1. Practice What You're Going to Say
When you secure your interview, you will be given a few key points that the correspondent will want to discuss with you. Take these key points and write down a few main areas that you wish to talk about. Don't write a full script to memorize, but a loose script to just help jog your memory. Keep your tone conversational and pretend that you're chatting with a friend. If you over-prepared, you will most likely come off as robotic, and you could be thrown off by a surprise question.
As my husband says, "You are the only one that is an expert on yourself and your business."
I also recommend answering practice questions out loud – this way you'll be able to hear what phrases sound good and you won't be at a loss for words when the time comes.
2. Your Appearance
Dress in dark or vibrant colors. You rarely see news correspondents in pastels, and there is a good reason why – the bright lights will wash you out. Not thinking about it, I wore a light pink sweater, and in my segment, I looked very pale. I also suggest wearing a little bit darker makeup than you normally do for the same reason. And before you go on double check your appearance in a mirror to make sure that your hair is in place and that your lipstick isn't smeared on your teeth. Of course, we are our own worst critics when it comes to our appearances.
3. Remember Your Body Mechanics
Often when people get nervous, they will start to shift their weight, nervously bounce their leg, or start fiddling around with their hands. I was given the advice to plant my feet and I, of course, took this to the opposite extreme of being too stiff. My advice is to plant yourself into a position, but loosely – try to relax your body and be as casual as possible. And remember to look at the interviewer, not the cameras – the cameras will grab the positions and angles that they want.
4. Remaining Calm
Even people who frequently make TV appearances get nervous –  it's just a fact of life. What worked for me was not to focus and obsess on the upcoming interview. And when that little voice inside my head popped up trying to freak me out, I would come back with my positive mantra. Because I knew I was going to be nervous, I decided to cut out caffeine and sugar on the day of the appearance – because we all know that sugar and caffeine tend to trigger anxiety.
And remember to eat a good meal before you go, you don't want to faint from low blood sugar or have a grumbly tummy.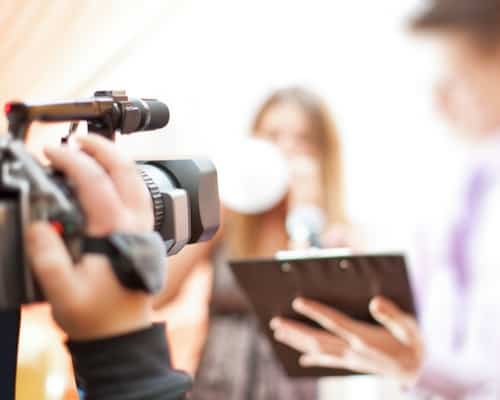 5. What to Plan For
How much information you get ahead of time will depend on that station. But here are some things to take into consideration:
Standing or Sitting – This is a nice piece of information to know, may factor into what shoes and clothing you wear and how you will position yourself.
Live or Pre-Taped – If you're not good at thinking on your feet you may want to decline a live interview. With pre-taped interviews, the information can be edited.
Props – You will need to bring all props including stands and boxes to display items on. They may also request screenshots from your website – so be prepared.
Water – Drink plenty of water before the show to lubricate your vocal cords. You don't want to be caught on camera with a frog in your throat.
Keeping Occupied – I wasn't given the exact time of my segment, so I had 90 minutes before I went on air. I wish I would have had a book to read so that I could have kept my mind occupied before the interview. Idle time just gives you more time to get nervous – so come prepared for downtime.
Directions – Make sure to get there on time – because if you don't, you will most likely be cut from the segment. Know where you are going by pre-mapping the locale and allow more than enough time to get there.
Conclusion
By doing a little pre-planning, practice, and preparation, you can display the air of being cool, calm, and collected during your TV interview.
What tips do you have for remaining cool, calm, and collected on TV?