With Valentine's Day coming up, it's a great opportunity for your small business to use it as a marketing strategy.
Here are 10 Valentine's promotion ideas for your business.
1. Special "We Heart Our Customers" Discount
To show your appreciation to existing customers, give them a special deep discount. It should be more than you offer any potential customer, such as 50% off a single item.
2. Send a Heartfelt Email
Not every marketing idea has to center around selling. Send a nice email to your customer list telling them you appreciate them and why. As a small business owner, you may have a more intimate relationship with your customers than a large corporation would, so use that to your advantage to build and nurture the relationships.
3. Decorate with Hearts
If you own a retail store, spread a little love throughout your store with paper hearts and cupids. Not only with this create an air of festivity, but it will also get shoppers in the mood to find something special for their Valentine's Day.
4. Package Items Together
Choose a few products to bundle together. You can even bundle a popular item with one that isn't selling well. You'll see more people pick up the bundles as an added-value item than would buy them separately. Focus on good gifts for the holiday.
5. Send Paper Valentines
Just like you might send Christmas cards to your clients in the winter, send Valentine's Day cards now. It's a thoughtful way to show you're thinking about your clients, and it will keep you at the top of their minds.
6. Create Gift Baskets
If you're in retail, put together easy gift ideas by packaging beautiful baskets with some of your key products. This will especially appeal to men who shop at the last minute and need quick ideas.
7. Blog About Gift Ideas
If you use a blog to market your business, write about gift ideas for men and women so that your customers read it and then shop your store. By making it easy to get gift ideas, you're connecting with new customers and making their shopping trip a breeze.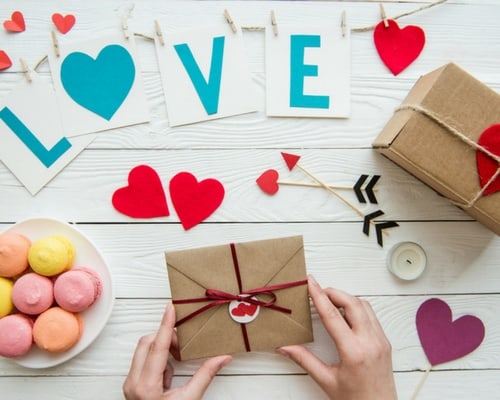 8. Get Social
Share a special Valentine's promo code on Facebook and Twitter, only good for your social media followers. You can pick up new customers in this way, and reward those that are already loyal customers.
9. Post Love Notes on Facebook
Another great social media strategy you can use for Valentine's Day is to post a "love note" to your customers and fans on Facebook each day in February. Just a heartfelt message, such as "we love our customer who always brings in her sweet poodle to the store!"
10. Let Customers Show Their Love
Hang a large chalkboard or whiteboard at the front of your store, and write "I Love _________." Then let customers fill in the blank. It's a great interactive addition to your store, and one they'll tell their friends about!
How do you promote your small business in the winter? How can you incorporate Valentine's promotions into your marketing strategy? Would love to hear your ideas and thoughts!