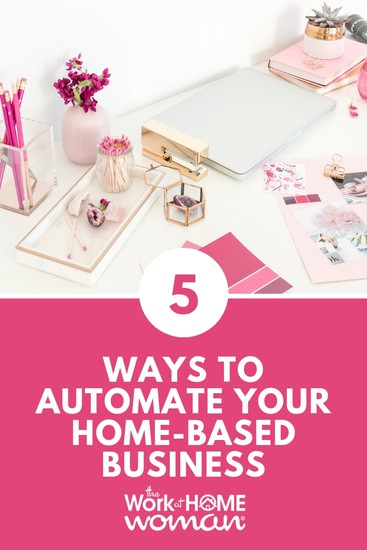 Let me ask you a question: How does the start of your typical workday look?
Is it filled with email responses, follow-up emails, schedule sorting, social media posting, and more tedious and repetitive tasks like those?
If you're like most women working from home, half of your day ends up being consumed by all of the little things. While those little things are essential to keep your business growing, you could probably do them with your eyes closed by now.
Imagine how much time you'd save if you weren't manually keeping the whole show running behind the scenes. I mean, think of all the projects you could finally finish or the leads you could land if you got back just a few extra hours each day.
It'd be huge, right?
By automating your business, you can do precisely that. You can take all of the tedious little tasks that take so much extra time, and set them on autopilot. Think of it like bringing on a full-time assistant, but without all the hiring, paperwork, and management.
Here's How to Automate Your Business and Get Hours of Time Back Each Day:
1. Streamline Payments
Whether you're selling physical products, digital products, or services, one of the absolute best ways to get back hours of time each week is by automating your payments.
When starting out, businesses and freelancers tend to choose the easiest and cheapest options for standard practices like collecting payments. Naturally, that sends a lot of them to platforms like PayPal. And while that's completely fine, many of those same people keep using their personal PayPal accounts once they've severely outgrown them.
Choosing a good payment processor that not only accepts payments but also automates refunds, chargebacks, and failed payments saves both time and stress. Instead of sending clients a link to pay with or creating an individual invoice for every purchase made, you can simply set up a payment page and let customers take it from there.
Shopify is a perfect platform for selling absolutely anything online (you can use them to sell services, too), although processors like PayPal Business and Stripe are great, as well.
Related Content: Why You Should Use Online Accounting Software Over a Spreadsheet
2. Set Up a Home Base
No matter what kind of business you're running, you need an operations base — your online headquarters for everything business-related, including calendars, files, communication, and more.
A good project management app can work wonders for helping you automate. My app of choice is Asana, which lets you do things like:
Create projects, with tasks and subtasks within each project
Assign tasks to individual users or employees with unique deadlines
Manage your calendar, whether you use it for publishing content, client work, or anything in between
Chat with your team or partners and share files within tasks and projects
The best part is, instead of constantly scheduling your tasks as they come, a project management app lets you can create repeating tasks and deadlines. That means you'll never have to remember when to write your next blog post, who's supposed to send that client email, or what day you intended to follow up with a customer. A project management app will handle all that for you. Talk about a weight lifted.
3. Choose an Email Marketing Tool
There are countless email marketing tools out there, no matter your budget. That means there's absolutely no reason not to make use of one — even if you're not doing email marketing yet.
On a small scale, think of an email marketing tool as an autoresponder. Let's use MailChimp as an example because of its free option for small businesses.
With MailChimp, anytime someone sends you an email, you can automatically reply. For example, maybe a customer is reaching out through a contact form on your copywriting services website. Instead of making them wait until you have time to reply, MailChimp can send them a personalized response with a number of options for that potential customer to choose.
On a slightly larger scale, you could program MailChimp to send follow-up emails, too — such as a series of emails offering helpful tips that might surprise and delight anyone who reaches out.
Taking it a step further, since building an email list is one of the best things you can do for your business, why not go all-in? With an email marketing service, you can add an opt-in box to your website that allows visitors to sign up and then automatically sends them emails for weeks to follow.
Without a good email marketing tool, you'll be slaving away responding to clients (and losing valuable leads in the process), letting customer questions fall through the cracks, or losing hours of time manually reaching out to your audience.

4. Let Go of Day-to-Day Social Media
Social media can be fantastic for business or detrimental to your productivity.
It's wonderful when you're able to build a large, yet close-knit following — one that supports and engages with you.
It's not so wonderful when half your time is spent creating and scheduling posts each day, causing you to cram to get in all of your other work.
If you ever feel like your social media efforts are going nowhere or that it's simply taking too much time, you need to automate it.
Tools like SocialBee or SmarterQueue were created to not only relieve you from your daily social media management but also to reduce the amount of time you need to spend creating fresh content.
With a tool like SmarterQueue, for example, you can schedule all of your posts for all your social media profiles on one calendar, then have them automated to repeat at certain times. You can also schedule outside content from within the app, keeping all of your social media tasks in one place.
If you take a moment to imagine only spending a few hours each month (or even every few months) doing social media, you'll realize exactly why you need a tool to automate the process. There's no doubt this task plays a significant part in your day-to-day schedule, but it doesn't have to.
5. Use IFTTT
IFTTT stands for "if this, then that."
IFTTT.com is an app that connects your devices and other apps to set up "if this, then that" scenarios between them. In other words, if one thing happens in one app, something else can happen in another.
Here are a few examples of how you can put it to work:
"If you create a new Instagram video, it automatically gets shared to Twitter."
"If you get an email with a new attachment, it automatically saves to your Google Drive."
"If you "star" an email, it automatically gets added to Evernote."
The list could go on, but you get the idea. With the app, you can automate all of the little tasks that eat away at your time. It works with your email, calendar, contacts, smart devices, social media accounts, and so much more. If you find yourself continually repeating little tasks throughout the day, create a free IFTTT account and get set up right away
What Can Business Automation Do for Me?
If you're like me, you have a mountain of tasks standing before you each day, from little "to-dos," to large-scale projects. It's hard to keep it all running along smoothly, especially when you're trying to balance all your "life stuff" at the same time.
By automating as many business tasks as possible, you could potentially save yourself hours of work each day. Hours! And if you're running your business as a small operation — without bringing on a whole team of employees — automation could be the only way to continue to scale and grow.
Start by giving your business a daily assessment. As you go throughout your workday this week, make a note each time you do a specific task more than once. My guess is after a full seven days you'll probably have a couple of pages worth. From there, go through the steps above to automate as many of those tasks as you can, whether it's with email, an app, or a good payment processor.
Once you have your first set of tasks automated, go through the next week making notes each time you repeat a task and find ways to automate them. After several weeks of rinsing and repeating, you might just find you're working way more than you need to.
How do you automate your business? Drop us a note; we'd love to hear from you!
Kristen Youngs co-operates two online businesses while traveling the world full-time. Visit her website, One Bag Nomad, to learn how to travel as long as you want and build a successful online business, completely location-free. You can also visit her on Pinterest.