Every morning, I go through my routine of checking my stats and reviewing my latest earning report on Google Adsense. However, when I tried to log in to my AdSense account, I got the following message:
"Your AdSense account for this login is currently disabled. We recommend checking your email inboxes for any messages we may have sent you regarding your account status. Sometimes our messages can be caught by email filters, so please be sure to check the Bulk/Spam folders of your email accounts as well. If your account was disabled for invalid click activity, please visit our Disabled Account FAQ for more information".
I immediately went to check my email for further information, as I couldn't figure out why my AdSense account would be disabled. If you've been reading The Work at Home Woman for any length of time, you know that I'm religious about acting with integrity and following the rules.
When I found the email about my AdSense account, it said that my account had been disabled due to invalid click activity. Of course, this seemed ridiculous to me, because I would never jeopardize my reputation or revenue stream by participating in any "illegal" Google activity.
When I first signed up with Google AdSense, I told my husband, friends, and family never to click on my ads, because I could be banned from Adsense for false clicks (invalid click activity).
As soon as I read the email, I filled out the appeal form and didn't think much about it.
The previous week I had an unusual spike in traffic from some random sites. During the same period, my email server was hacked into, which required a site-wide reboot and hours of work to correct. Putting two and two together, I assumed that this was the reason for Google's recent decision. I presumed that once they saw all of the data that they would reverse their decision, as I've been an honest AdSense Publisher for years.
As the days passed, I decided to do some research on the subject. As it turns out, this is a frequent problem for publishers. It's so prevalent that there are services out there to help you formulate your Google appeal so that you have a better chance of getting your account reinstated. I found this thread over at One More Cup of Coffee, which allowed me to commiserate with other bloggers and publishers who were in the same boat.
A week and a half later, I received an email from Google stating that they reviewed the information that I had sent them, but that they were unable to reinstate my account. While being banned from Google AdSense isn't going to make me or break me financially, it sheds light on an important subject for bloggers, and that's diversifying your income streams.
How Can Bloggers Diversify Their Blogging Income?
When you decide to become a monetized blogger — you need to have an income diversification plan in place. This means having more than one or two monetization methods in place so that if something like getting banned from Google AdSense happens to you, that you're not thrown for a financial loop. Here are some monetization methods that can help you diversify your income.
1. Affiliate Marketing
Affiliate marketing is one of my favorite ways to diversify my blogging income. To get started, you sign-up with different companies to promote their products and services through affiliate links. These links can be placed in blog posts, newsletters, via social media updates, and banner ads (be sure to read each affiliate's terms for placements). Whenever somebody takes action (purchases something or sign-ups for info), you'll receive an affiliate payout. There are tons of platforms like ShareASale and CJ.com that connect publishers with merchants for affiliate relationships.
One blogger that has figured out the recipe for affiliate marketing success is Michelle Schroeder-Gardner of Making Sense of Cents. Each month she earns an average of $50K from her affiliate marketing efforts. Michelle even has a course that teaches other bloggers how to reap the financial rewards of affiliate marketing — you can learn more in this in-depth interview with Michelle.
2. Brand Ambassadorships
Brand Ambassadorships are comprehensive campaigns that help companies build brand awareness, leads, and sales. To get started with this method of monetization, create a media kit, and start thinking about what it is that you can offer brands.
Can you offer …
Great storytelling
Stunning visuals
High engagement
Increased traffic or sales
Lead generation
A one-of-a-kind niche
Once you have these variables in place, you can start building the relationship online. Like and comment on their social media updates. Share their updates or blog posts with your audience. Maybe even post a teaser on social media referring to their brand. Once you've laid the initial groundwork, you can pitch them with some ideas.
If pitching companies isn't your cup of tea, many third-party companies will connect you to brands; but know that your cut will be smaller since they're negotiating on your behalf.
3. Create a Membership Site
If you have a well-defined niche where you're considered an expert in the field, you may be able to sell your knowledge behind a membership platform, a monthly recurring income. One such person that has done this is Carol Tice with her Freelance Writers Den. Each month, members pay a $25 membership fee, which gives them access to a private forum, live Q&As, and premium resources not found anywhere else. Carol earns roughly $360K just from her membership site. If this sounds appealing, check out this post where she details how she did it.
4. Direct Ad Sales
You don't have to work with an ad network to get paid for display ads. In fact, selling direct ads is how I first started monetizing my blog. To get started with this method, you'll need to create a sales page with your ad rates, sizes, and placements available. Then you'll need a widget or plugin to serve the ads; I use AdRotate. The nice thing about this method is you can earn more money because you cut out the middle man. But you also have to do all the legwork of placing the ads, issuing invoices, and following up with renewals.
Related Content: How to Get Your First Blog Advertiser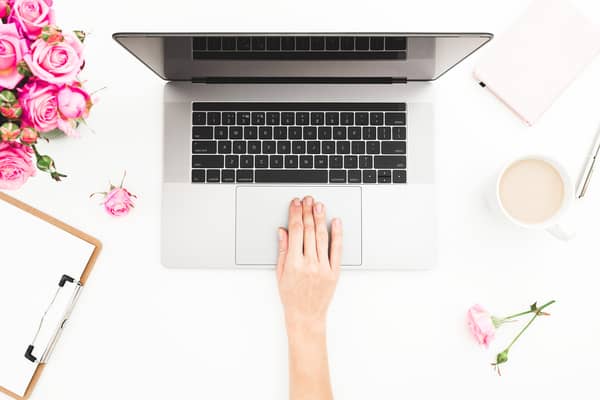 5. Other Ad Networks
Believe it or not, there are other ad networks besides Google AdSense that you can work with. When I got banned from AdSense, I started working with Media.net (Bing and Yahoo's ad network). I worked with them for years, and I even made more money with them than I did with AdSense. There are tons of ad networks that you can choose to work with — check out this list for some options.
6. Sell Digital Products
From courses and e-books to webinars and printables, there are a bunch of different digital products that you can sell to diversify your income. One blogger that has found the recipe to success is Sarah Titus. She started selling printables on her blog in June 2017, and within her first month, she made $52K. Fast forward, and she's making millions each year just selling printables! She even has a few courses on how to create your own printables and set up a Shopify store!
7. Selling Services
Many bloggers choose to sell services via their blog, whether it's virtual assistant work, freelance writing, social media marketing, copywriting, or coaching. If you've built up an audience of loyal readers, there's a good chance that they'll be willing to pay for your expertise.
Related Content: The Right Way to Sell Services On Your Blog To Bring In Steady Income Each Month
Conclusion
While there is still a bitter taste in my mouth from this experience, I know deep down that when one door closes, another opens, and I look forward to what that future holds.
Have you been banned from Google AdSense? What did you do? How are you diversifying your income streams?