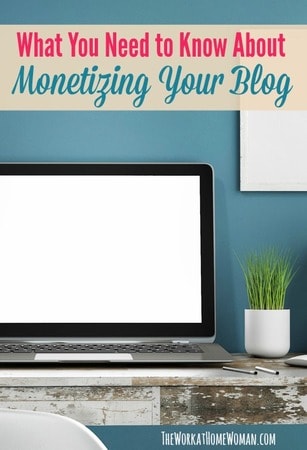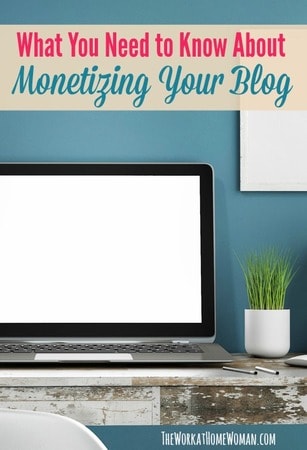 At-home entrepreneurs are always looking for additional ways to add to their income. With the surge in blogs that has occurred in recent years, it may seem that blogging is a great way to add to your cash flow.
However, before you jump into monetizing your blog, review these four points to make sure you know the ins and outs and can evaluate if it's the right income source for you.
1. You Have Lots of Options for Monetizing Your Blog
Understand that there are multiple ways you can monetize your blog. And you don't have to stick to one element; you can pick and choose the ones that are best for you.
Here are some of the most common ways that entrepreneurs are utilizing their blogs to bring in extra income:
A. Sell Your Ideas
Write an e-Book and sell it on your blog. When doing this, be sure it is high-quality and well written. This will help ensure your readers will purchase additional e-Books that you produce in the future.
B. Paid Reviews
Many companies out there are paying bloggers to review their products and services. This works well when they are products and services that fit into your blog niche.
C. Pay-Per-Click Ads
This is a very common form of online advertising where blog owners are paid each time their readers click on the ad; the payout typically ranges from $0.10 to as much as $5.00 per click.
D. Text Link Ads
Similar to the pay-per-click ads, bloggers are paid for each time someone clicks on the text link ad. These ads are often misleading and may upset your readers as they believe they are being linked to another article and not a product page.
E. Affiliate Marketing
With this form of advertising, you are paid to help sell the products and services of a company. You receive revenue when your readers not only click on the ads but go through with a sale.
F. Sell Banner Ads
If you have a high readership, you can actually sell ad space to other companies.
G. Accept Donations
If you have high-quality content, you may also be able to get your readers to donate toward your work. You can do this by placing a donation link on your blog.
2. It's a Slow Process
Don't expect to get rich overnight when you start to monetize your blog. In fact, you probably shouldn't set up your expectations that you'll become rich off of your blog.
The money will start to trickle in at first, and it will likely take some time before that revenue is a steady stream. What's important to focus on is the quality of your blog content and increasing your readership.
The more people who come to your blog on a consistent basis, the higher exposure your ads and other revenue resources will receive.
3. Waiting to Place Ads May Provide You More Opportunities
There are two schools of thought when it comes to monetizing blogs through the use of ads – (1) place ads from the start, and (2) wait for the readership to grow before placing ads. While it can be a toss-up over which strategy is best, many bloggers have found more advertising options are available to them when they wait to place ads.
This is because they have spent the time focusing on carefully crafting their messages and building their readership. Once they have established a consistent reader base, they have then been able to approach companies that match their blog niche and successfully sold advertising. When going this route, you can also collect data about your readers to strengthen your advertising pitch.
4. It's a Time Commitment
If you want a successful blog, you are going to have to commit your time. Blogs require daily maintenance and can suck a great deal of time out of your day.
Before you decide to commit to monetizing your blog, determine exactly how many hours a week you want to dedicate to your blog. This will help you put a price on your time and ensure that you don't spend too many hours on your blog that you could be used on other more profitable activities.
Conclusion
Remember, once your blog starts to get traction, you can always start to dedicate more of your time toward the monetizing effort.
Ready to get started? Here's a step-by-step tutorial to set up your blog fast.
You'll Also Love These Posts:
Studies have shown if you like this blog post — you will also love the following articles.
Debra Wilson is a social media advocate at the small business credit card website, CreditDonkey. Visit CreditDonkey to learn ten tips for financing the startup of your home business.