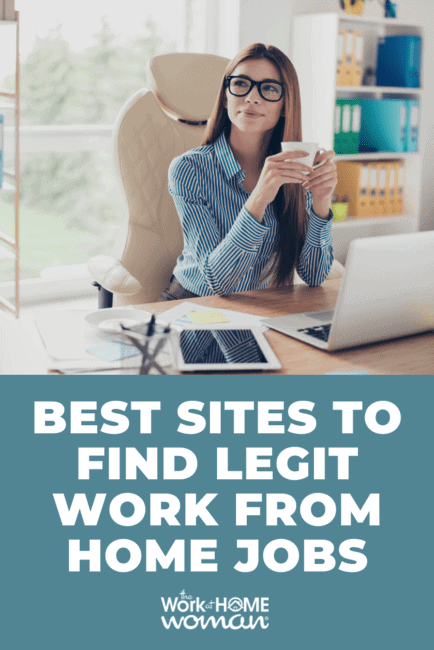 If you're looking for legit work-from-home sites, this post has a wealth of information to help you on your remote job search!
When I started my remote job search, there weren't many resources for aspiring home-based workers. However, today there are many sites you can explore for work-from-home jobs and ideas. But which ones are legit, and which ones do you need to keep an eye on?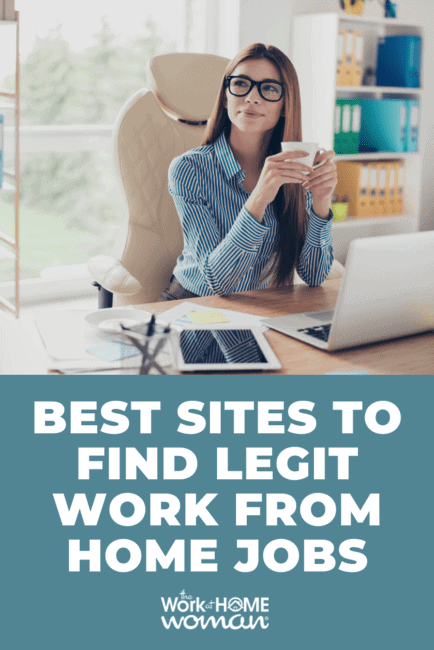 In this post, I'll share the best sites to find legit work-from-home jobs, ideas, and resources so that you can find your dream job faster!
The Work at Home Woman
Let's start with the obvious; here on The Work at Home Woman, I have TONS of pages with legit work-at-home job leads.
Whether you're looking for full-time jobs, part-time jobs, ways to make extra money, or ideas for starting a business, I got you covered!
Here are the main job categories to start your search:
Also, if you're looking for a specific industry, company, or occupation, you can always use the search function (located at the top of the menu) to find exactly what you're looking for. Or you can email me at [email protected] if you need help finding specific work-from-home opportunities. You can also sign up for our newsletter, which contains legit work-from-home job leads.
Legit Online Job Boards
While you can search for remote work on job sites like Indeed, SimplyHired, Remote.co, and Working Nomads, I prefer the smaller sites that hand-screen their job postings for legitimacy.
This is my favorite job board to find flexible work options (freelance, part- and full-time work, flex positions, and hybrid roles). Yes, it costs a small fee to join, but it's well worth it. All the jobs are hand-screened for legitimacy, so you never have to worry about scams. This alone saves you tons of time, but what I like about FlexJobs is their search filters allow you to customize your job search by specific factors, like employee vs. independent contractor, part-time vs. full-time, and experience level, saving you even more time. If you're dissatisfied with the service, you can request a full refund. It's also worth noting that they are a member of the Better Business Bureau, and your paid membership comes with discounts, job fairs, and educational webinars.
If you're interested in learning more about FlexJobs, you can check out my full review here.
Founded by Houston-based mom, Lesley Spencer Pyle, Hire My Mom is a professional job board for stay-at-home moms. Membership is $0.33 a day or $29.99 a month. On this site, you'll find legitimate jobs, W2 and 1099 positions, and full-time and part-time work. Main career categories include administrative work, freelance writers, social media managers, graphic designers, researchers, bookkeepers, web designers and developers, customer service, and more. With Hire My Mom, you never have to worry about scams since job listings are screened for legitimacy.
Jobspresso is a legit job site for high-quality remote jobs in tech, marketing, and customer support. Each job is hand-picked and manually reviewed by the Jobspresso team. Jobspresso is 100% free to use and has been featured in major publications like Forbes and Inc.
Legit Work-From-Home Sites and Blogs
While there are LOTS of work-at-home blogs on the web, with new ones popping up every day, here are the ones I'm familiar with and trust for legit work-at-home job leads.
Launched by Staffcentrix in 1999, Rat Race Rebellion is a highly respected site specializing in home-based careers. Each day they offer new work-at-home leads where you can learn more about individual job opportunities. Rat Race Rebellion's primary focus is on entry-level jobs in customer service, data entry, transcription, and other types of side earners.
The publisher of Real Ways to Earn Money Online, Anna Thurman, started her work-at-home journey by taking surveys, writing articles, and working for sites like ChaCha (which is no longer in business). Through these side gigs, she was able to replace the income she had previously earned outside the home. Even though she was earning a steady income, she was amazed at what was going on in the work-at-home world and decided to start her own blog. On Real Ways to Earn Money Online, you can find job legit work-at-home job leads, reviews, and ways to make extra pocket cash.
If you're a nurse (RN, LPN, LVN, or NP) or a physician's assistant and you'd like to leave bedside care and work from home, head on over to The Remote Nurse. Sadie, who is also a nurse, has a ton of legit remote job leads, information on how to avoid scams, and all sorts of tips for nurses. She also has a very active and large Facebook Group which is where I first met her. If you have a question about working from home as a nurse, you'll find the answer in this group!
Lisa Mills, the publisher of Work at Home Mom Revolution, started on her home-based career path by freelance writing, selling antiques on eBay, and operating a used book business. Today Lisa works from home as a transcriptionist and blogger. On her blog, you'll find fresh new remote job leads and information on various work-at-home careers and training paths. If you're interested in transcription work, Lisa has an excellent e-book called, Jump-Start Your Work at Home General Transcription Career, which you can learn more about it here.
Wanting to earn an income while caring for her kids, Leslie Truex built her site, Work at Home Success, in 1998 on MS Publisher. While her site was one way to make money from home, she also worked in real estate, direct sales, and freelance writing. On Work at Home Success, you can find telecommuting job leads, work-at-home tips, and scam alerts.
Ashlee Anderson is the brains behind Work From Home Happiness. As a certified career coach, Ashlee offers a lot of insight on conducting your job search, prepping for interviews, and how to find a home-based career you're passionate about. She also has reviews on companies, remote work leads, and insight on various work-from-home occupations like proofreading, transcription, and more. If you're looking to work with a career coach, Ashlee offers one-on-one sessions too.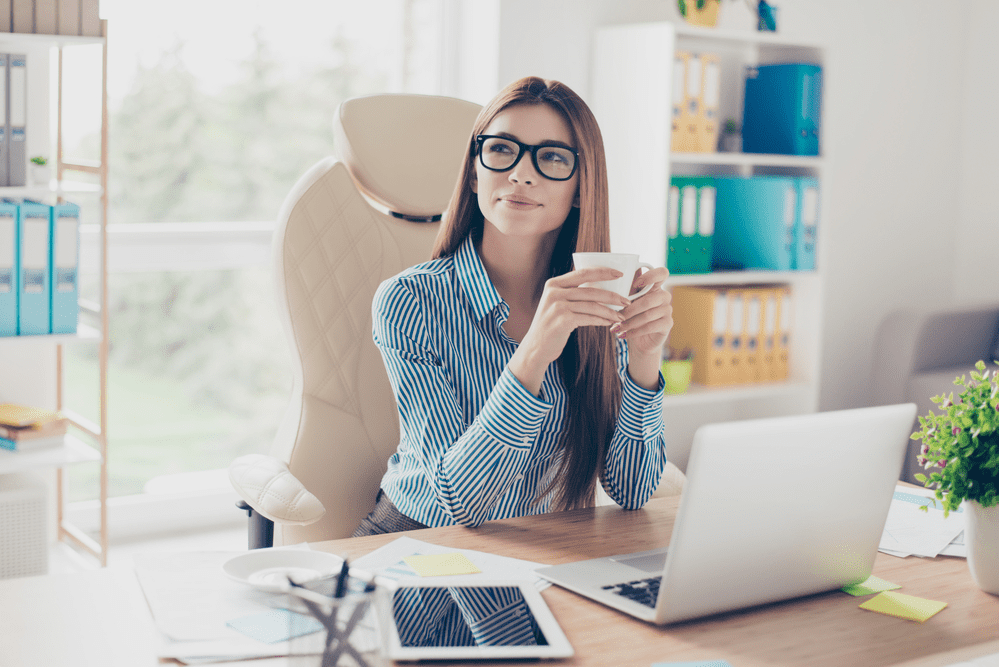 Other Reputable Career and Personal Finance Sites I Recommend
Legitimate Staffing Agency Sites
One underutilized resource for finding legitimate work-from-home jobs is staffing agencies. With staffing sites, you can find temporary positions, long-term contract work, and even permanent roles. One benefit of using a staffing agency is that you can test the waters with different occupations, so you can find the perfect role for your skills and personality.
While some staffing agencies charge job seekers a fee for job placement, the two I recommend do not. Robert Half and Kelly Services are free for job seekers, and they have remote job openings in finance, customer care, human resources, marketing, legal, web development, data entry, and more.
Tips For Using Large Sites and Job Boards to Find Remote Positions
There is nothing wrong with using large sites like Indeed, Google, Upwork, LinkedIn, or ZipRecruiter to find legit work-from-home jobs. You just need to take your time and do your due diligence when using these sites. Because they are so massive, they don't have the bandwidth to research every posting on their platforms, which makes these sites a haven for imposter scams.
Protecting Yourself From Imposter Scams
Imposter scams are when scammers create fake job listings claiming to be a legit company like Amazon or Hilton. Often these scammers are trying to steal your personal information like bank account or social security numbers. If someone messages you on a third-party app like WhatsApp or Telegram this is likely a scam. Legit recruiters will either message you through LinkedIn (they should have a profile photo and work history listed) or via email or phone. If they're using email, the domain suffix needs to match the company's website. Be leery of people using free email accounts like Gmail, Yahoo, or Hotmail.
When using these large sites to apply for jobs, you should verify that the job listing is indeed from the company's website. If you ever question if a job posting is legitimate, you should contact the hiring company via phone or email. Many companies have fraud alerts listed on their career pages because imposter scams are so prevalent nowadays.
Other Scam Prevention Tips
If you're uncertain about a job lead or company, check them out with the Better Business Bureau and Glassdoor.com. These two sites will give you a wealth of information about the company and its hiring practices. Next, perform a Google search and see what results come up. Often if an individual has had a poor experience with a company they will post about it online. If you're still struggling to figure out if a job is legit, always trust your gut, your intuition is most often correct in its assumptions.
Conclusion
Whether you're looking for a side job with a flexible schedule or you need to earn a full-time income, there are plenty of great resources to help you on your journey. Just be sure to take your time and track your applications. Unsolicited job offers are another area where scammers take advantage of unsuspecting job seekers. If you need help in this area, check out my Work From Home Career Planner. It can help you track your applications, research companies to make sure their legitimate, and organize your job search for less stress and more success!
Which sites do you recommend for finding legit work-from-home jobs? Drop me a note; I'd love to hear what sites you're using to find jobs!
Originally published July 12, 2013. Content updated September 2022.