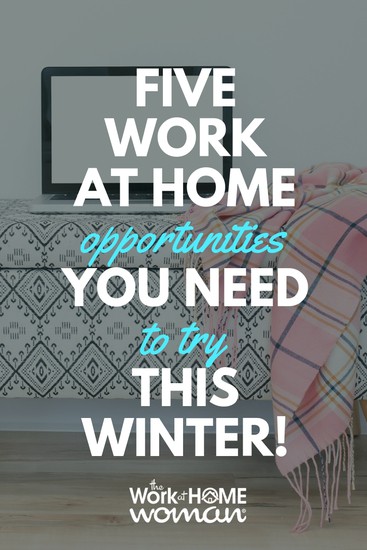 With that wintery chill in the air, there are times where my family and I love spending the day inside. Whether it's the grayness of the sky, those below zero temps, or a combination of the two, you might also find yourself cozying up and doing a whole lot of movies, cocoa, and popcorn. And another upside to those wintery indoor days, it's the perfect opportunity for trying a work-at-home position.
If you're not certain where to start, we've got you covered! Below, we've locked down five work-at-home jobs you need to try this winter. So, cozy up and get down to work!
1. Call Center Representative
From flowers to wine, home goods, and everything in between, it's likely you've ordered from a call center representative at one time or another! Ever wonder who answers those calls and where they're working from? More likely than not, these individuals are working from the comfort of their own homes!
If you love interacting with people and are worried that a work-at-home position might mean being shut off from the world, a call center representative is the perfect winter job for you! With Valentine's Day right around the corner, there are several work-at-home job opportunities available as a call center representative.
Below are some unique and fun call center representative possibilities for you to check out!
If you're looking for more opportunities with other companies hiring seasonal work, check out this article on FlexJobs!
2. Work for a Ski Resort—From HOME!
Do you love the idea of working for a ski resort but live hundreds or thousands of miles away from the nearest one? Or, perhaps you live nearby but aren't interested in working directly on the mountain? No worries! This winter, you can easily work for one of the most popular ski resorts in America from the luxury of your own home! Vail Ski Resort is now hiring remote positions.
Yes, you can work a winter job for Vail without stepping foot onto the mountain! There are a variety of positions such as guest relations. You will help guests, reserving accommodations or ski rentals and taking payments over the phone. Check out the seasonal jobs available at Vail Ski Resort here!
3. Cash in with Mother Nature as a Snow Removal Specialist!
With winter days upon us, there's bound to be snow and plenty of it! If you like the winter but love the snow, even more, consider getting out there and joining an on-demand snow removal company like Plowz & Mowz. You can also advertise your snow removal services in a variety of ways around your neighborhood such as flyers, popular home service site Home Advisors, or within Facebook Groups, (adhering to group rules, of course), to gain some clientele. Below are some ways to find potential snow plowing clients so you can shovel in some cash:

4. Love Numbers and People? Number Crunch from Home as a Tax Preparer or Bookkeeper!
If you enjoy numbers and helping others, becoming a tax preparer or bookkeeper at home is an excellent way to make some side cash this winter. In fact, many of my friends prepare taxes for relatives and extended family every year right from the comfort of their homes. Some of our friends do this as a side hustle while others have transitioned into full-time preparers and advisors. One awesome perk to this position is that many tax preparers set their own schedules. If you prefer to work in the evenings, you can easily set your work schedule to start after 5 p.m.
If you would prefer to work for a tax preparing company, search companies on FlexJobs or take a peek at a couple of the connections we've found below:
Related Content: The Best Work-at-Home Jobs for Math Lovers
5. Love Helping Others Explore the World? Become a Travel Planner!
Do you love traveling? Love to help others with coordinating everything from flight details to the best hotels and sites to see? Buckle up because this work-at-home winter job is the perfect fit for you! With spring break right around the corner, people are now searching for travel agents and consultants to help them book their spring vacations.
Check out these companies looking for amazing, travel-planning gurus like you:
Related Content: Remote Jobs in the Hospitality, Travel, and Tourism Industries
Conclusion
While the winter season certainly holds its fair share of gray, chilly days, there's no shortage of work-at-home opportunities waiting for you out there! Whether you're taking a break from building a snowman or are kicking back fireside with a mug of hot cocoa, check out the ways you can earn some money while watching the snow fall from your window. There are so many opportunities and companies waiting to hire awesome women like you!