If you want to work from home but are unsure of your options, keep reading! This list contains 99 work at home career ideas!
For me, knowing that I wanted to work from home was the easy part. The hard part was figuring out what type of work I wanted to do.
Before becoming a stay at home mom, I had worked as a nurse, but it wasn't a career path that I was interested in continuing.
To help aid my career change, I read books, attended career events, and looked online. Still, I didn't truly understand all the different career and business opportunities available to me.
I was lost without knowing what occupation to search for, and many women I've spoken to have encountered the same problem.
If you're struggling to figure out your ideal work at home career path, I've compiled a massive list of work at home career ideas, jobs, business ideas, and ways to make extra money so you can find your dream job!
99 Work at Home Career Ideas for Women
This list contains 99 legit work from home career ideas in a wide variety of occupations and fields. Whether you're just starting out on your career journey, you're a senior professional, or you wish to switch careers, this massive list of remote business and career ideas has you covered!
1. Advertiser
Do you have a highly trafficked property? Perhaps a website, a newsletter mailing, a popular Facebook Group, or a piece of property?
Add some extra revenue to your property by adding advertisements! If you have a website, sign up with Google Adsense, Media.net, or Newor Media. If you have a lot of web traffic, you may be able to work with an ad network like Raptive or Mediavine. These companies will place advertisements on your website, and you'll earn income from how many times each ad is viewed.
If you offer a weekly newsletter and have a good number of subscribers, you can include paid advertisements in your weekly mailings. And if you own land on a well-trafficked road, you can earn money by placing a billboard on your property.
But these aren't the only way to make money advertising! Here are more ways to make money advertising other people's products and services!
2. Affiliate Marketer
Looking for a way to make passive income? Find products and services you love and introduce them to your friends, family, blog readers, or social media followers via affiliate advertisements.
As an affiliate marketer, you will promote items and, in return, will earn a commission on every product that is sold through your affiliate link. Don't have a website? No problem. Here's information on how to earn affiliate income without a website or blog!
3. Artist
Do you love to paint, sculpt, or draw? Then you can use your creativity to earn a living from home. Check out a creative staffing agency like AQUENT to apply for creative projects and jobs. If you prefer to run your own business, you can sell your art online using sites like ArtPal and Artfinder.
4. Author
Do you love to write? We've all heard of best-selling authors J.K. Rowling and Stephenie Meyer, but thousands of women are writing their way to work at home success. The opportunities and possibilities are endless, from writing children's books to self-help books, romance novels, and cookbooks. Nowadays, you don't even need a publisher. You can self-publish or you can sell e-books on your website, Amazon, or one of the many platforms authors can use to promote their work.
5. Babyproofing Consultant
Do you have an eye for unsafe conditions? Are you an advocate for child safety? Babyproofers assess home environments for potential and hazardous conditions, making recommendations and suggestions to homeowners to create a safer environment for babies and children. To become a childproofing expert, you should look into certification or a franchise opportunity to train you on the best safety practices and concerns.
6. Baker
Do you love to bake? Do you have a special recipe for chocolate chip cookies that everyone raves about? Turn your passion into a baking business. The opportunities are endless – birthdays, baby showers, weddings, retirement parties, housewarming parties, bachelorette parties, and anniversaries! Of course, you'll need to look into your state's laws and guidelines for safe food protocols and business practices. This post covers what you should know about starting a baking business from home.
7. Blogger
If you enjoy writing and being online, blogging is an easy and affordable way to start your own business from home. I've been blogging since 2009 and still love what I do! I also earn more than I ever did working as a nurse. The topics you can write on are endless, and there are many ways to monetize your blog.
Not sure how to get started? This post has step-by-step instructions on how to set up your blog in a day or less.
8. Bookkeeper
Do you have a head for numbers? Bookkeeping may be right up your alley if you're organized and detail-oriented. Bookkeepers help business owners organize and keep track of their monthly income and expenses. With bookkeeping, you can work for a company like Belay or Intuit or start your own business at home. If you think bookkeeping may be your calling — check out this FREE training from Bookkeepers.
9. Coach
Do you run a successful business? Are you a direct sales guru? Then offer your particular expertise to others looking for guidance in a specific area, whether it is time management, PR, stress management, career guidance, or sleep training; the topics are endless!
With coaching, you can work at home for a company like CVS (health coach), Ginger (behavioral coach), or Arine (lifestyle coach), or you can start your own business. Training for coaches will vary depending on your area of expertise, but you can look at CareerStep and iPEC for online coaching courses.
10. Chat Agent
If you want to work at home but not on the phone, being a chat agent is a good entry-level position. Chat agents assist customers with questions, concerns, returns, and other various queries via email, chat, and social media. You must have excellent communication skills and be a fast and accurate typist for these positions. Companies that regularly hire for these work-at-home jobs include ModSquad, The Chat Shop, and GE Appliances.
11. Child Care Provider
Do you love working with kids? An easy way to make some extra cash is to simply provide child care services. With meetings, PTA involvement, and date nights with your partner, there are more than enough opportunities for you to cash in on this much-needed service year-round. To work as a babysitter, you can use sites like Care.com, Bambino, and Sittercity to connect with clients, or you can start your own daycare business from home.
12. Consultant
Are you considered an expert in your field? Do you like to assist others in achieving their goals? Then act as an advisor to others who need your skill and expertise. You can connect with consulting clients and projects using a platform like COMATCH, Robert Half, or Toptal, or you can start your own consulting business, which this post details.
13. Copywriter
Do you have a way with words? Copywriting is the process of using persuasive words to promote a person, product, business, idea, or opinion. Copywriters write the words in TV commercials, radio ads, magazines, newspapers, billboards, flyers, websites, and direct mailings – wherever something is being sold, copywriters are hard at work writing alluring and compelling advertisements to get customers to make a purchase.
You can find freelance copywriting positions on sites like Problogger, Kelly Services, or Upwork, or you can look for full-time work fom home jobs at marketing and advertising agencies. Working for the latter will often require a bachelor's degree. However, you can usually start freelancing just by taking a course and understanding the fundamentals of copywriting.
14. Crafter
Are you crafty? Whether you create knitted goods, crocheted items, handmade cards, or vinyl crafts, you can make good money selling them online. With sites like Etsy, Amazon Handmade, and Shopify, you can set up your craft shop easily and affordably. You can also sell your crafts at craft shows, conferences, and farmer's markets. If starting a business as a crafter is appealing, check out this post for more details.
15. Customer Service Agent
Do you have excellent customer service skills? Do you like to talk on the phone? Companies are always looking for home-based customer service agents and inbound and outbound sales representatives. Some companies that regularly hire work from home customer service agents include Apple, Amazon, Alorica, American Express, U-Haul, Williams-Sonoma, and Concentrix.
16. Data Entry Clerk
If you're a fast and accurate typist and you're familiar with programs with Mircosoft Office and Google Sheets, data entry might be a good work from home job! The thing with data entry is that so many people want to do this work that there are a lot of scams out there, so you need to research this career idea. Some of the best places to find legit data entry gigs include Robert Half, Adecco, and Kelly Services.
17. Direct Sales Consultant
Are you a social butterfly? We've all heard of direct sales companies like Avon, but did you know that there are thousands of direct sales companies? Find one that offers products that you feel passionate about and get selling. Direct sale companies offer starter kits that give you everything you need to get started, and they usually have a very low start-up cost. Your first prospects and buyers will be friends, family, and co-workers; you will build your customer base by getting referrals from these people.
Need some ideas?
18. Doula
If you're interested in helping moms and their partners have a smooth labor and delivery, becoming a birth doula might be your calling. As a Doula, you'll be working as a business owner, and since women go into labor at all hours of the day, you'll be working odd and unpredictable hours. Doulas work with clients at all stages of pregnancy, providing education and emotional and physical support. For this career path, you'll need need to take a course and get certified, but this career seems like it would be a highly satisfying occupation.
19. Engineer
If you're looking for a high-paying work from home job, becoming an engineer is an excellent option. Not only can you make good money in this profession, but all kinds (software, mechanical, chemical, electrical, and civil engineers) are in high demand. According to the Bureau of Labor Statistics (BLS), this field is expected to grow by 4% in the next ten years. Of course, for these roles, you'll need a bachelor's degree and, in some cases, a master's degree. However, once you have the necessary education, you can work just about anywhere! Check out companies like EverView, ConvertKit, and DuckDuckGo for remote job openings!
20. Event Planner
Do you love to plan parties? From weddings and birthday parties to baby showers, retirement parties, and corporate events, event planners handle the details of location, budget, decorations, entertainment, food, beverages, transportation, activities, invitations, and more. Because parties often happen at night, on the weekends, and during the holidays you might have to work at these times too. You can find these remote event planning jobs on staffing agency sites, hospitality companies, and large corporations, or you can venture out and start your own business!
21. Expert Advice Giver
Did you know that if you have expertise in a field like law, business, healthcare, tech, and many others, you can make money by answering questions online? With platforms like JustAnswer, you can earn an average of $2,000-$7,000 a month by logging on and answering people's questions. JustAnswer accepts users from the US and Canada and distributes payments monthly using PayPal, Venmo, and direct deposit. For more ways to make money answering questions online, check out this post.
22. Face Painter
Are you a talented painter? Do you enjoy working with children? Take your artistic talents to birthday parties, carnivals, amusement parks, company picnics, zoos, and more. Use a site like The Bash to connect directly with clients or start your own business.
23. Fashion Designer
Take your love of fashion and design and create one-of-a-kind designs and either sell them online, in specialty boutiques or take your product line the direct sales route. You can also apply for work at home designer jobs at clothing and apparel companies. You'll need a degree in fashion design or merchandising for the second option. However, if you start your own business, you don't necessarily need a degree. For instance, Sara Blakely, the creator of Spanx, did not have a degree in fashion but instead in communications.
24. Financial Planner
Did you major in finance, business, or economics? Do you geek out over math? Financial planners assist individuals with important investment decisions, such as retirement, college, stock purchases, major life events, and more. Obtaining your CFP (certified financial planner) can help you stand out in this field. Check out this post for more math-based careers!
25. Fitness Instructor
Do you love being active? Are you a tennis, golf, or yoga pro? Take your love of sports and fitness and teach others how to improve their games, hone their skills, and get active. Depending on your area of expertise, you'll likely need to get certified as an instructor; there are many online programs to get you up to speed. As a fitness instructor, you can start your own business from scratch, join a franchise opportunity like Fit 4 Mom, or apply for a position at a studio or gym. With the Pandemic, many fitness instructors started offering classes online over Zoom, a trend that I think is here to stay.
26. Franchise Owner
Do you want to be your own boss, but you're not sure where to start? Then perhaps a home-based franchise is what you're looking for. With franchise opportunities, you're given a detailed roadmap on how to start and run a successful business — and many franchises have well-established names, so you don't have to spend a fortune on marketing and brand recognition. With this work at home idea, you'll need to invest money upfront for your franchise, but there are many affordable options, and some even offer financing options.
27. Fraud Investigator
If you have a criminal justice degree and want to work from home, fraud investigation is an excellent option! With so much shopping online, financial institutions, insurance companies, and e-commerce platforms hire remote fraud investigators to search for irregular activity to prevent fraud and abuse online.
28. Freelance Writer
Do you love to write? From blog posts and newsletters to magazine articles and social media updates, the job opportunities for writers are enormous. Check with some well-known freelance sites, like Upwork, Freelancer, and Guru, and see how you can offer up your writing services. This post also lists a ton of paid writing to get you started.
29. Grant Writer
Do you have experience writing grant proposals? As a grant writer, you'll specialize in writing persuasive proposals that persuade individuals to donate money to a specific cause or organization. You can find grant writing jobs on Freelancer and Upwork.
30. Graphic Designer
Do fonts and boldface type excite you? Graphic design is a way to visually communicate with people; it could be through a poster, an advertisement in a magazine, a website, a business logo, a business card, printables, or even an album cover. These are examples of what graphic designers create. As a graphic designer, you can freelance using sites like Dribbble or 99designs, or you can work for a large company as a work from home employee creating marketing assets and product designs.
31. Hairdresser
Do you have a cosmetology license? Take your hairstyling skills home by cutting, coloring, highlighting, and styling your client's hair in the comfort of your home or theirs. On-demand sites like Concihairge can help you get set up.
32. Home Stager
Do you have a way with design? Home staging is the process of de-cluttering, organizing, and improving the physical appearance of a residential dwelling before putting it on the market for sale. Home stagers are an essential occupation in today's competitive real estate market.
33. Housesitter
If you're looking for a flexible side gig, housesitting is a great option for making extra money. Services include feeding pets, gathering the mail and newspapers, making the house look occupied, watering plants, maintaining the yard and pool, paying bills, and light housekeeping. You can find housesitting gigs on Care.com and Task Rabbit. You can also let family, friends, and neighbors that you're open for business!
34. Human Resources (HR)
Have a degree or experience in the HR field? There are lots of companies that hire for remote HR positions. Since most companies have an HR department, you can write down a list of dream companies you'd like to work with and search their career pages for remote job openings. Staffing agencies are also excellent for finding these roles.
35. Illustrator
Do you enjoy drawing and painting? Use your artistic talents to create images for children's books, medical diagrams, fashion designs, brochures, advertising material, or product packing. You can find illustrator jobs on sites like Upwork and FlexJobs; you can use a print-on-demand site like Spring, Spreadshirt, or Printify to create and sell your own designs.
36. Influencer
If you've built a loyal audience of followers on a platform like Instagram, TikTok, Pinterest, or Facebook, making money as an influencer can be quite lucrative. With brand deals, creator funds, affiliate marketing, and sponsored opportunities, the sky is the limit when it comes to this business idea. For more details on becoming an influencer, check out this guide.
37. Instructional Designer
Do you have a passion for learning? Instructional design is how instructional materials and manuals are designed, developed, and delivered. Instructional designers understand the learning process and how to convey it through the written word. While there are instructional design degree programs available, many instructional designers just have a teaching, marketing, or writing background. FlexJobs and IXL Learning have work at home instructional design jobs.
38. Instructor
Are you a culinary wizard? Maybe you're skilled at playing the guitar? Then share your expertise and knowledge on a platform like Udemy, Live Music Tutor, or Lessonface they allow you to create instructional courses and earn an income when individuals consume your content. For more places to sell your expertise, check out this list of ideas.
39. Interior Designer
Do you have a flair for design? Use your creative skills as an interior designer or decorator to help others create an environment that suits their personality and preferences. With interior design, you can work as an independent contractor for Havenly, or you can start your own business with a franchise opportunity like Decorating Den.
40. Internet Researcher
Are you skilled at finding the proverbial needle in the haystack? If so, becoming an internet researcher may be the perfect home-based career idea for you. Every day companies, writers, and marketers need research done, and they are willing to pay you good money for your skills. One company that hires freelancers to do research is Wonder. For these positions, you'll need a bachelor's degree and the ability to prove your research ability. Wonder currently has a hiring freeze, but you can bookmark their site for when future openings arise.
41. Inventor
Do you have a genius idea that you want to create? Then bring your invention to life. People every day are using sites like Alibaba to create prototypes and produce products that they bring to the consumer market. Check out these awesome inventions from women just like you; Ficklets, Grill Charms, and Comfy Earrings.
42. Investor Relations Specialist
Do you know how to secure funding? Finding funding for a small business can be a lot of work, not to mention the huge learning curve. Use your inside knowledge of how the investment realm works, and assist other entrepreneurs in securing funding for their businesses.
43. Laundry Sevice Provider
If you don't mind doing laundry, you can start your own laundry service business from home. The great thing about this idea is you don't need any special skills or equipment to get started. However, you will need to educate yourself on best business practices, which this post explains.
44. Lawyer
If you're a licensed attorney and you want to work from home, there are lots of options! You can choose to work remotely for a big corporation or law firm as an employee. Or you can offer freelance law services using a site like Hire an Esquire or Ontra, or you can start your own business.
45. Librarian
When you think of the career path of a librarian, you likely have images of individuals shelving books at the library. However, there are many remote career paths librarians can take! Jobs like digital assets, proposal, research, and marketing manager librarians. This post explains the various remote roles for librarians; you can also find these work-at-home positions on sites like LinkedIn and FlexJobs.
46. Marketing Specialist
If you have a marketing or advertising degree, working from home in the marketing field is a great option! As a marketing assistant, you may help with writing press releases, newsletters, blog posts, podcast scripts, website copy, marketing research, or managing affiliate relationships – what you do will depend on your expertise, degree, and experience. Check out this article for a huge list of marketing specialties and hiring companies.
47. Massage Therapist
Are you a licensed massage therapist? Provide in-home massage and spa treatments, or take your skills on the road and offer chair massages at conferences, grocery stores, malls, and other events. You can use an on-demand platform like Zeel to connect directly with massage clients.
48. Meal Planning Subscription
Are you a meal planning guru? Share your love for organization and meal planning by creating a membership program where you share weekly and monthly meal plans, complete with recipes and grocery lists. Specialize in a niche such as gluten-free, kid-friendly, or budget-friendly menus.
49. Medical Coder and Biller
When hospitals, doctor's offices, and labs bill insurance companies, they need to use specialized codes in order to receive payment. This is where medical coders and billers come in. They assign the appropriate procedure and diagnosis code to medical bills so that their establishment can receive prompt payment from the insurance companies. Medical coders and billers generally need to take a training course on these codes and become certified before beginning their careers. However, once they have the appropriate credentials, they can work from home for a company like CVS and Aviacode.
50. Medical Scribe
If you're interested in a typing career in the healthcare field, look into becoming a medical scribe. In this role, you'll be typing in what the clinician says during a patient's health visit. This is a fast-paced career where you'll need knowledge of medical terminology. Online training for this career can be completed easily in 4-6 months with a program like CareerStep. You can search for these remote roles on DeepScribe and Augmedix.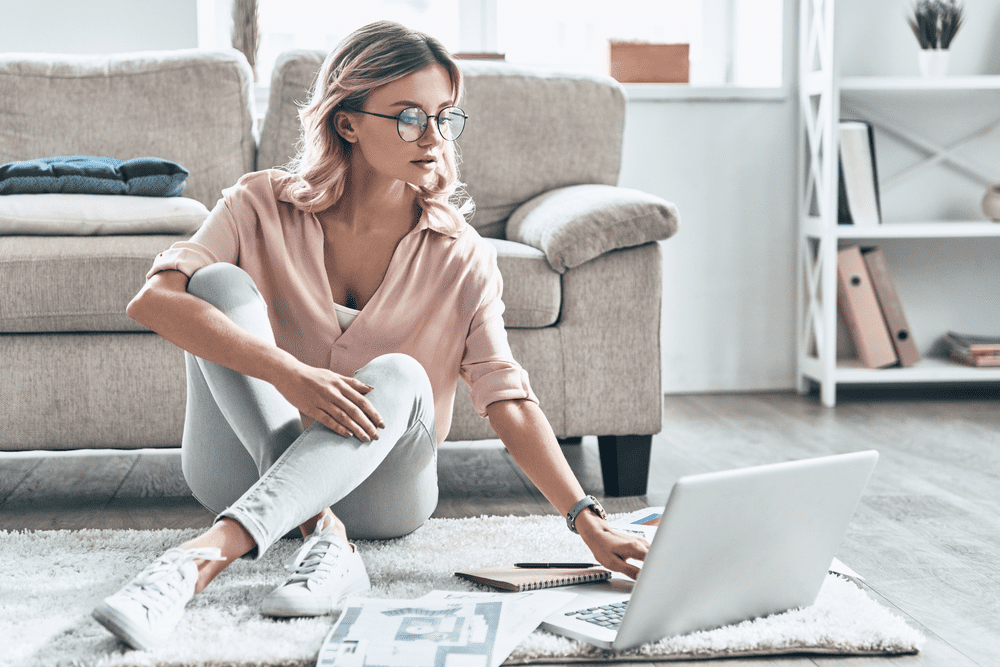 51. Mock Juror
You're not going to get rich being a mock juror, but it is an interesting way to make a little extra money from home. Lawyers who need to practice their court arguments use mock jurors to gauge if their argument is compelling. The average pay for these roles is about $10-$20 per hour, and you'll need to be at least 18 years old and a US resident. For more details on this interesting side gig, check out this post for hiring companies and information.
52. Moderator
If you enjoy reading and writing, being an online moderator might be your calling. With this work at home career idea, you'll moderate forums, groups, membership platforms, and social media pages by keeping spammers out, approving comments, resolving conflicts, starting new conversations, and assisting members with their concerns. For these positions, you must have excellent written communication skills as you'll be representing the brand's image online. You can apply for these remote jobs on ModSquad, SocialBee, and Yelp.
53. Muralist
Do you see things on a large scale? Use your talent as a painter and help individuals transform their indoor and outdoor space into the oasis they have always dreamed about. Choose to work with private residents or commercial establishments. You can also connect with clients on FindAMuralist.com.
54. Mystery Shopper
Do you love shopping? Do you have excellent memory recall and writing skills? Then register to become a mystery shopper and check out local businesses, restaurants, and establishments. You won't make a full-time income, but you could end up with a free dinner or products and a small amount of pocket cash. There are opportunities to work online, via telephone, and in person. Check out Mobee, BARE International, and IntelliShop to get started.
55. Nurse
Do you have your nursing license? Insurance companies and hospitals are seeking registered nurses to perform case management, medical record review, triage, and more all from the comfort of home! Some companies that are always hiring remote nurses are CVS, The Cigna Group, Humana, and UnitedHealth Group. Most positions are location-dependent and require an active license. If you're looking for more remote nursing jobs, check out this post — it has listings for nurse practitioners, registered nurses, and licensed vocational nurses.
56. Online Boutique Owner
Do you enjoy finding the trendiest new products? Combine all of your favorite brands and products and open up an online boutique. You can source wholesale products from sites like Handshake, Sugarlips, and Faire. Of course, you'll need a website to sell your items, and this post has many options for starting an e-commerce shop. You may also want to consider dropshipping so you don't have to ship items yourself. Lots to consider with this option; be sure to do your research before taking the plunge.
57. Paralegal
Paralegals help lawyers with administrative tasks such as legal research, filing paperwork, and prepping for legal proceedings. Qualifications for paralegals vary greatly, but generally, you'll need a bachelor's degree and experience in the legal field or a paralegal certification and training. You can apply for remote paralegal positions at Bold Business, Equivity, Robert Half, and Hire an Esquire.
58. Participate in Focus Group Studies
If you enjoy giving your thoughts and opinions on products, advertising campaigns, and services, you can make good money participating in focus groups. While these opportunities are sporadic, they often pay $50-$150 for an hour of your time. Studies are usually conducted online, via phone, and sometimes in person. You can find studies at Respondent, User Interviews, and L&E Research if this sounds appealing.
59. Personal Chef
Are you the next Julia Child? Take your passion for cooking and create menus and meals for others. Personal chefs can charge per meal or day and specialize in niched segments like vegetarian diets and gluten-free. I've used a couple of local chefs, and both parties promoted their services in a local Facebook Group.
60. Personal Concierge
A personal concierge is a detail-oriented, home-based professional that offers professional and personal assistance by completing tasks such as arranging meetings, planning corporate events, purchasing gifts or tickets, making reservations, dog walking, and paying bills. The services that you can provide are endless, and all depend on your specific niche, experience, and what tasks you enjoy doing.
61. Personal Shopper
Do you love to shop? Offer your shopping services to others by searching for the best deals and then purchasing items online or in-store. This will save your client a ton of time; you can even offer to gift wrap presents for an additional charge. Sites like Stitch Fix and Dia & Co offer home-based shopping gigs — head over to their career pages to learn more.
62. Personal Trainer
If you enjoy helping people achieve their weight loss and fitness goals, working as a personal trainer might be your thing. You should be certified, obtain professional training, or have a degree in health sciences or kinesiology so that you can incorporate diet and exercise into your training. To connect with potential clients, you can use an app like Bark or Fiverr.
63. Pet Sitter and Dog Walker
Do you love animals? Pet sitters care for people's pets while they are on vacation and business trips – everything from feeding, walking, cleaning, grooming, pampering, and loving. If you're not interested in starting a business from scratch, you can use an app like Rover or Wag! to connect with clients who need your pet care services.
64. Pharmacist
If you're a pharmacist but you're tired of working in a drugstore or hospital setting, there are many work at home options for you to consider. Positions include centralized order entry, remote order entry, screening, and verification, as well as providing telehealth services. Companies that frequently hire remote pharmacists include CVS, Walgreens, and PipelineRx.
65. Pharmacy Tech
Just like pharmacists, pharmacy technicians can also work from home! Check out companies like Symbria, CVS, and Cigna to find these remote roles. Most of these positions are location-dependent, so keep that in mind when you're searching.
66. Photographer
Do you have a distinguishing eye? Then use your talent to take photos for others – family photos, kids, pets, weddings, special events, and professional headshots. Need more ideas? Here is a list of stock photo sites where you can sell your photos for cash.
67. Physician
If you're a doctor and you still enjoy practicing medicine, there are many work at home career ideas for you to explore. From telemedicine and medical record review to education, research, and clinician positions, you have the option of working full-time or part-time hours. To find these remote jobs, check out companies like Wheel, Included Health, and Found.
68. Professional Organizer
Are you organized? Professional organizers help others organize their homes and offices, resulting in a more functional environment, increased productivity, and decreased stress and chaos. Want to get more specific? Help individuals organize their digital photos, otherwise known as photo organizers. With this idea, you can start your own business or join a franchise opportunity like Neat Method.
69. Project Manager
Are you good at managing people and projects? Then, assist others with managing projects from start to finish. This role will encompass planning, developing, budgeting, accessing, and controlling the overall outcome of the project. FlexJobs has a good list of remote, part-time, and freelance project management jobs.
70. Proofreader or Editor
Have a keen eye for catching typos and spelling, and grammatical errors? If so, becoming a proofreader or editor might be the perfect work-at-home idea for you. In these roles, you can work as a freelancer or a W2 employee. Some companies will require you have a bachelor's or master's degree, while others just make you pass a proficiency exam. For companies that hire editors and proofreaders, check into Express Writers, Forbes, and Cambridge Proofreading and Editing.
71. Public Relations Professional
Do you have excellent communication and marketing skills? Are you persistent? PR professionals help individuals and companies secure media exposure on TV, radio, in newspapers, online, and in print publications. PR professionals can work for a marketing or PR agency as an employee, or they can venture out on their own a start a small PR firm from their homes.
72. Real Estate Agent
Are you organized and enjoy sales? Do know your geographic area well? Real estate agents help clients buy and sell homes. Training takes around 150 hours of coursework, but often it can be done at home, at night, or on the weekends. As a real estate agent, you'll make money from your commission on home sales which can be quite lucrative.
73. Recruiter
Assist companies with finding the best and most qualified applicants for a job. Recruiters assist with finding, interviewing, negotiating, and developing a strategic plan to fill vacant positions within a company. These positions usually offer a base salary plus commission for the successful placement of a worker. Recruiters tend to spend a lot of time on the phone, so if you don't enjoy working with people, this is not the career for you. To learn more, check out this informative article.
74. Reseller
Do you love garage sales and thrift stores? Are you good at finding a diamond in the rough? Then take mildly used and unwanted goods and make some additional money by flipping them and selling them online. Don't think you can make good money doing this? This husband and wife team earned over $130K last year by flipping items on eBay. For more details on becoming a reseller, check out these tips.
75. Resume Writer
If you're an excellent writer who is well-versed in the career nice, becoming a resume writer is a great way to work from home. Professional resume writers use words and proper formatting to create a powerful image to sell a job seeker to a potential employer. To become a resume writer, you can take an online course and become certified. Some resume writers are also certified career coaches and can offer career coaching as an additional service to clients. In these roles, you can work as a W2 employee or freelancer, or you can start your own business.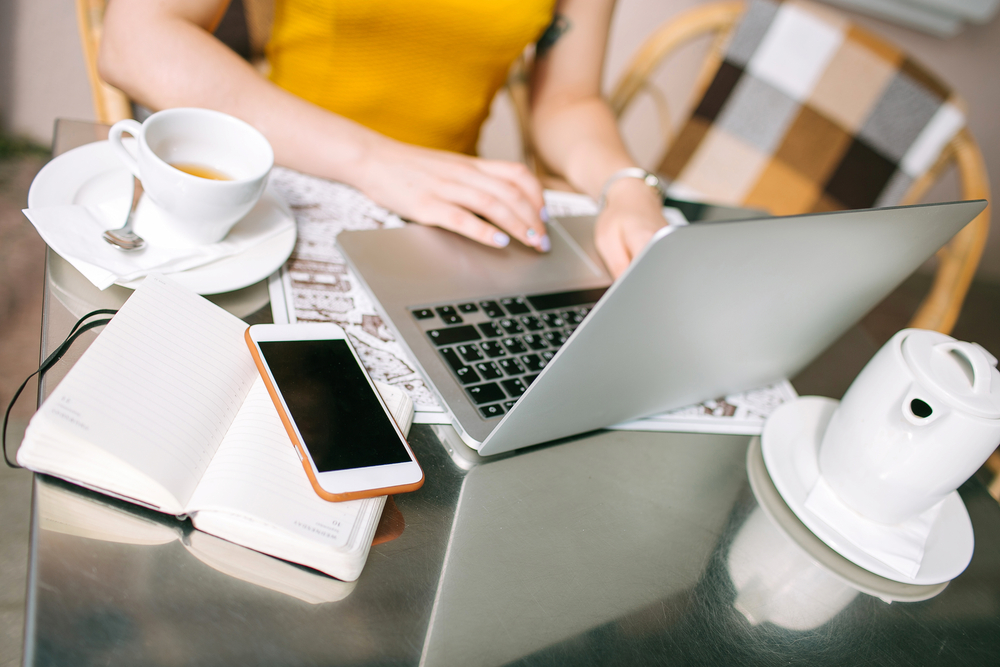 76. Sales Representative
Are you outgoing, motivated, and energetic? Sales representatives sell a variety of products and services in varying settings. This can be an excellent entry-level job, as many companies are willing to train the right individual, and compensation can be very lucrative. As a sales rep, you'll likely earn a base salary plus commission. However, some positions are straight commission, so if you don't make any sales, you don't earn any money. You can check out NexRep and Concentrix for entry-level sales roles and companies like Salesforce and Lincoln Financial Group for experienced positions.
77. Seamstress
Is sewing your passion? Help individuals with making their garments fit and look perfect. Specialize in a niche like wedding alterations or formal wear. You can use sites like Thumbtack to connect with potential customers. As a seamstress, you can also create and sell patterns online. This post has more ideas for people who enjoy sewing and crafting.
78. Search Engine Evaluator
Becoming a search engine evaluator might be your calling if you're tech-savvy, detail-oriented, and up on current trends. In these roles, you'll work as an independent contractor and conduct search queries for search engines to help determine if the search results are relevant. To work as a search engine evaluator, you'll need to pass a preliminary exam which I've heard is quite challenging. If this sounds interesting, you can learn more in this article.
79. SEO Consultant
Do you speak Google? Take your knowledge of search engine optimization and assist business owners and bloggers with driving more traffic to their websites. In this position, you can work as a W2 employee or freelancer, or you can start your own consulting business. To become an SEO consultant, check out this article for details.
80. Short Task Provider
If you're a student, parent, or caretaker, and you only have small pockets of time in your day to complete work, short tasks are the perfect option! As a short task provider, you'll work on mini-tasks that may involve making a phone call, transcription, writing, data entry, verification, research, or something completely different. To start working on short tasks, check out Appen or TELUS International.
81. Social Media Marketer
Are you a fan of social networking sites like Facebook, Twitter, Pinterest, TikTok, and Instagram? Then you may be ready to launch your own home-based career in one of the fastest-growing professions right now as a social media marketer. Some companies may require you to have a marketing degree; others just care about your social media skills and experience. As a social media marketer, you can work as a W2 employee, a freelancer, or you can start your own business. For entry-level social media roles, check out SocialBee, $99 Social, and ModSquad.
82. Social Worker
Believe it or not, social workers can also work from home! These roles generally require workers to be on the phone and have an active license. If you don't mind being on the phone, then check out VocoVision, Wheel, or The Trevor Project. Positions include both W2 and independent contracting roles. Depending on your qualifications, you may be able to start a counseling business from your home.
83. Software Developer
Can you read and write code? Then help companies create programs and applications to better serve their clients. As a software developer, you can work for big tech companies, and you can freelance or even start your own consulting firm.
84. Speaker
Do you have the gift to motivate and inspire people? Are you an expert in your field? Then take your knowledge and expertise and speak to groups about how they can make improvements in their life. As a public speaker, you'll generally be working as a business owner, and your first speaking appearances will likely be unpaid. But as you gain recognition and experience, you can start charging for your appearances. You may even be able to use a site like eSpeakers to connect with potential clients.
85. Tax Preparer
Did you know that you don't need to be a certified public account (CPA) to become a tax preparer? If you enjoy working with numbers and willing to learn the ropes, you can work from home as a tax preparer. As a tax preparer, most of your work will be seasonal, but some tax preparers earn enough money from their busy season to cover expenses for the rest of the year. If you have a bookkeeping business, this may be an excellent add-on service. To find out if being a tax preparer is the right career path for you, check out this free training from the Bookkeepers.
86. Teacher
If you have a bachelor's degree and teacher's certification, there are many companies that hire teachers to teach online in a variety of subjects and grades. To locate these jobs, check out companies like Amplify, Stride, and Connections Academy.
87. Tech Support
If your expertise is technology, there are a wide variety of tech companies that will hire you to provide tech support services from home. Some companies to check out include Asurion, AdviseTech, and OneSupport.
88. Test Scorer
Do you enjoy reading? Do you have a bachelor's degree? If so, you can work part-time reading and scoring student essays and exams. These gigs tend to be seasonal, with most opportunities happening between March and June. If this sounds like the perfect work-from-home job for you, check out Measurement Incorporated, Write Score, and ETS.
89. Transcriber
Do you have excellent listening skills? Are you a fast typist? Help businesses transcribe audio files into written documents. Companies like Rev and TranscribeMe hire freelance transcriptionists. Interested in becoming a transcriber? Be sure to check out Janet Shaughnessy's free 7-part training course, Transcription Foundations.
90. Translator
Are you fluent in more than one language? Translate documents, correspondence, meetings, and phone calls for companies that deal with multi-lingual populations. This article has everything you need to know and companies that hire for these work-at-home positions.
91. Travel Planner
Take the stress out of someone's day by offering travel planning services. Search for the cheapest holiday flights, car rentals, and hotel accommodations; you can even add extras in, like things to do and see while they're visiting another part of the country. As a travel planner or agent, you can work as a W2 employee, freelancer, or business owner, where you'll earn a commission on the travel you book for clients.
92. Tutor
Are you a math whiz? Do you speak a second language? Tutoring can be a wonderful home-based business opportunity, especially for those people who have extensive knowledge of a subject, such as a college student who is majoring in math, a school teacher, or a person who is fluent in a foreign language. Companies like Studypool, Cambly, and Course Hero hire individuals to teach various subjects to students. These positions are generally independent contracting roles, so they're a good way to earn extra money.
93. Virtual Assistant
Do you like to help people? Are you good at administrative tasks? A virtual assistant (VA) is a highly-skilled, home-based professional that offers companies and businesses administrative, technical, and social assistance. The services that you can provide are endless, and all depend on your background training and experience. As a virtual assistant, you can work as a W2 employee for a company like Boldly, as a freelancer for a company like Belay, or venture out on your own by starting a business.
94. Video Editor
With the rise of content creators and video platforms, video editors are in high demand. If you have the knowledge and expertise to edit videos, you can make good money online. As a video editor, you can freelance, start your own business, or find W2 employment. Check out BuzzFeed and Doing Things Media for job openings.
95. Video Producer
Do you love the film industry? Take your filming skills, and assist small businesses with creating marketing commercials, short films, documentaries, and more. As a video producer, you can choose to freelance or find remote W2 employment.
96. Voice Actor
Have you been told that you have a great voice? Are you an extrovert with a creative flair? If so, becoming a voice actor or audiobook narrator might be your calling. As a voice actor, you'll work as an independent contractor. To find voice acting jobs online, check into ACX, Backstage, and BunnyStudio.
97. Web Developer
Do you understand HTML, CSS, PHP, Java, and SEO? Take your techie skills and assist individuals and companies with creating websites, making modifications, and fixing glitches. You can find web programming positions online on freelance marketplaces like Upwork or Fiverr, or you can start your business.
98. Website Tester
Do you enjoy testing out new apps and searching the web? If so, you can make extra money testing websites and apps from home. Most tests take between 10-20 minutes and pay around $10-$20 per test. No special skills are needed to apply for these gigs, but the more detailed your answers, the more likely you'll be invited to do more testing.
For a list of companies that hire website testers, look at this list.
99. YouTube Content Creator
If you enjoy creating informative video tutorials, you can cash in as a YouTube content creator. To earn advertising revenue from YouTube, you'll need at least 1,000 subscribers and 4,000 hours of watch time in one year. As a YouTube creator, you can make money through advertising, YouTube's creator fund, affiliate marketing, and paid sponsorships. Some YouTube creators make millions, like Judy Travis!
What Skills and Education Do You Need to Work From Home?
For entry-level jobs like customer service and data entry, you'll need a high school diploma or GED, excellent communication skills, and basic computer skills. You'll need a college degree for other remote occupations like engineering, journalism, computer science, and nursing.
If you're checking out new career options, volunteering, conducting informational interviews, and taking courses are excellent ways to explore new fields.
No matter where you're at on your job search, make your resume or CV stand out by adding the right keywords from the job listing so that your resume makes it past ATS (applicant tracking software). Today, most companies use ATS to scan resumes for the right skills, experience, and education.
Remember, your resume isn't a list of tasks you did at your past jobs; it's a persuasive document highlighting your best skills, experience, and education, proving you're the best candidate for the job!
Of course, your career choices don't stop with traditional 9-to-5 jobs. With advances in technology, anyone can start a business from home! All you need is the right mindset, some free time, and a willingness to work hard. And yes, there are many ways to start a business without money!
Remote Career Ideas For Women
There you have it, 99 work at home career ideas for women!
Whether you're looking for more flexibility, higher earnings, job growth, or better job security, there is something for everybody on this list.
If you're unsure which job ideas are best suited for your personality, skills, and education, reach out to others who work in the industry you're interested in. Getting a real-life perspective can help you determine if an occupation is ideal for you and your overall life and career goals. You can also use a site like Robert Half to search by skills instead of occupation. Often people have the skills to do a job, but don't know that certain occupations exist.
Need help with your career plan? Check out the Work From Home Career Planner!
Did any of these work at home career ideas pique your interest? Are you looking for a job, or do you want to start a business? Drop us a note; we'd love to hear from you!
Originally published March 23, 2011. Content updated August 2022.