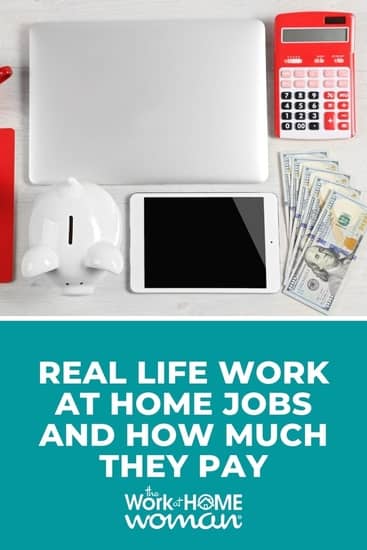 There's so much talk about working from home these days, but for some reason, people think it's a pie-in-the-sky dream made up of fairy tales and rainbows.
I'm here to set things straight and give you the truth about real-life work-at-home options and how much they pay!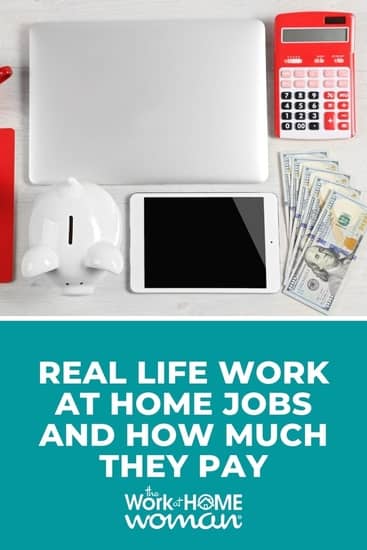 1. Testing Websites
One work-at-home option is testing websites and apps. From large companies to small businesses and bloggers, anyone with a website wants to make sure that their site is user-friendly and accomplishing its goals. That's why they hire people to test out their sites and give third-party reviews as to what's working and what needs improvement.
You'll need basic equipment like a computer, an internet connection, and a microphone to get started. The pay rate for these jobs vary, but it's typically about $25 per test. Tests usually run between 5 and 30 minutes.
User Interviews and UserZoom are a couple of companies that hire for this position. Check out this post for a big list of sites that will pay you to test out websites and apps.
2. Customer Service Representatives
One of the most popular work-at-home options is customer services roles. Many companies hire customer service reps to handle inquires and complaints from home. Usually, all that is needed is a high-speed internet connection, a dedicated phone line, excellent communication skills, and a willingness to help people.
According to the US Bureau of Labor Statistics, the average salary for a customer service rep is $38,510, although top earners can pull in more than $50,000.
Remember—as with most jobs, the bigger the company, the higher the salary you can expect. Some of the top-paying industries for customer service reps are oil & gas, with an average income over $60,000; manufacturing, over $50,000; and insurance, over $40,000. And if you have a few years of experience under your belt, consider climbing the corporate ladder into a higher-paid position like Customer Success or Account Manager. For entry-level roles, expect pay rates to be around $11-$19 per hour.
Sutherland, Amazon, and Apple are a few hiring companies to check out. For more companies that offer remote call center gigs — see this page.
3. Telecommuting
Working for your current job, only at home, might not make you any more money than your present wage, but it will allow you to save money and win back hours of your life. And you can't beat the convenience of working from home.
Most people assume that their job won't allow telecommuting, but the truth is that you never know until you ask. Many jobs can be done from home, and it would even save the company money on things like office space, supplies, and break room goodies (They'd probably save a ton on coffee alone!) to employ that policy.
See this post for tips on creating a telecommuting proposal.
4. Blogging
You might think that you can't make money with blogging, but nothing could be further from the truth. The more I dive into the online world, the more I see just how many people are earning a living writing blog posts. And I'm not only talking about the big bloggers who have hit it out of the park (although it's nice to see those as well, very inspiring!). I'm talking about small to medium-sized bloggers who aren't making six figures but still earn a decent wage to help care for their families.
Here are some real-life bloggers and how much they make:
Friends, that's just the tip of the iceberg! I know people earning anywhere from a few hundred dollars a month to thousands (Michelle makes more than $100,000 a month mostly from affiliate marketing! I can't even imagine!)
If you haven't set up your blog yet — here is an easy and affordable step-by-step tutorial.
5. Virtual Assistant
Being a virtual assistant is a great work-at-home option. The thing I like about it is you get to work with all kinds of people ranging from business owners to bloggers. You could even become an assistant to an owner of a big company; who knows!
You get to choose if you want to work as an employee or start your own virtual assistant business.
The type of work you do is dependent on your skillset, but virtual assistants (VA's, for short) do everything from administrative tasks like making phone calls and managing email to research, writing, and managing social media accounts.
That being said, VA pay rates vary as well. You can charge by the hour or by the project. If you own your own business, the choice is entirely up to you (whereas if you're an employee, it will most likely be an hourly pay rate). Hourly wages range from $15-$60 an hour, and project pay varies widely depending on the project's size, scope, and length. Here are three women who earn six figures from their VA businesses.
Find more resources for becoming a virtual assistant here.
6. Bookkeeper
Working from home as a bookkeeper is an excellent career option if you're detail-oriented and enjoy working with numbers. Common bookkeeper services include managing accounts payable and receivable, recording transactions, financial reporting, and other clerical tasks.
Businesses of all sizes need bookkeepers, so the opportunities are plentiful! You can choose to work from home as an employee, independent contractor, or start your own bookkeeping business.
According to the US Bureau of Labor Statistics, the average salary for a bookkeeper is $44,690. Like many career paths, that pay will vary depending on the company's size and industry. And, of course, if you start your own business or freelance, you can often set your own rates.
A background or degree in accounting is helpful, especially if you're looking to work with larger companies, but it's not always necessary. If you're starting from scratch or looking to switch careers, a quick online course could teach you the tools and skills you need to succeed as a bookkeeper.
7. Proofreader
As a work-at-home proofreader, you could be tasked with reading and correcting a wide range of materials, from articles and web content to project reports and legal documents. How much you can earn depends heavily on what industry you work in and what additional skills you bring to the mix, for instance, medical or legal knowledge.
That said, the average proofreader earns $44,670 annually, according to the US Bureau of Labor Statistics, and the top-paying industries are the legal and financial industries. However, many proofreaders work in media with online and print publishers and can expect to make around $19 per hour.
Sound intriguing? This free webinar will teach you more about proofreading and help you determine if it's the right career for you.
8. Freelance Writer
The best thing about working as a freelance writer is that the topics to write about are endless! There are as many writing opportunities out there as there are interests, so you're bound to find something you enjoy, whether that's writing about food, gardening, travel, movies, or engineering.
Job opportunities for freelance writers vary wildly. If you turn to content mills or freelancing sites, you can expect to earn around $20-$50 per article or blog. While you CAN make a living this way, if you're a speedy writer, you'll have the most success finding clients on your own.
According to the US Bureau of Labor Statistics, the median income for writers and authors is $67,120, and if you can bring in passive income with your blog (which you'll want for self-promotion anyway!), the sky is really the limit!
Are you ready to dive in? Check out this BIG List of Paid Writing Gigs and Opportunities to get started.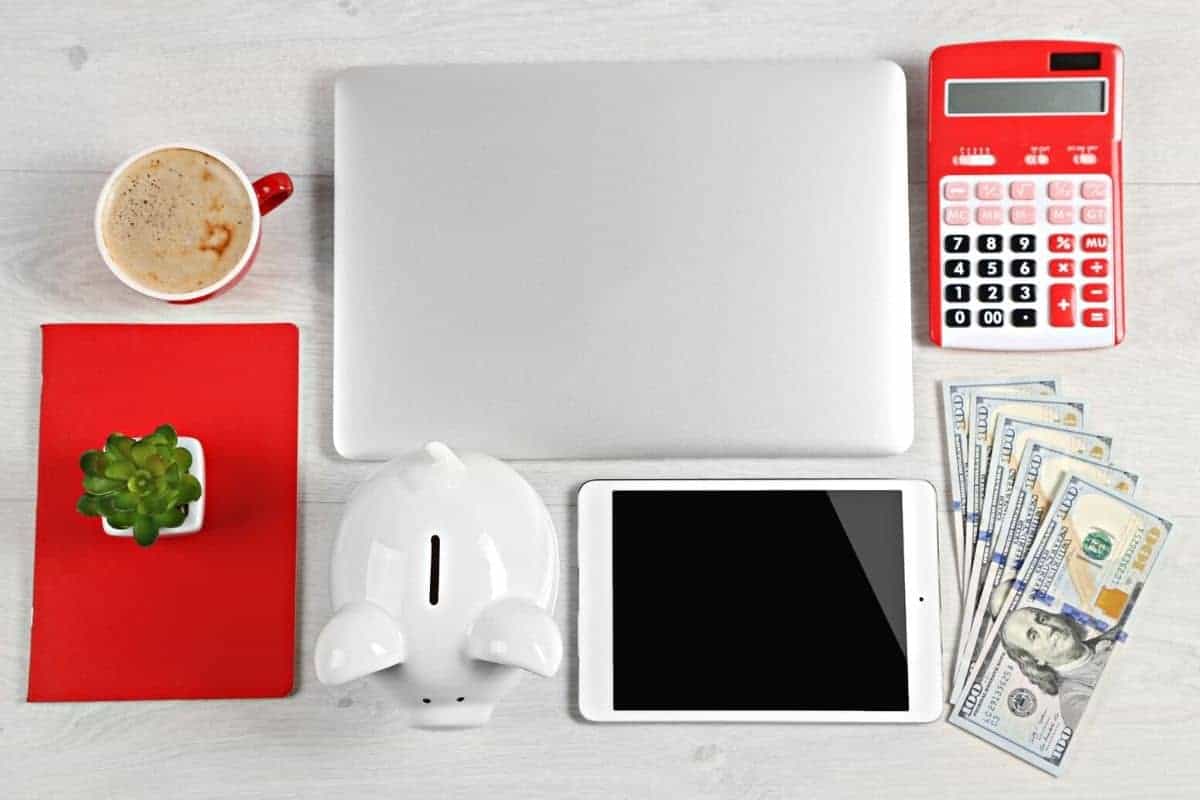 9. Short Tasks
Short tasks are any gig or job that can be completed in a small amount of time – with the majority being completed in less than an hour. These tasks can range anywhere from completing surveys and rating ads online to placing phone calls or picking up groceries.
Depending on which company you use, pay per task can be anywhere from a few cents to a few dollars per task, which can take anywhere from 5 to 20 minutes. While you will not make a full-time income from short tasks, they are a great way to earn extra cash even if you have a hectic schedule, as most can be completed at any time of day or night.
For more details on short task companies and pay, head to this list of 23 companies that will pay you to complete short tasks from home.
10. Transcription
Transcriptionists take the spoken word from audio files or video recordings and type out precisely what it says. These transcriptions are used for various purposes, such as video captions, documentation of medical appointments or police interviews, court proceedings, and more!
While no specialized education is needed to work as a transcriptionist, training in a particular field, like medical or legal transcription, will lead to better pay and job opportunities. You must be able to type fast, though! Typically, at least 60 to 70 WPM.
General transcriptionists, who most frequently transcribe video captions, police interviews, and other less technical material, earn about $10-$15 per hour. Court captioners earn a median of $61,660.
Something to keep in mind with entry-level transcription jobs is the pay is often per audio minute. One audio minute can take anywhere from three to four actual minutes to transcribe, so make sure you do the math before accepting an offer!
However, if you enjoy transcription and can stick with it through the entry-level gigs until you gain experience, it can be a flexible and well-paid remote career. If you already have a bit of experience under your belt, consider looking into legal transcription.
11. Social Media Manager
If you enjoy interacting on social media platforms like Twitter, Facebook, Instagram, YouTube, Pinterest, LinkedIn, and TikTok, there is an ever-growing need for social media managers, consultants, and moderators. Some companies will require a marketing or advertising degree, but others accept workers who have extensive knowledge and experience with the various platforms.
Depending on the work arrangement (freelancer, employee, or business owner), your education, and years of experience, social media managers, on average, earn $71,067 annually. Of course, if you choose to be an influencer or content creator, there is no limit to how much you can make. One influencer, Judy Travis, who creates YouTube videos, earns millions from her parenting and beauty videos!
Now, if you don't have a degree, your earnings are going to be lower. Sites like Lionbridge and Appen hire freelance social media evaluators, and these roles typically pay $14 per hour because they are entry-level positions.
12. Medical Coder
As our population grows, the need for qualified medical coders and billers grows with it. In fact, according to the US Bureau of Labor Statistics, the need for medical records and health information specialists is projected to grow at a rate of 8% in the next ten years. You will need specialized training for this remote career. However, it can quickly be completed online in as little as 4-6 months through a program like CareerStep.
Medical coders can work as independent contractors or as W2 employees. Each work at home option has its pros and cons. Such as, you'll have greater flexibility as an independent contractor, but you're responsible for paying your own taxes. Take all factors into consideration before determining which route you'll take. On average, medical billers and coders earn $45,420 annually.
13. Nurses
There are many work-from-home options for all levels of nurses, LVNs, RNs, and NPs. Some of the most popular positions include case management, online educators, writers, triage, utilization and review, and insurance jobs. Depending on your education, years of experience, where you're located, and the type of job — the pay varies greatly! From group discussions I've seen online, some companies try to low-ball nurses, stating it's a work-from-home position. Other nurses have no problem negotiating what they were making bedside or more! According to Glassdoor.com, full-time telehealth RNs earn anywhere from $52,000-$98,000 annually. Part-time roles, like this one for Wheel, pay RNs $29-$36 per hour.
14. Online Tutor
Tutors generally work part-time hours, usually at night or early mornings when students are not in class. But depending on the season and age of the student, you may also be able to work more traditional hours. Pay rates for tutors vary depending on the age (elementary, middle, high school, college students, or adults) and the subject matter. Most tutoring companies will require you to provide proof of expertise or to pass an on-boarding examination.
Here are some companies that hire tutors and average earnings:
15. Data Entry Specialist
There are remote data entry jobs out there, but you definitely need to watch out for scams with this type of work. But if you're a fast and accurate typist, able to type 60 WPM, you can make anywhere from $13-$18 per hour from job postings I've seen. For these positions, you'll need to have a high school diploma, proficiency with Microsoft Office and Google Sheets, and a high level of attention to detail. I've found that the best place to find this type of work is through staffing agencies.
Here are some staffing agencies that hire remote workers for data entry work:
For more data entry positions, check out this post.
16. Lawyer
Yes, even lawyers can work from home! With the boom of the freelance and on-demand economy, there are many platforms that connect attorneys to projects and clients that need one-off help. But there are also lots of remote full-time jobs available too! Pay rates vary greatly depending on the practice specialty, experience level, and the type of position. On the site, Hire an Esquire, average freelance rates range from $30-$110 per hour. According to ZipRecruiter, the average salary for a remote lawyer is $88,861 annually, with top earners making $180,500 a year!
17. Human Resources (HR)
With the pandemic and the uptick in remote work, the need for qualified HR staff continues to grow as well. And the great news is most companies, big and small, hire for this role. Depending on where you work and how many years of experience you have, pay ranges from $25,000-$97,000 annually. Remote HR jobs can easily be found through staffing agencies like Kforce and Adecco or major employers like Amazon, Dell, and Toptal.
Conclusion
Earning a living wage while working from home has never been more accessible. While these are only some of the most popular work at home options, the possibilities are endless as remote work becomes more widely available.
As with any job, always do your research to ensure any opportunity is right for you before taking the leap. When working from home, you also have to take into account not only the money you're earning but the money you're saving by working at home.
The top area most people will save is no doubt gas to get to and from work, but you'll also save in other areas. No more buying special work clothing, lunches out, or coffee on the go. Working at home means you can wear your sweatpants (or my favorite attire, pajamas!), have leftovers for lunch, and make a pot of coffee at home.
Need more help finding real-life remote jobs? You can check out this HUGE list of over 100 legitimate work-at-home job listings or my other favorite source to find flexible work, FlexJobs!
Originally published November 3, 2016. Content updated October 2021.