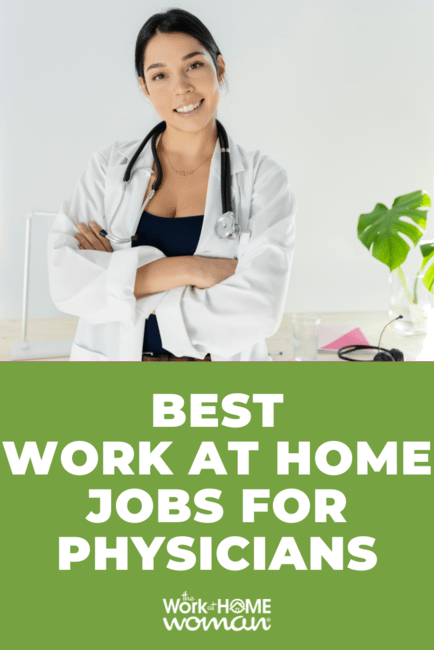 If you're an MD who wants to work from home, here are some of the best work-at-home jobs for physicians, as well as alternative career paths to explore.
When I entered the nursing field, I had a romanticized notion of what my workdays would look like. Little did I know that those long 12+ hour shifts, high levels of stress, and grueling work conditions would burn me out in one short year. Throw in having a baby and wanting to be at home with her more than anything, and I can totally understand why a doctor would like to leave the healthcare field for a work-at-home job.
If you want to stay at home with your little ones or are ready to leave the clinical environment altogether, we have many work-at-home jobs for physicians.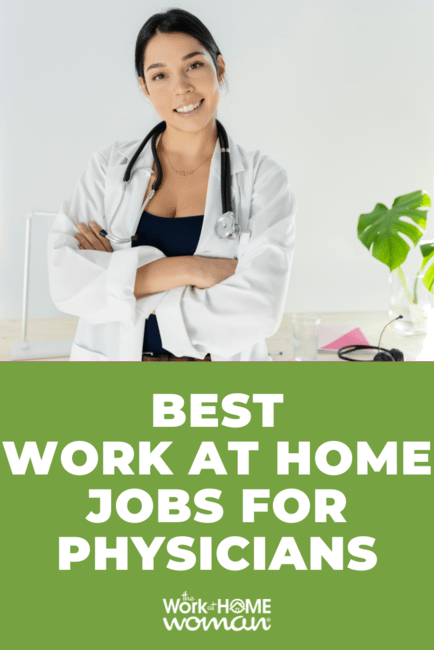 What Jobs Can Doctors Do From Home?
If you still enjoy the clinical side of being a doctor but want more time with your family, here are some job types and companies that regularly hire doctors for telecommuting positions.
Please note that these positions require prior clinical experience and an active unrestricted license to apply.
In some cases, physicians are required to obtain additional state licenses so that they can provide care in multiple states. According to MedLink, California, New York, Texas, Florida, and Arizona are the best states for telemedicine due to their large populations.
1. Clinician
Companies like the diabetes treatment company Virta Health offer flexible work-at-home jobs for physicians and practitioners. The qualifications to work as a clinical care clinician are an active medical license (MD, DO, MP, or PA) and board certification in a relevant specialty like family medicine or internal medicine—in Virta Health's case, a specialty related to diabetes treatment. Clinicians work with the team to assist patients virtually and provide high-quality remote consultations and medical care. Clinicians also help in the development of new technology and protocols to support patients.
To see virtual clinician positions available, visit:
2. Medical Director
Medical directors work in many different areas of healthcare. Directors may manage other physicians, oversee research, direct new programs through insurance providers, and ensure medical trials are safely conducted. Medical directors may also oversee recruiting, screening, and training of new staff members. They ensure all aspects of the facility, practice, or team project are medically compliant. While the role of a medical director is often hands-on, there are work-from-home opportunities, primarily through insurance providers and virtual care providers.
To explore remote medical director opportunities, visit:
3. Medical Science Liaison
Physicians, pharmacists, and medical practitioners may find their calling working in medical science as a liaison. Often this role entails overseeing scientific studies and clinical data for companies as they test medications and treatments. This role may also include data analysis, presentation, testing, and research. These positions are available around the globe, and not all of the jobs require a doctorate degree, making the role an option for those in the pharmaceutical and scientific fields as well.
To find medical science liaison positions, search:
4. Primary Care Educators, Writers, and Content Developers
Physicians with a passion for sharing knowledge with others can find careers as educators, writers, and content developers. Physicians help educational help companies create CME programs, board review courses, and other educational materials. There are even educational podcast opportunities to share the latest technologies and breakthroughs with medical professionals. Hippo is one company that offers work-from-home jobs for physicians with a passion for teaching, writing, and editing in the areas of primary care, family practice, pediatrics, and urgent care.
For more information on these remote jobs for physicians, see:
5. Remote Physician Reviewer
Physician reviewers, also called utilization review doctors, review patients' medical records to determine if treatments and procedures that were billed were medically necessary based on the patient's medical condition and insurance coverage. They may also recommend different courses of treatment to minimize overspending in the medical industry. This oversight may be carried out remotely by a physician who's working from home. Like other positions listed, you'll need a current unrestricted state license, board certification in an area like internal or family medicine, and at least two years of clinical experience.
For remote physician reviewer jobs, visit:
6. Remote Telemedicine Physician + Psychiatrist
Telehealth became extremely popular during COVID-19, and I think it's here to stay. As a telemedicine doctor, you'll provide clinical assessments of patients with minor ailments and prescribe treatments and medications based on their diagnosis. Not only do telemedicine doctors get to work from home, but patients love the ease and convenience of seeing a doctor on a telemedicine platform versus having to go into a clinic.
Virtual medicine is also popular for psychiatric services for mild depression and anxiety. Again you'll need to have an active state license and multiple years of experience in your designed specialty.
Here are some telemedicine companies to apply with:
Non-Clinical Work-at-Home Jobs for Physicians
There are many alternative career paths available for doctors who wish to leave patient care and work from home. You can be your own boss by sharing your knowledge, inventing something, selling a product, or connecting with others.
Here are some non-clinical work-at-home jobs for physicians, with examples of doctors who have found success outside the traditional clinical environment.
7. Create a Course
Use your medical degree and knowledge to create an online course using a teaching platform like Uscreen, Teachable, or Skillshare. Physicians and practitioners can create coaching sessions and health and wellness classes on any topic of their choosing. Teaching from home is a wonderful way to share your knowledge with people and help them learn more about health and fitness. The range of topics is limitless—from self-care and stress management to cancer prevention, heart disease prevention, and fitness. Once your course is developed, list it on a platform for download, or you can teach students through live video. You set the price and the hours.
Ali Abdaal practiced medicine for two years, and in 2020 decided to quit working as a doctor to explore other career paths. Today he runs a successful blog, newsletter, YouTube channel, and podcast, and he has a variety of courses for sale. Topics include everything from productivity, video editing, and how to learn anything using flashcards. Ali Abdaal is so successful that he earned $4.5 million in 2021 through his 15 income streams!
8. Create or Join a Direct Sales Opportunity
Direct sales may seem like an odd fit for a doctor, but many health-focused direct sales companies would love the chance to work with a medical professional. Direct selling offers you the opportunity to share your knowledge with customers and encourage them to use products you feel passionate about. If there's an item that benefits customers' health or enhances their lives — your promotion and endorsement of the product will help to drive sales. With the direct sales model, you pay a small fee for a starter kit, and in return, you're given sample products, marketing materials, and training. For each sale you make, you'll earn a commission.
Have a great idea for a direct sales product? Dr. Katie Rodan and Dr. Kathy Fields founded the direct sales company Rodan + Fields, stating:
"We want to give everyone access to dermatology-inspired skincare so they can experience the personal confidence that comes with a healthy, clear, even-toned complexion. That's why we created Rodan + Fields."
If you're interested in starting your own direct sales company, here are some basic steps to get started.
9. Invent Something
In every field, necessity is the mother of invention—and the medical field is no exception. While most people think of drug development and care advancement when it comes to inventions in the medical industry, those aren't the only areas open to innovation. Chances are, you're faced with little dilemmas every single day. What could help you do your job more efficiently, improve patient experience, or generally make your life easier?
Dr. Leslie Latterman saw a need for updated lab coats worn by female doctors and invented a stylish lab coat that reflects the physical needs of women doctors. Wyou'ven you invent?
10. Start a Blog
Blogging as a doctor might seem like a strange career choice, but if you've got a story to share, blogging is a wonderful opportunity to spread your message. Perhaps you want to share healthy recipes with patients, lifestyle tips, or ideas on how to manage and live with certain health conditions. A blog is a great way to write your thoughts and share knowledge with readers. Best of all, you can earn money from blogging, on your own schedule, as your own boss. It's easy to start blogging, and those with strong expertise and writing skills may find great success.
Dr. Peter Kim is an anesthesiologist who turned his quest for working smarter, not harder, into the blog Passive Income MD. Obsessed with earning passive income and achieving a better work-life balance, he chronicles his journey and helps others learn how to make passive income through his blog, podcast, and courses.
If you'd like to start a money-making blog, I have a simple step-by-step tutorial here that can get you up and running quickly.
11. Write a Book
When physicians think of writing a book, thoughts may turn to a clinical guide, case study, or a researched piece for a medical journal. While those sorts of writing opportunities are available, what about sharing stories, insights, philosophy, or even your life story? Medical memoirs are touching and enjoyed by many readers. Self-help and advice from doctors in nearly any field are highly sought after and valued.
Neurosurgeon Dr. Paul Kalahaven wrote the #1 New York Times Bestseller When Breath Becomes Air — this book is a terrific read if you haven't read it.
Writing a book doesn't even require a publisher nowadays, you can choose to write an e-book and sell it on Amazon, or you can self-publish. For more information on self-publishing, check out this article.
12. Become a Health or Wellness Coach
You already have a wealth of medical knowledge, so why not turn this knowledge into a thriving coaching business?! As a coach, you can help people lose weight, overcome eating disorders, quit drinking, or learn a new lifestyle. Online coaching certification through a company like iPEC can help further your knowledge and expertise. When you run a coaching business, you can choose to coach individuals one-on-one, do group coaching, offer courses, start a podcast, and lots more!
Katrina Ubell is a pediatrician who struggled with losing weight and keeping it off. Today she teaches other doctors how to lose weight for good through her six-month coaching program, her podcast, and her book.
13. Be a Content Creator
If you want to nurture a creative outlet outside of your job as a physician, being a content creator is a fun way to make a side income or replace your full-time salary, depending on how popular you become. To get started as a content creator, choose your desired platforms (TikTok, YouTube, Facebook, Instagram, Facebook, Twitter, or LinkedIn), and start creating regular content. As your audience and popularity grow, you can earn money through creator funds, advertising, affiliate links, sponsorships, product sales, and more.
Two physicians who are building up quite the followings on social media are Doctor Raga, who has 97K YouTube subscribers, and Doctor Leslie, who has 904K TikTok followers. I'm not certain how much they earn, but my guess with these sizes of audiences is they are doing reasonably well. For more information on being a content creator, check out this post.
Conclusion
Being a doctor or healthcare practitioner doesn't have to mean working long shifts away from your family. You don't want to commit to an endless commute and sacrifice your personal life to better the lives of others. If you're looking for work-at-home jobs for physicians, there are many options to provide you with flexibility, freedom, and financial security.
Need more ideas and resources? Check out Dr. Nii Darko's podcast and blog, Docs Outside the Box, for interviews with MDs who are doing extraordinary things.
Are you a physician who wants to work from home? Have you already found your dream home-based career? Drop us a note; we'd love to hear from you!
Originally published June 12, 2018. Content updated October 2022.