When I think of sports, and that's any sport in general, I immediately think of passion. Whether you're playing now, played in the past, or just enjoy watching, we can all share a passion and enthusiasm for the game.
Maybe you never personally made it to the big league, so what? That doesn't lessen your knowledge, opinions, or ability to shine a light on your favorite sport or team.
And where there is passion, there is money. Finding the right work-at-home job in sports can be easier than you'd imagine.
Whether you're into football, soccer, baseball, basketball, or all of the above, there are many exciting career paths in sports.
Here are a few ideas to help you find the perfect remote sports job for you.
1. Freelance Sports Writer
Keeping fans updated on the latest news in sports is one of the most popular topics when it comes to writing. The number of sports fans and readers is astronomical, and you're sure to gain attention and opinions.
Some sports writers may think that their only option is starting a blog. However, plenty of high-trafficking websites and blogs hire freelance and staff writers!
And the best thing about sports stories is that they don't necessarily need to be game-day pieces to take the world by storm. Recent topics such as athletes' and teams' social advocacy, mental health, transgender status, medical conditions, and more have gained world interest and opinions.
If it's happening in the real world, there's a good chance it also has relevance in the sports world. From the latest news to in-depth articles, sports fans are always looking for ways to engage with their teams year-round.
If you're looking for places to score freelance sports writing gigs, check out ProBlogger, Upwork, FlexJobs, or even this huge list of paid writing gigs that Holly has.
2. Sports Photographer
If you're good at taking clean action shots, sports photography maybe your dream job.
Popular websites will pay top dollar for high-quality pictures. You can also sell your photos to various stock photography websites like iStockphoto and Shutterstock. These are just a few examples of sites that are looking for photographers.
Check out this list for more places to sell your sports photos.
3. Sports Broadcast & Video Roles
Sports leagues, professional sports teams, and media companies all have a consistently high demand for premium video content. In addition to videographers and video editors, there are tons of video-related remote sports jobs seeking qualified candidates. Athletics newsrooms need everything from graphic designers, producers, animators, script-writers, audio mixers, and more to keep their broadcasts moving smoothly.
At the time of this writing, there are job ads for remote video editors and broadcast producers on almost all major sports league websites.
4. Sports Coupon Blogger
What do you get when you combine your love of sports with saving money? That's right — the perfect job! Providing your readers with the latest deals on sporting goods, equipment, and supplements could be a lucrative niche.
One overlooked topic in the coupon community are deals on sporting goods and tickets. As the parent of a child who plays sports, I know that I would enjoy reading a blog about how to save money on equipment, clothes, and healthy foods/drinks.
If you want to start a blog, here are step-by-step instructions on how to set it up and start making money.
5. Sports Podcast Creator
If writing isn't your thing, then creating podcasts may be the perfect solution to voicing your opinion on a sports topic.
A podcast is a radio show that listeners access on the internet or via a podcast app on their phone. Many people listen to podcasts much like they listen to their favorite radio show. The only difference is that you can pick and choose your podcast episodes as needed. You don't have to wait for a particular time, as you do with a typical radio show.
Podcasts are another option if you like updating sports fans with the latest news and your thoughts on the matter.
6. Sports Social Media Manager
Where there's a team, there's usually a large fan base, and those fans are looking for community, energy, and news about their preferred team online. That's where sports social media managers work their magic.
Professional sports teams, collegiate teams, minor league teams, sports associations, and more frequently hire their own social media producer, manager, or coordinator to represent their brand and engage with fans across multiple platforms, including Facebook, Twitter, TikTok, YouTube, and the like. If you're less of a team loyalist and more of a general enthusiast, you can also find similar roles at a specialized, digital sports media company or even in the sports division of larger media companies.
As a sports social media manager, you may need to attend games onsite occasionally, but you'll frequently find the role offered as a fully remote position too.
7. Sports Talent Scout
Sports talent scouts must discover, analyze, and recruit the next big athletes! You can find remote talent scout jobs worldwide, with universities and athletic talent agencies being the biggest employers.
The requirements for working as an entry-level talent scout can vary anywhere from a general interest, playing experience, or a writing background in your sport of choice, while higher-level positions are going to look for proven coaching or training experience.
As a sports talent scout, you will likely be required to attend games and coordinate interviews onsite, but much of your research and negotiations can happen from your home office.
8. Sports Data Analyst
Are you good at crunching numbers? Then you may be pleased to know that remote jobs in sports data analysis, data science, and statistics are plentiful. You can find jobs with individual teams, sports broadcasting and media companies, fantasy leagues, universities, and more.
As a sports data analyst, you may be responsible for closely monitoring games and collecting insights or simply analyzing them later. You'll use the data to evaluate performance, identify trends, and make predictions on individual athletes or teams.
To work as a sports data analyst, you'll likely need a bachelor's degree in Computer Science, Data Science, Statistics, Mathematics, or a related field.
Where to Find Remote Sports Jobs
While the above roles are some of the most commonly available remote sports jobs, teams and leagues are run like any other business. That means you can find all of the same support roles with sports companies as you would at any other company, such as accountants, sales associates, software developers, and more. While not all of these roles will be offered remotely, it never hurts to keep a lookout to see what's available! Here are just a few places where you can find remote sports jobs.
Professional, Collegiate, and Amateur Sports Teams
Is your favorite sports team the one in your home town? That's a great place to start your search! To work with a professional sports team, you're likely going to need a bachelor's degree and as much as 5-10 years of experience or an equivalent combination of education/experience. If you don't quite have that much experience under your belt yet, try starting with minor leagues or teams to see what positions are available.
Major or Minor Leagues and Associations
The NFL, NBA, MLB, MLS, and NASCAR all occasionally hire for remote roles. At this time, it does not appear that the NHL, PGA, UFC, or Formula 1 employ remote employees. In regard to location, most jobs with professional sports leagues and associations are based in the North East, California, or Nevada. However, even US-based sports leagues hire internationally, with some hiring in the UK, Canada, Mexico, China, and Japan. And with leagues and associations located worldwide, jobseekers can find remote sports jobs just about anywhere.
Sports Blogs, Websites, and News Channels
Outside of ESPN and Sports Illustrated, most major news networks have sports divisions, with NBC, Fox, CBS, ABC, and Yahoo being the biggest. If you're looking to start a little smaller though, thousands upon thousands of popular sports blogs and websites hire remote sports writers, photographers, podcast producers, and many other careers fields.
Here are just a few to check out:
If you have your heart set on sports writing, photography, or any other up-close-and-personal career field, but you don't have experience, start local! Local newspapers, magazines, and blogs are good places to get your feet wet in the field, and they are almost always looking for freelancers.
Fantasy Leagues
Fantasy leagues are BIG business, and as a major bonus, many of the roles are very remote-friendly. And many of these companies hire home-based employees in just about every field – from writing and marketing to software and web development, data science, and infosec, as well as back-office roles in human resources, accounting, and more.
Sports Management & Media Agencies
With professional and amateur sports being such big business, many management, marketing, publicity, and media agencies are solely dedicated to working with athletic teams and companies. And there are plenty more that work with teams and individual athletes, even if sports is not their exclusive focus.
Here are a few sports management and media agencies that offer remote roles: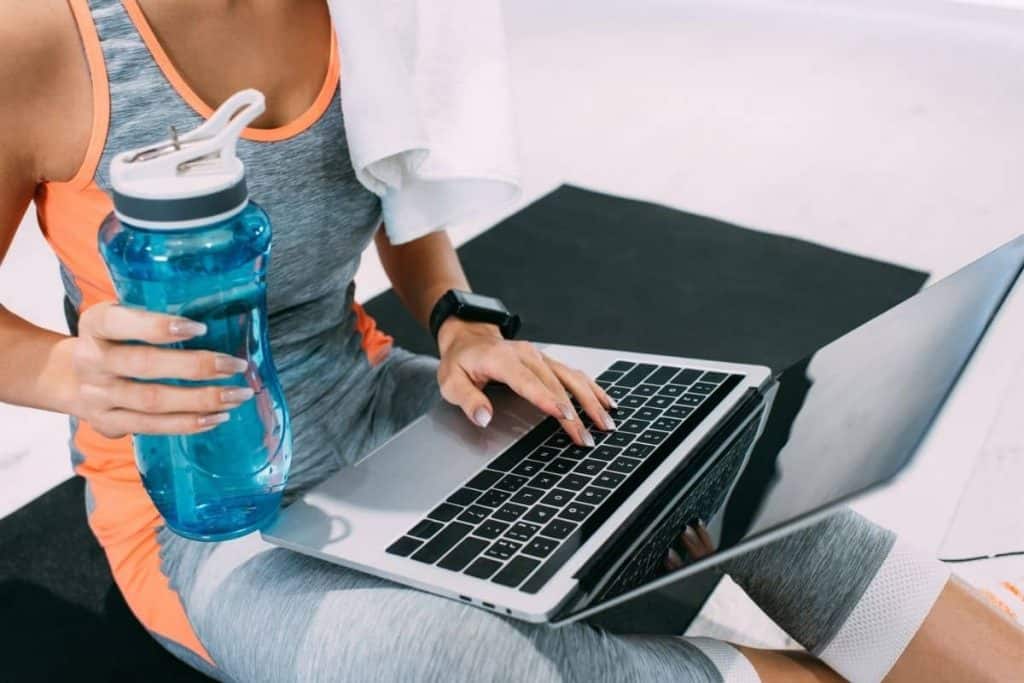 Other Places to Find Remote Sports Jobs
There are hundreds of other businesses that support sports and athletics; you can find remote jobs anywhere from fanware and athletic gear suppliers to ticketing platforms. If you have your heart set on working with athletes, don't forget that companies like Redbull and Pepsi are some of the most prominent athletic sponsors, and they don't have anything to do with sports!
If you're not sure where to start or you don't have a preference, browse the remote offerings on these sports job boards. Use the search terms "remote" or "virtual" to find openings in your area.
While the sites above are the best sports-focused job boards, you can also find remote sports jobs on sites like Indeed or Reed.co.uk if you're in the UK. Bonus Tip: These more generalized job boards tend not to list openings under "sports," so add specific sports like "football," "hockey," "soccer," "wrestling," etc. to your query for the best results.
What You Need to Know About Working in Sports
The downside of working directly with a team vs. a general athletic or sports company is the work can sometimes be seasonal or part-time. Of course, teams and leagues also hire plenty of full-time employees, but you should be prepared for potential hills and valleys of work.
Additionally, some positions may require occasional onsite work and travel for gamedays. Others may require working late nights and weekends to ensure you get the final play-by-play or press conference sound bite before hitting publish.
You'll want to do your research to ensure the demands and schedule of your preferred role will live up to your lifestyle expectations.
That said, if your lifestyle revolves around your favorite teams and games, the pros are likely to outweigh the cons in these remote sports jobs.
Perks of Working in Sports
The biggest perk, of course, is free tickets and behind-the-scenes access to your favorite teams and athletes. In addition to game tickets or access, many leagues, teams, and athletes receive sponsorships that you may receive perks from as well. As health and wellness is a top priority in the sports business, you'll often find perks like gym memberships, personal trainers, nutritionists, massage therapists, and more in your sports-related role.
And while the hours of your "on" season may be demanding, many teams and leagues offer generous PTO and vacation benefits to full-time employees during the off-season so that you can catch up on your R&R.
Conclusion
The world of sports is massive! It encompasses so many skills, interests, and ranges of expertise that you are sure to find a career you love. If you have passion and drive, you can easily put them to work in sports.
The jobs listed above are just a very small selection of work-from-home sports jobs and the places that hire. Hopefully, it gave you a good idea of where to look – or maybe even a new side hustle to start!
Originally published April 19, 2017. Content updated March 2022.