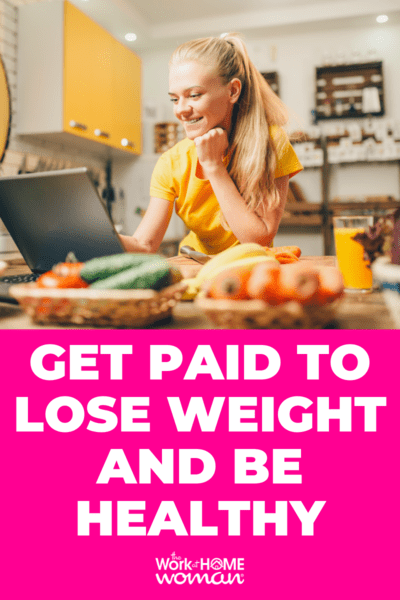 Wouldn't it be nice if you could get paid to lose weight? Sounds too good to be true, right?
Well, guess what?
There are many opportunities designed to help you earn money while you lose weight! And it's not just about getting paid to lose weight, either. These work-at-home options can help you adopt healthy practices, try new things, or help others lead a healthier lifestyle.
If you've been thinking about losing weight or getting healthy this year, why not get paid while you're at it?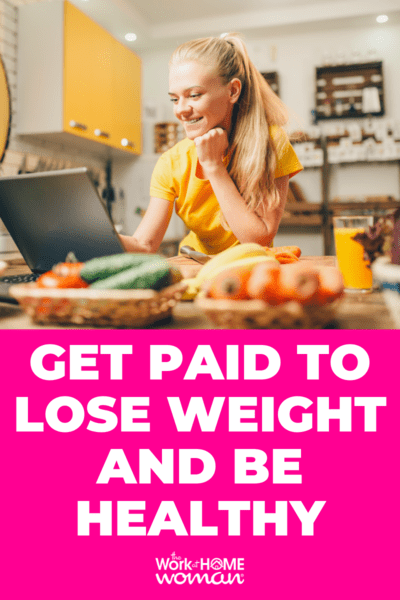 Here are 20 options to help you make money while you lose!
1. HealthyWage
Since it started in 2009, HealthyWage has been featured all over, from Good Morning America to Woman's Day. The concept is simple: you put in $100 and bet against yourself to lose weight. If you can't lose 10% of your body weight in 6 months, you lose your money. BUT, if you hit your goal, you earn $200!
HealthyWage acts as the bookmaker for your bet. The more money you put in, the more you can earn. If you need a little motivation and the financial incentive of earning while losing is appealing, this might be the key to meeting your fitness goals.
2. DietBet
Have you ever participated in a "biggest loser" contest with family or friends? If you have, you know how hard it is to keep track of everyone's progress. DietBet does the tracking, comparing, and hard work for you. All you have to do is lose weight and compare results.
Sign up, invite your family and friends to play along, or join an existing contest. Each person in your group wages a bet, and from there, you log your weight and track your results. Earnings are dependent on the amount of the pot, how many players there are, and of course, DietBet keeps a percentage (10%-25%). Those who lose 4% of their body weight at the end of four weeks split the payout!
3. Use the WayBetter App
WayBetter is an app that can help you get better at things like push-ups, gratitude journaling, and increasing your core strength. To get started, browse their games, find one that fits your fitness goals, place your bet, and play along. Individuals who meet their goals will have a chance to win the pot of money from the challenge. One challenge was to walk for 30-minutes, four times a week, for two weeks. The game below required a $5 wager and had a payout of $1,125 for the winner!
4. Join Starz
If you have a fitness, dance, or sports background and a desire to work with kids, Starz offers job opportunities for kids' fitness classes throughout the United States. Instructors should be experienced and comfortable working with children. The hours are flexible (summer and after school), and the pay is dependent on skill, experience, and the facility. Or if being the boss is more your thing, check out their home-based franchise opportunity here – a great way to get your body moving while making money!
5. Isagenix
Isagenix is a direct sales company that sells wellness products to help clients meet their weight loss and health goals. Their product line includes weight loss shakes, performance products, vitality and wellbeing products, essential oils, and personal care and beauty products. Isagenix reps earn a commission on products they sell and additional commission for team-building activities, and they are a member of the Direct Selling Association.
6. Become an It Works Distributor
Known for their body-contouring wraps, It Works is a direct sales company that sells solutions for boosting energy, weight management, keto diets, healthy lifestyle, and more! They've been around since 2001, and Distributors can get started for as little as $99. It Works is available to worldwide residents, and it has a C + rating with the Better Business Bureau.
7. Team Beachbody
The direct sales company, Team Beachbody, offers "coaches" a business opportunity to help others achieve their health and fitness goals by providing them with supplements, workout DVDs, and nutritional packages. Coaches earn up to $90 for every Beachbody Challenge Pack they sell and a 25% commission on retail sales. If you decide to build a team, you can earn even more money. Team Beachbody is a member of the Direct Selling Association.
8. FIT4MOM Instructor
FIT4MOM is a home-based franchise focused on fitness classes for pregnant women, moms, and babies. With FIT4MOM, you can sign up as an instructor and earn an average of $15 per class, or you can purchase a home-based franchise and earn quite a bit more as a business owner. Being a past FIT4MOM participant was an excellent way to shed the baby weight and meet other moms. FIT4MOM has been helping moms achieve their fitness, weight loss, and financial goals since 2001.
9. Healthy Hands Cooking Instructor
If you enjoy cooking and working with kids, becoming a Healthy Hands Cooking Instructor may be the right business opportunity! The concept behind Healthy Hands Cooking is to encourage kids to make healthy food choices. After the initial training, you can teach classes through summer camps, birthday parties, or weekly classes from your home.
The earning potential of Healthy Hands is limited only by the hours and your ability to network with clients. The initial fee to get started is $497, and you're given the tools you need to create your own cooking instruction business. As an instructor, you have access to online class scheduling, lesson plans, recipes, marketing materials, and support.
10. Plexus Worldwide
Known for their slimming Pink Drink, Plexus is a direct sales company that sells supplements, weight loss products, a skincare line, and other products to promote a healthy lifestyle. According to its website, Ambassadors can earn money in 10 different ways, and they have an A+ rating with the Better Business Bureau. So, if their wellness products have helped you with your weight loss journey, this may be a good way to stay on track and earn money at the same time!
11. Fitness Blogger
They say that the best way to lose weight is by holding yourself accountable, and what better way to do that than by sharing your weight loss journey on a blog?! One such mama that took this route is Leah Segedie of Mamavation. Not only did Leah lose 100lbs, but now she helps other moms lose weight and be healthy! She's also written a book, started an influencer network, and a social media conference called ShiftCon! If you'd like to start a blog, check out this post for step-by-step instructions and different ways to make money!
12. myWalgreens
If you shop at Walgreens, you're probably already a member of the Walgreens Balance Rewards Program, which rewards your purchases with points that can be traded in for money off future purchases. But did you know that Walgreens also rewards points for healthy behaviors with their myWalgreens program? Just sign up and join a 4-week challenge, and you'll earn Walgreen's cash rewards for every week you complete.
13. Be a Delivery Courier
Do you live to ride? Do you enjoy being outdoors? Then consider becoming a delivery courier with an on-demand company like DoorDash. You to earn money on-demand by delivering items with your bike (or scooter or car).
To get started, download the applicable app, log in, and begin accepting assignments. Once your job is completed, the money will be deposited into your account. If this type of work sounds appealing — check out this guy's story of his summer experience of working as an Uber bike messenger.
14. Be a Tour Guide
Do you enjoy walking around town? Do you know of hidden hiking spots? Are you knowledgeable about your city's history and culture? Then sign-up as a tour guide with Tours By Locals. With Tours By Locals, you create unique experiences to share with others. To start, create an account and fill out your application (all guides are vetted for quality and safety).
Once you're approved as a guide, you'll list your experiences and wait for individuals to sign-up. With the Tours By Locals platform, you can accept payments, and you'll receive your earnings via direct deposit. Tours by Locals has an A+ rating with the Better Business Bureau.
Related Content: How to Make Money Being a Local Tour Guide
15. FitCoin App
I don't know much about cryptocurrency, but if you're into it — you can earn some with FitCoin. With this smartphone app, you connect your fitness tracker (Fitbit, Apple Health, or Garmin) to the app and complete your workout session. The more calories you burn, the more cryptocurrency you earn. With this app, you won't get rich, but it could be a good way to make a little extra pocket cash. FitCoin receives a 3-star rating in the app store.
16. Sweatcoin App
Sweatcoin is a smartphone application that allows you to earn Sweatcoins for steps you take each day. Just download the app, and Sweatcoin will track your movement using your phone's accelerometers and GPS location. 1,000 steps = 0.95 Sweatcoins, which can be traded for fitness gear, exercise classes, iPhones, Apple watches, even cash via PayPal. Sweatcoin receives a 4.5-star rating in the app store.
17. Evidation App
Evidation, formerly Achievement, is a smartphone app that rewards points for making healthy choices. With Evidation, you connect the app to your favorite fitness apps (over 20 to choose from), and it tracks and rewards your healthy decisions (walking, meditating, tracking your food intake, sleeping, tweeting, and surveys). 10,000 points = $10.00 in cash (paid via PayPal or your bank account). Evidation receives a 4-star rating in the Google Play app store and a 4.6-star rating in the Apple app store.
Related content: 6 Apps That Pay You to Exercise
18. Weight Loss Study Participant
If you're willing to try out an investigational weight loss medication or are eager to share your thoughts and opinions on health-related issues, you can make good money by participating in research studies. Over the years, I've participated in numerous drug studies (for allergy medications) as well as focus groups. For one study I completed, I earned $2,000 for a two-weekend overnight stay study (although I had to endure multiple blood-draws). To find clinical research studies, check out ClinicalTrials.gov, and for focus group studies check out User Interviews or Respondent.
Related Content: Make $50 – $150 an Hour Participating in Focus Groups
19. Get Paid to Walk Dogs
If you enjoy walking furry friends, you can make good money using the Rover app! With Rover, you can offer various services like boarding, pet sitting, dog walking, and overnight visits. Create your own schedule and set your own prices. The average part-time pet sitter earns approximately $1,000 per month—a great way to make money while you're out and get exercise and create healthy habits.
20. StickK
StickK is an accountability app for iOS and Android devices. With StickK, users agree to a commitment contract to ensure that they follow through with their goals, whether it's losing weight or making exercise a priority. Individuals and teams can define their goals and choose financial stakes (any dollar amount). They invite family and friends to the app to be their referees (accountability partners). If the user doesn't meet their goal, they forfeit their stake to their accountability partner. While you don't directly make money with this app, the threat of losing money is a powerful motivator to help achieve your health goals.
Conclusion
There are so many ways to make money from home while losing weight and promoting a healthy lifestyle. Whether you want to start a side hustle, a full-fledged business, or just earn a little extra cash on the side. There are plenty of options to help you make money while you lose weight and get fit.
Do you know of another way to make money while losing weight or getting healthy? Drop me a comment below; I'd love to hear from you!
Originally published January 9, 2017. Content updated January 2022.