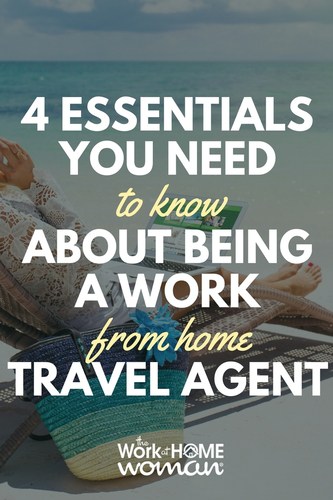 Sponsored by Cruise Planners
Plus, a special webinar invitation to learn more about Cruise Planners, the nation's largest home-based travel agent franchise network
See the world while working from home: Sound like a contradiction? Actually, it's not. As a work-from-home travel agent, the world is yours to explore and to sell. You're in control when it comes to managing your business so that you can choose your balance of work, travel, and of course, family life.
There are different ways to work from home in the travel industry but owning a travel business through a franchise company can be one of the most rewarding. Cruise Planners, an American Express Travel Representative, makes getting started easy, setting you up with the tools you need to be successful so you can focus exploring your passion for travel without having to start a business from scratch.
So how can running a work-from-home travel agency give you the freedom and flexibility to live your life in a way that's best for you and your family?
Here are four reasons why this opportunity is an ideal fit for work-at-home women.
1. Your Business at Your Fingertips.
Working from home has plenty of benefits, and one of the most important is being able to put your family first. Cruise Planners is a business-in-a-box franchise model that includes marketing, a web program, live and virtual trainings, ongoing business development support, and even a mobile app for your clients. Cruise Planners' essential ingredient to success is technology which allows you the ultimate freedom and flexibility to run your business on any device.
Franchise owner and mom of two football players, Carolyn Leibowitz never wants to miss one of her sons' games, and thanks to Cruise Planners' mobile technology, she doesn't have to. Cruise Planners' mobile technology allows you to manage your business from anywhere, from school pick-up lines to football sidelines, so you don't have to miss out on any of life's most important moments.
2. Travel is Part of Your Job.
As a work-from-home travel agent, you don't only have to work from home. Some of your best experiences will come from actually traveling yourself. The best part? Travel agent discounts and incentive programs make it easy for you to bring the whole family along so everyone can experience a cruise, resort, or new destination. What better way to see how a future client might like a trip than to see it through the eyes of your children?
"We love to travel with our kids. It is so fun to take them to our favorite places as well as explore new places with them. They are teenagers; We already feel like our time to travel with them is limited before they go off to college, so we're trying to see as much as we can with them. With Cruise Planners, that's more possible than ever before." – Maureen Leesman, Cruise Planners Franchise Owner
3. It's a Woman's World.
24 years ago, a young mother named Michelle Fee started Cruise Planners at a time when travel agencies had storefronts, and home-based businesses were rare. Today, she still leads Cruise Planners as CEO along with Vicky Garcia, COO. With woman-owned companies still a minority, Cruise Planners is an example of inspiring female leadership with the awards to back it up.
Finding a company that feels like home is rare, and at Cruise Planners, franchisees aren't seen as just a number, but rather part of the family. Cruise Planners thrives under the idea of Cruisitude™, a positive way of life that covers everything from the excitement you feel before a vacation to a commitment to giving back locally, nationally, and internationally through the CP Cares non-profit.
4. No Travel Experience? No Problem.
When starting a Cruise Planners franchise, there's no need to submit a resume, just bring your passion for travel. No matter your background, you can be successful as a Cruise Planners travel agent. Cruise Planners trains you, provides the best tools in the industry, and coaches you toward success.
"I chose Cruise Planners because of the amazing technology and support from the Home Office Team. Plus, the initial onboarding training is top notch. Knowing you are in business for yourself but never by yourself was an important deciding factor for me." – Chantelle Nugent, Cruise Planners Franchise Owner
Sign Up Now: Work-From-Home Parent Webinar – Wednesday, April 25, 2018, at 11 a.m. – 12 p.m. ET. 
Join the Cruise Planners webinar exclusively for work-from-home parents. Be sure to sign up and learn how Cruise Planners can transform your life.
This post was written and sponsored by Cruise Planners. Please be aware we only promote advertising from companies that we feel we can legitimately recommend to our readers. See our disclosure policy for further information.