Tell us a little bit about yourself and your entrepreneurial journey.
As a youngster, I was always interested in designing spaces, building things, and working with fabrics. I did all of this as a hobby, assisting friends across the country. When I did some design work for an employer, outside of the scope of my IT duties – it rekindled the desire to pursue that line of work. The easiest and smartest way seemed to be to buy a franchise – one with a proven track record, and brand recognition. Funding was another issue – I had a pretty good 401(k), but, I needed a good way to access the money, without having to suffer severe tax penalties – I used Guidant Financial, at the advice of a franchise broker, to set up my corporation – and get my business started.
Do you have any special training?
I studied architectural drawing, and other arts courses throughout high school, and college. Decorating Den Interiors provides intense business, design, and marketing training. The continuing education from Decorating Den, and my personal desire to increase my knowledge, provides great value to clients. I have completed all courses and rigorous testing to achieve their top level of design and business competency – Decorating Den Certified Decorator, DDCD.
What are some of the challenges you face as an Interior Decorator?
Finding the right clients, educating them on my products and services – and communicating how I can help them get the home of their dreams. Some of the decorating shows on television have opened the eyes of consumers into the world of design – unfortunately some have been been left with unrealistic expectations of the cost of hiring a professional.
What types of services and products do you offer?
I work with directly with over 100 major manufacturers of fine home furnishings. I offer my customers home, and light commercial, design services, complete with quality products, including custom window coverings, wall coverings, flooring and area rugs, lighting, fine furniture, casegoods and upholstery, accessories, custom bedding, and custom closet systems. The unique thing about us is that all selections are made in the comfort of the client's home, (we don't waste time running around from store to store) and design services are complimentary with our products. We stand behind the quality of all of the products, and because of the great relationship with our suppliers, they stand behind us.
How much do you earn annually?
We have averaged over $300,000 in sales the past 3 years, and are on our way to increasing revenue by over 30% this year. I still invest heavily in marketing, which is a large portion of our expenses – but, we are becoming less reliant on print media, which will help overall profitability.
Give us an example of how you landed one of your first clients.
One of the great things about Decorating Den Interiors is their support. They helped me with my Grand Opening – and that is where I got my first client – from a mailed invitation. Bearing in mind that I started my business in 2007, and most of my early business came from newspaper advertising. I was new to Nashville and had very few friends, and no relatives to rely on!
What do you believe has contributed to your success?
Determination! Failure was and is not an option – and having a great support network. My background team – Decorating Den Interiors and Guidant Financial – both help me to run a great business, and with their help I can offer employees great training, a good product mix to sell, and a 401(k) retirement plan with an employer matching contribution as an added benefit!
How are you currently growing your business?
I'm focusing on internet marketing – Houzz.com is a great marketplace to showcase my work, and my philosophy. Additionally, Decorating Den provides me with a fabulous website and lots of business tools.
I also get myself out there at Home Shows – and still doing some print marketing. Today it is all about layering, and managing your marketing dollars.
What advice do you have for other women who want to start their own Interior Decorating Business?
Learn about your competition, and determine how you will set yourself apart.
Have systems in place – good business practices are crucial. Identify your weaknesses, and either work on them, or outsource them to professionals.
Plan to work hard, be smart about what you take on, and have fun!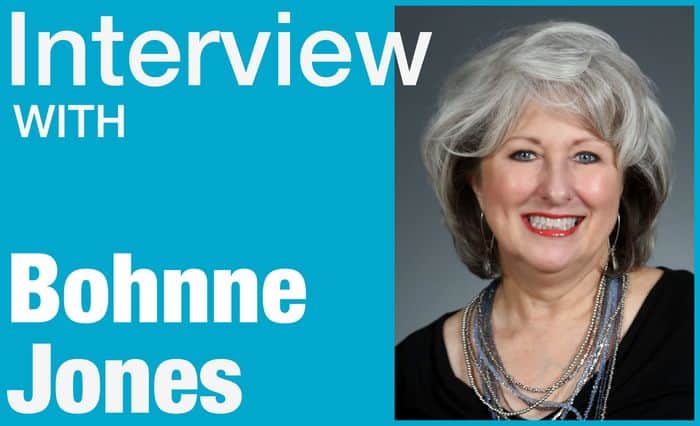 Connect with Bohnne Jones …
Would you like to be featured next on The Work at Home Woman? Fill out this form for consideration!
This page includes affiliate links. Please be aware that we only promote advertising from companies that we feel we can legitimately recommend to our readers. Please see our disclosure policy for further information.