I always thought I had great business cards, but after attending the Blissdom Blogging Conference and seeing the fresh designs that other bloggers had – my poor business cards paled in comparison.
We all know what fantastic marketing tool business cards can be, but what should we include on them?
Should they be clean and straightforward or flashy and creative?
Should you include all methods of contact – or is simplicity the key?
I went on a hunt to find out what makes for the perfect business card and it seems we can learn a lot from the gemstone industry. Just like gemstones, business cards need certain elements to make them stand out from the crowd.
Seven Essential Elements to Make Your Business Card Shine
1. Clarity
Your information needs to be clear and easy to read. Don't overload your card with too much information or hard to read fonts. Add your most essential methods of contact – generally email and phone. However, if you do most of your work online add your Twitter, Facebook, or LinkedIn account information. Give your customers options – everyone has their own preferences when it comes to communicating, remember some prefer verbal while others prefer written.
2. Shape
I've seen some pretty cool designs out there, everything from snowflakes and wine bottles to beautiful cards that fold out and pop-up. But do you know what? If it doesn't fit into a wallet or business card holder, it may end up in the trash. Sometimes simple and standard are best.
3. Enhancement
If your business name doesn't convey what you do, enhance it by including a short informative tagline. If your business is dual-sided like mine is, (I'm trying to reach new readers and new advertisers) make sure to include some information for each audience.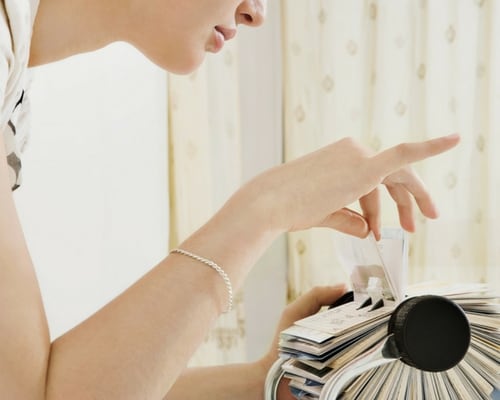 4. Flawless
Make your card scannable by highlighting the critical information and keep it simple. Too many colors, font styles, and sizes can make your business card appear cluttered and disorganized. Keep it clean by utilizing the same font and by minimizing the number of colors you use. This post from UCreative.com gives some useful tips for incorporating the right colors and design elements into your business card.
5. The Wow Factor
Of course, you want your card to stand out from the crowd, so have fun and get creative. Use unique finishes, cutouts, embossments, or folded cards. You can even get creative with the type of material that you use to print your cards on. I've seen everything from metal, wood, and rubber to amazing business cards with beautiful cutouts and imprints.
6. Adornment
Adorn your business card with a headshot. Including a photo can be an excellent way for others to identify you in a crowd, and it allows people to put a name with a face. If you attend a lot of networking events, this is a smart tactic.
Photographers and product creators — add a photo from your portfolio or top seller. I just saw some fabulous pictures on a business card just the other day that piqued my interest; people are visual use it to your advantage.
7. Treasure
Make your business card a treasure by adding a bonus to the backside. I have to tell you that I love the business/appointment cards that my dentist uses. They are your standard business card on the front side, but on the back, they have an appointment sticker with the date and time of your next appointment, that you can stick right on to your calendar. I've also seen the backsides of business cards filled with schedules, services offered, and discount codes – use this space creatively and make your card work twice as hard for you!
Conclusion
Now that your business card shines you can wow your customers and leaving a lasting impression.
What details do you have listed on your business card? What tips do you have to make your business card stand out from the crowd?