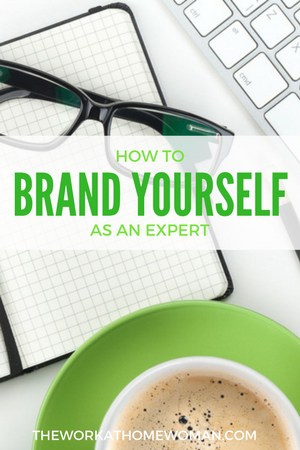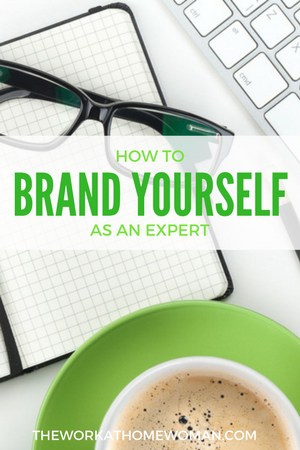 For many small women business owners, your company's brand is YOU. Right? Your customers are hiring you for your unique experience, expertise, and how you solve their problem. Even if you have a few employees, your customers still probably buy because they trust you. Even if you are producing a product and not a service, when you start out, people try the product in many cases because they trust you.
So how do you promote YOU?
One of the ways many consultants or small business owners stand out from the crowd is to brand themselves as an expert or a thought leader in their industry. While "expert" sounds like it applies to professional services only, it doesn't. All you want to do is say "Hey, I know a lot about this subject or niche because I consult, offer a service or make a product in this space. So come to me for your advice."
For example, if your business sells cloth diapers, be the expert in cloth diapering. If you are an interior designer who has a lot of experience with designing outdoor spaces, go ahead and state you are the outdoor space design expert. If you are a financial planner and notice that all of your clients are divorced women, become the expert in financial planning for divorced women. If you make gluten-free cupcakes, be an expert in gluten-free baking. If no one else has claimed they are the expert in your particular niche, claim it. Put your flag in the ground and grab the opportunity to have your brand, you, associated with that topic.
So how do you claim you're the expert?
First, define what you are the expert in. Take a look at your product or service.
What industry are you in?
Do you specialize in a niche portion of that industry?
Are there any trends surrounding your industry?
For my company, I wanted to be the "Rachel Ray" of Family Fun. If you want to know how to connect more with your kids or grandkids and have more fun with your family, call me. I want to be the "go-to" expert in this space. Holly wants to be the expert in helping women work from home.
Once you have determined what you want to be an expert in, you need to demonstrate that expertise. How do you do that?
Here are five brand strategy tactics to start getting customers, industry peers, and even the media to associate you as the thought leader or expert in your niche.
1. Create a blog.
You need a showcase to share your knowledge and demonstrate your expertise. So start your own blog to start telling people about what you know. If you hate to write, hire an intern to write your thoughts or use your smartphone camera to shoot video or yourself talking.
Read Holly's free e-book, Blogging Success: Tips for Creating Content, Getting Traffic and Monetizing Your Blog to get started blogging.
Once you've been blogging for a while, you can tweak your blog posts into an ebook for even more credibility building. If you don't think you have the time to commit to a blog, then participate in online communities dedicated to your industry. By commenting or answering questions in these communities, you can still demonstrate your expertise. Don't forget to add a link back to your site in your signature line so they can find you!
2. Speak.
Get out and speak about your subject. If you have never spoken before, start small. Try your local Rotary Club or Chamber of Commerce. They meet weekly and need speakers. Once you have confidence in your speaking abilities, branch out to any association where your potential customers meet and offer to speak on a topic they would appreciate.
3. Write articles.
If there is a blog in your industry that you really like, but they don't cover your topic that often, email the blog owner and offer to write some articles. You'll associate your name and brand with their established brand, and it could get more traffic back to your site or blog.
4. Win an award.
You can shout that you are an expert all day, but you really need a third party endorsement to verify your claim. Identify any online or industry awards and get nominated. Don't be shy. Nominate yourself or ask a colleague to nominate you. Even if you don't win the award, you can brag that you were nominated.
5. Share your accolades.
Have you received any recent certifications in your industry? Flaunt them in all of your communications. Do you have any fabulous customer testimonials? Share them on your website and in customer pitches.
Finally, just keep delivering on your brand. Continue to build your experience and expertise, so you have new material and insight to share. If you focus on strengthening your brand and building your reputation as an expert, you'll ultimately build your business.