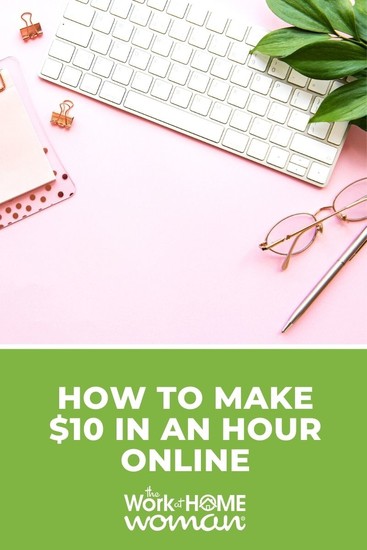 No matter what skills, passions, or knowledge you possess, earning $10 in an hour online is achievable and shouldn't be too difficult. There's no reason you can't be making more, but if you're looking to start a new side hustle, or want to earn a little extra cash during your child's naptime or while you're watching TV, this list is a great place to start. All you need is a computer and an attitude that you can do it!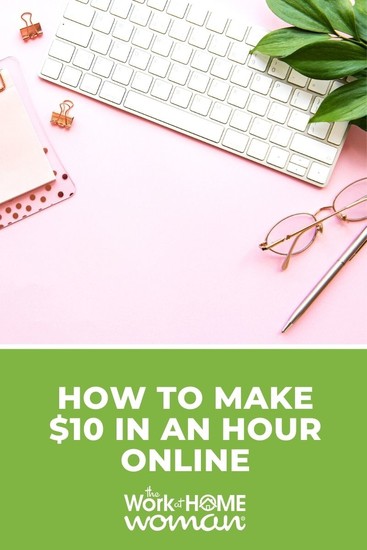 1. Short Tasks
Also known as micro jobs, or pay-per-task jobs, short tasks are the perfect way for moms to earn a little extra cash around the kiddos. What you'll be paid per task or assignment varies. If you think you have what it takes to offer a service such as writing, editing, online research, or transcription, consider signing up on one of these 18 Short Task Sites for Making Money From Home.
2. Focus Groups
Did you know that you can make good money from home by giving your opinion on products and services? For a 15-20 minute online or phone survey, you can expect to earn $5-$20. Here are 15 places to get started making cash from focus groups.
3. Freelancing
If you have some skills in writing, web design, video editing, or logo design (to name only a few in-demand services) or you'd like to build up your portfolio while you earn some money, freelancing gives you the freedom and flexibility to design your own packages and rates. As your experience grows, you can potentially charge a lot more than $10 per hour. You might want to consider freelancing on Fiverr, to begin with.
4. Selling on Etsy
If you're creative, artistic, or great at creating digital products (Canva is probably your best friend then!), why not make some money from your fun hobbies. Check out our post, How to Be Successful on Etsy, to learn the ins and outs of Etsy and how to get started with advice from a successful work-at-home woman.
5. Online Tutoring
If you have a qualification or college degree and are interested in teaching school subjects, English, or another language, this could be the perfect fit. Pay will vary, so you may only expect to earn $10 per hour, particularly if you go it alone and use a platform like Upwork, but if you're approved to work with companies such as Chegg Tutors, pay starts at $20 per hour.
6. Virtual Assistant Work
Virtual assistants are highly skilled and perform a wide variety of tasks for small businesses, companies, or entrepreneurs who require administrative support. You can tailor your services depending on your professional background, skills, passions, or experience. Head over to our extensive guide here on common VA services and where to find jobs. A VA can make between $10 and $100 per hour depending on experience and the services offered.
7. Teach a Skill
Can you play an instrument, cook, or do yoga? Is there something you do or know about that you could sell to others via coaching, courses, tutorials, or e-books? Sell your specialized skill or knowledge to the world by following these 10 easy ways to do it. There are so many ways to make extra money selling your expertise online today!
8. Test Websites
Companies pay good money to have their websites tested by objective, third-party individuals. If their site isn't user-friendly, then they lose money. All you need to get started is to be internet-savvy and speak fluent English. Tests take 5-25 minutes to complete and pay an average of $10 per test, meaning you could be making even more than $10 in an hour online from home.
Here are 18 Ways to Get Paid to Test Websites.
9. Proofreading
Proofreaders are in high demand for online businesses. They require someone to edit, catch grammatical mistakes, and typos. You don't necessarily need any formal training (but you could take this free course), so if this is something you think you'd be great at, this kind of work offers flexibility in terms of when and where you work. Learn where you can find proofreading jobs here. You could start your own freelancing business or work for a company like Gramlee, which pays between $12 and $20 per hour.
10. Work-at-Home Jobs
Here are seven more ways to make $10 in an hour online, and you will find the details for each one over at this post, A Massive List of Work-at-Home Jobs for Reliable Income.
Virtual customer service representative
Data entry
Internet research
Online juror
Social media
Tech support
Translator
Conclusion
Earning $10 in an hour online won't make you rich in a hurry, but it all adds up if you're looking to supplement your income and earn even an extra $100 a month to pay for Christmas presents, a vacation, or just your coffee habit. You could even combine a few of these job opportunities so that you'll have a backup if one job dries up.
Please share how you plan to (or already do) earn $10 in an hour online—we'd love to hear from you!