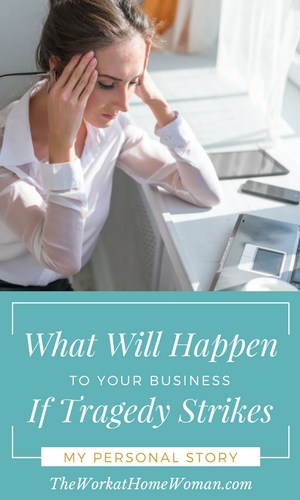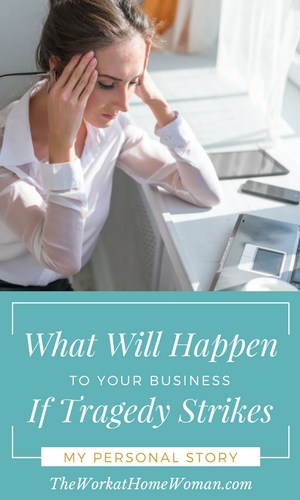 Illness, death, divorce, natural disasters – these events can turn your world and your business upside down. I know because I recently experienced my own personal tragedy.
Seven weeks ago, I received the unexpected news that I was pregnant. Surprised, to say the least, my husband and I welcomed the news with great excitement. From the start, this pregnancy was different from my first, but from everything I had read and from everything that I had heard this was to be expected.
You see, my first pregnancy was easy. No nausea, no mood swings, no complications, in fact, I was able to work all the way up until my due date. This pregnancy, however, was totally different. I was riddled with nausea, mood swings, and spotting which made me very anxious, to say the least. Being a nurse, sometimes I think I know way too much information for my own good.
At my seven week checkup, I was scared to death that I had miscarried, because of all the bleeding and spotting that was occurring. But to our amazement and joy there it was, a tiny little heartbeat seen on the ultrasound. At this point, I felt more relaxed and secure about the pregnancy, because once you see the heartbeat, your chances of having a miscarriage go down significantly.
It was at this point that I started telling people about our news; I was just too excited to hold it in, I couldn't wait until the 12-week mark.
My next appointment would be in four weeks, during this time we went on vacation and started talking about names and plans.
We returned from vacation fully relaxed, rejuvenated, and ready to hear out little peanut's heartbeat at our 11-week checkup. The nurse practitioner tried to find the heartbeat using a Doppler, but she was unable to hear anything.
At this point, I started to worry. The staff moved my husband and me across the hall to perform an ultrasound. Still no heartbeat. It was then and there that we learned that the fetus was no longer viable and that it had stopped growing two weeks prior.
I have had friends and family members that have gone through a miscarriage but never had I experienced one myself. And until you go through it, you will never know how sad and heartbreaking it can be. I couldn't look or talk to anyone for a couple of days. Reliving the experience right now brings tears to my eyes.
Now, what do you do with your business when tragedy strikes?
Here is what I have learned and I hope it will help you if you ever have the misfortune of having a tragedy, illness, or loss in your life.
1. What is Your Business Structure?
For me I am a solopreneur, I do not have any regular full-time or part-time employees, so when something happens or needs to be taken care of, the sole responsibility rests on my shoulders. However, I do work with some wonderful women that I contract with on a fairly regular basis (web programmer, graphic designer, and a virtual assistant) that can assist me when I need help. I also have some regular blog contributors and guest bloggers that help me with content creation. Whether you're a small business owner with a handful of employees or a freelancer or solopreneur, you need to know who will take care of business when you're unable to do so.
2. Know Your Personality Type.
Knowing your personality type can help you create a backup plan for when the unexpected pops up. I am a total Type A personality, I'm responsible, rational, and very time-oriented. While I am sensitive, I tend to bounce back quickly and seek out the positive aspect of situations.
However, if you are more of a sensing and feeling type of person, you may need a longer amount of time to heal and recover. Knowing your personality type will allow you to generate a plan that incorporates how you personally deal with stress, sadness, and distress allowing you to take the amount of time that you need to recover fully.
3. Open Up the Lines of Communication.
Keep the lines of communication open. If you have a project that is due or an order that needs to be fulfilled, directly contact the client and let them know that you are dealing with a personal issue (how much detail you tell them is totally up to you). Many times the client will feel compassion and will work with you to extend the deadline. However if the deadline is unable to be extended, you will need to either suggest another reputable source to complete the project or recruit some help from family, friends, and colleagues to get the task completed. Remember to create an email auto-responder letting clients and potential clients know that you will be taking some time off.
4. Enlist Support.
When tragedy hits, you will need to take time off to heal and mend. This is the time to call in support. Whether it's calling family and friends for domestic help or business-related help. I am fortunate that my husband, my family, and my friends are all so supportive and offer their help and assistance freely. I've also had numerous online friends, colleagues, and people I barely know, offer their assistance to me. Not only does this help alleviate the stress of having to run a business, but it makes me feel loved and supported which all helps in the healing process.
5. Have a Backup Plan.
None of us like to think about death, illness, or loss, but it happens. Creating a backup plan way in advance will alleviate stress and will help you to start the healing process sooner. Make sure you have a master list of tasks you perform, important numbers, email addresses, passwords, user-names, and make sure to have all of your files backed up and stored somewhere secure (fire, flood, and earthquakes can destroy your business files in an instant). By doing a little pre-planning, you can focus your attention on getting back to normal, and your business won't have to suffer.