Elena Adams has been designing sterling silver jewelry for many years. With a passion for chain maille and gemstones, she aims to bring chain maille back into the limelight with newly refined jewelry designs. Read on to find out how she was able to shift from hobby to entrepreneur.
Tell us a little bit about yourself and your entrepreneurial journey.
Jewelry has been a hobby for me ever since some friends took me to an after-class workshop. I grew up in Sydney, Australia, and in 2004 I moved to California with my husband so he could pursue a Ph.D. While I was settling into the area, looking for work, and generally getting my bearings, jewelry became a way to de-stress and fill the days.
After a while, I had accumulated so much jewelry that I thought I should try showing some of it to the world. I had been running a personal website, so I created a portfolio and started getting involved in forums to get feedback on my designs. My work was met with lots of encouragement so I tried out a few pieces on sites like eBay.
I took a job in a beading store soon after we arrived. It was a perfect way to learn more about jewelry making, and I was able to learn from some great local teachers, as well as teach some of my own chain maille classes. The more involved I got in the company, the more I became interested in how the business worked, and pretty soon I was totally overhauling my website into a dedicated showcase and seeking out business licenses.
Unsatisfied with the options for selling under the umbrella of bigger companies, I worked hard on bettering my web design skills, figured out some basic cart options and moved my jewelry exclusively there.
How did you fund your business?
Since my business started as a hobby, I had built up a lot of the basic supplies organically and I had the option of scaling up my dedication very slowly. I didn't have any real money to do a traditional business launch, so I went in with the plan that if I did everything myself I could keep my overhead very low while I grew. I read everything I could on running a small business, had a bookkeeper friend teach me QuickBooks, and tried to proactively assess my weaknesses as I went so that I could learn the things I most needed.
I've found that the beauty of making the decision to be self-sustaining means that I have more control over my day-to-day involvement. I can scale my business as the rest of my life dictates. I have a contingency plan in place for the day I decide I have more work than time, so I can continue to make baby steps towards it being a full-time venture.
What did you do before launching your own business?
I have a degree in History and Philosophy of Science, but I didn't want to go into research, so I took a lot of odd jobs in retail, photography and web design, trying to figure out what I wanted to do. As I got more and more into jewelry I started looking at jobs as a way to get training and learn different aspects of small business.
How many hours do you work a week and how much is spent in your home office?
I aim for at least 30 hours a week, but that varies dramatically with seasonal demand – plus if I find myself a project I can't put down, it tends to take up every waking minute I can give it.
I work a few hours each week as a marketing assistant – the next step in my training-on-the-job plan, so I try to balance my time and energy accordingly.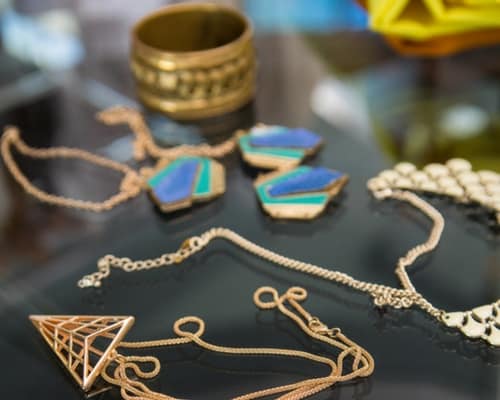 How would you rate your success?
I'm really proud of myself for getting this far, but I have a long way to go. I'm not yet at the stage where my business will support me full time, and that is my long-term goal.
What has been your biggest business struggle as an entrepreneur?
Staying motivated after a setback can be tough. If I have a bad show or unsuccessful promotion, it can be hard to look past the initial failure. When you work by yourself there's no one to share the good and bad times with, so it takes practice to step back and look at things objectively – and if you can't, find helpful friends and family members who will help you see things realistically.
What advice would you give to a new entrepreneur?
Learn every aspect of your business. Delegating is fantastic, and if you have the opportunity to hire help it can open doors for you, but don't write off those abilities as taken care of. When you lose sight of how your books are managed, or how orders are handled you can find yourself stranded or taken advantage of.
How do you manage all of your personal and business activities?
I'm lucky enough to have a very supportive husband who understands that some days I can't give him my full attention. We share a study which means that even when we're both at our busiest we still have time together throughout the day.
I love what I do so, but I have to set myself boundaries. During stressful times I make the decision to back off on other projects, I stop myself answering the phone and emails over holidays, and I take plenty of time-outs to be with my family and friends.
Thanks to Elena Adams for sharing her story!
Have you turned your hobby into a business? If so, drop us a note; we would love to hear from you! If you enjoyed this post — please share it on your favorite social media site.
You'll Also Love These Posts:
Studies have shown if you like this blog post — you will also love the following articles.