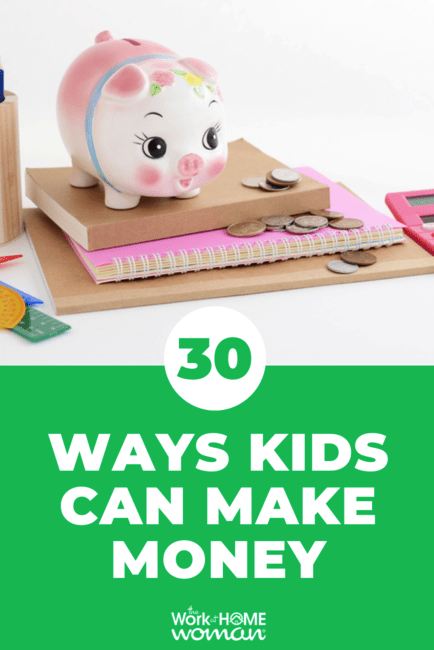 Is your child or teen looking for ways to earn cash from home? Here are 30 great ways to make money as a kid.
As a child, I remember being so excited to be old enough to babysit for money. I loved kids and wanted extra money in addition to my weekly allowance. I got several babysitting jobs in my early teens and remember that time in my life fondly.
I'm not sure if it was my early years of babysitting or my mother owning her cleaning business, but ever since then, I've had the desire to be my own boss.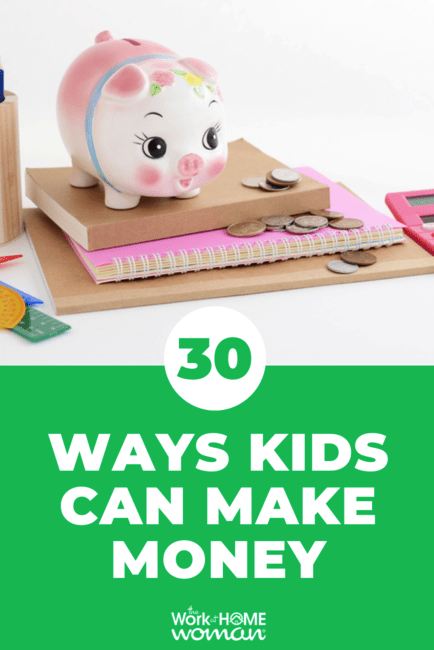 Of course, not every younger kid who has the itch to make money with a little side business is going to become a lifelong entrepreneur. However, the experience will teach children about making money, the business side of running a business, and how to work with customers. And it goes beyond just the standard lemonade stand, although that is a great place to start.
In this article, I'm going to talk about how your child can make extra cash doing things such as dog walking, music lessons, running a bake sale with cookies, raking leaves, and even pet sitting.
Benefits of Kids in Business
As a parent, you may be wondering what would be the benefits of your child starting his or her own business. Why would you want to allow your child to sell a product or service as a child or teenager?
I know it can sound a bit overwhelming, especially if you, as the parent, aren't an entrepreneur and aren't sure about the ins and outs of being one. But helping your child make money with a side business isn't as scary or involved as it may sound to be. And the benefits can far outweigh the potential challenges.
The Benefits of a Child-Run Business
Learn Responsibility
Your child will learn financial responsibility as an entrepreneur, including keeping track of money and tracking expenses. In addition to financial responsibility, your child will also learn time management skills, leadership skills, accountability, and even problem-solving skills. Running a small business is more than the simple act of selling something. Being in charge of a business teaches all these skills and more!
Develop a Work Ethic
Running a small business is no small fete. It requires a lot of work, balancing school and business, and prioritizing business over playtime, which all combined teaches your child a good strong work ethic. And a work ethic is going to carry your child throughout their life, even if they don't continue down the entrepreneurship road.
Build Confidence
As your child dips their toes into the world of small business, they are going to have many opportunities to grow in confidence. They're earning their own money and making decisions to help grow their businesses, and that will grow their confidence in themselves.
Independence
Your child will be making decisions for their business, and while you will have some level of interaction with the business, it is theirs in the end, and they will feel that responsibility. Making decisions and making their own money will help grow their sense of independence.
Gain an Understanding of Finances
When you're making money with more than just chores, you're learning a lot about finances. You're learning how to create and balance a budget, track expenses, price your items, track your time, and so on. This helps them grow an understanding of finances, which will carry through into their adult years.
As you can see, there are great benefits to allowing your child to make his or her own money; however, there can have some potential challenges to overcome as well. It's important to have a well-rounded view of your child making money, so let's learn a bit about these potential challenges and some ways to overcome them.
Potential Challenges to Overcome
It's not all roses and butterflies allowing your child to start their own business. To give you a well-rounded look at this topic of kids making money, I felt it important to share these challenges and some ideas for overcoming them to give you both the best chance at making the right decision for the family.
Safety Concerns
If your child wants to mow lawns as a part-time job, then they will be in charge of big and sharp equipment that could have some potential danger to it, especially if the child is young.
You'll need to decide if your child is old enough and responsible enough to handle the equipment on their own or if you'll come along to supervise.
The same can be said for children who are babysitting. Your child will be alone in the family's home and, depending on their age and responsible nature, could be a safety concern. You'll want to meet parents and the children your teen will be watching, vetting the family. This will also allow the family to meet your teen and ask questions. You'll also want your child to know what to do in the case of an emergency so they are prepared if something comes up.
Taxes
Depending on how much your child makes, there may be tax implications that arise. In addition to teaching your child about taxes, you'll want to meet with a tax professional. This will allow you both to be certain of the tax laws in your state, city, and/or county before the child earns money. Learn more about how to set up your child's business legally.
Business Expenses
More than likely, your child will run into business expenses. For example, if your child wants to make crafts and sell them on the Etsy platform, there will be the cost of the items to make the crafts and the cost of making money online by paying the Etsy fees. You can overcome this by helping your child create a budget and having weekly check-ins with them to go over the budget.
Time Management
There is a lot that goes into a small business while also being in school, any extracurricular activities, and spending time with friends. It could become a fiasco if you and your child aren't on the same page with their schedule. To overcome this, you could simply make a schedule for the child and check in weekly to make sure they're keeping up with the business and everything else going on in their lives.
As you can see by this section, there will be potential problems to overcome, but anything worth doing in life isn't going to be easy. If you're as committed to the process as your child, teaching your child the values of making money and entrepreneurship could be a plus in their life and be something that gives back for a lifetime.
30 Ways to Make Money as a Kid
Now comes the fun part! All the fun ways children can make money for themselves. Some may be ideas you're very familiar with, but I bet you'll be surprised by some of the ways your child could make money.
I do want to give you a heads-up that some of these ideas do have minimum age requirements, and you'll want to look into any platform's terms and age requirements before your child signs up.
You'll also want to look into your local laws for any small business laws and requirements, including any laws for children under or over the age of 13 in business.
1. Tutor Children
If your child is good at any school subject, tutoring online or in person could be an excellent way to make extra money and give back to the community. Subjects may include math, reading, spelling practice, learning an instrument, or even cooking skills.
2. Selling Toys Locally or on Platforms Like eBay
This is a great way to teach your child not only business but how to get rid of items they no longer use. You'll want to read the terms and age requirements of eBay.
3. Hosting a Garage Sale
Depending on any HOA rules you might be subject to you, your child could put together garage sales every month or more to make some extra money. If your child wants to sell on the Facebook Marketplace, they'll need to be 18+ to do so.
4. Selling Video Games
I don't know about you, but my kids have a lot of video games. And while many systems are going to online video games, there are still some older systems that use physical video games and, thus, a market for selling video games.
5. Create a Twitch Account
Twitch is a live streaming platform mostly for video gamers. And though it's primarily known for that, it has more recently been streaming content about art, music, books, and other entertainment. According to Twitch, you must be 13+ to sign up.
6. Rake Leaves and Mow Lawns
Depending on your child's age, they could be in charge of landscaping tasks such as mowing lawns and raking leaves, and in the winter months, they could shovel snow.
7. Manage Social Media Accounts
Instagram and other social media sites have a lot of influencers that need to help of freelancers and social media assistants to help run their accounts. Depending upon age requirements, this could be a fun way for your child to make money and learn about social media.
8. Create a YouTube Channel
YouTube is still a highly popular platform and allows children 13 and older to sign up. Your child could have a channel on just about anything!
9. Sign up for Survey Sites
Some online survey sites do allow children 13+ to sign up and participate, such as Survey Junkie, My Points, Swagbucks, and Dabbl. On other sites like Ferpection and Branded Surveys, they allow users who are at least 16 years old.
10. Babysitting
Next to a lemonade stand, this is probably one of the more popular ways for tweens and teens to make money.
11. Making and Selling Crafts
Does your child know how to paint, draw, or crochet well? They can earn money selling their creations on a website like Etsy. If they have a parent's permission, kids ages 13-17 are permitted to use the website. This could be a fun way for your child to make some extra money while also being creative.
12. Bake Sale with Homemade Cookies
Does your child have a knack for baking? Maybe they have a delicious brownie recipe everyone drools over. A bake sale with their homemade goodies could be right up their alley.
13. Freelance Gigs
Does your teen have a way with words and a great handle on creating content? Maybe writing for local businesses or online websites would be something they'd be interested in. Or maybe editing videos for a friend's business.
14. Lemonade Stand
This couldn't be an article about children making money without mention of a lemonade stand!
15. Offering Music Lessons
If your kid has musical talent, whether playing an instrument or singing, they could use that gift and knowledge to help others in the community to learn the same.
16. Car Washing Service
Set your kid up with a few buckets, car wash solution, and rags, and let him or her go to town washing cars in the neighborhood.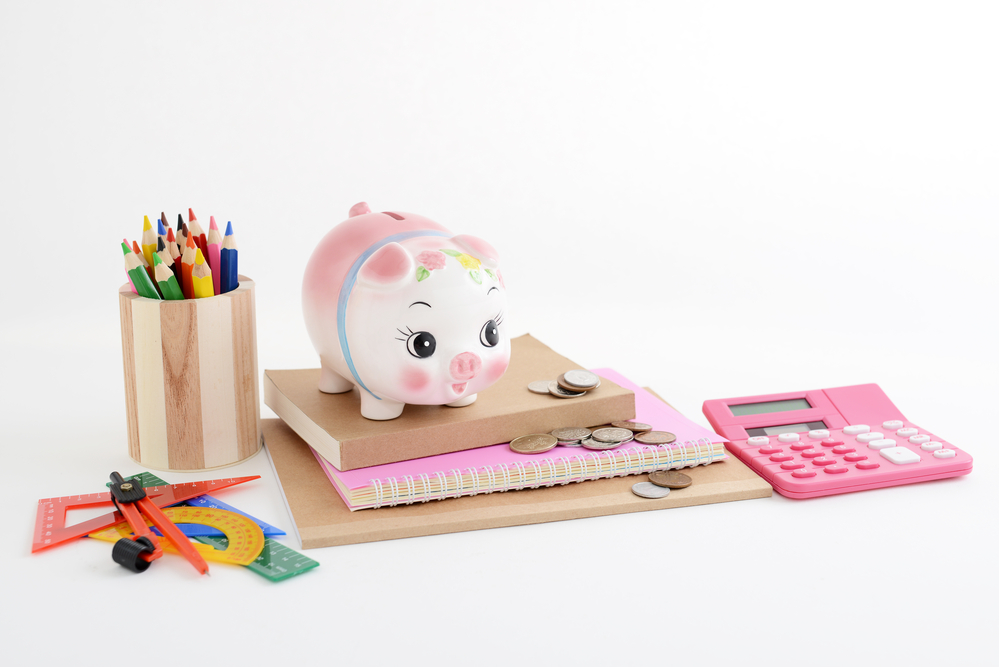 17. Dog Walking
If your child loves pets, the next few ideas might be perfect for them, including this idea of dog walking!
18. Pet Sitting
If you and your child are comfortable with pet sitting, you could hand out flyers in the neighborhood to drum up business. Want to start with people you know, and pet's you're comfortable with? Check with friends and family!
19. Dog Washing Service
Along with pet sitting and dog walking, they could offer a dog washing service. I don't know about you, but it's my least favorite chore with my dog. You could set them up outside with buckets of warm water and the hose or use a bathtub in the house.
20. Making Jewelry
Do you have a child who is creative and enjoys making things? Look into jewelry making! They could do beaded jewelry, friendship bracelets, and even hand-stamped jewelry.
21. Photography
If your kid has a knack for photography, have them look into taking photos of nature or landscapes and such and selling the photos as prints online.
22. Errand Running or Grocery Delivery
If you have a teen who is driving, you could always suggest an errand-running or grocery-delivery service for busy moms or the elderly.
23. Buying and Selling Used Clothing
Maybe you have a creative child who could purchase clothes or get clothing from friends and upcycle them.
24. Homemade Card Maker
There's a market online for homemade cards. You'd think cards were a thing of the past, but they aren't. Many people prefer to send a snail mail card still, and your child could make nice homemade cards and sell them.
25. Scrapbooking Services
I don't know about you, but I have so many pictures lying around in boxes and taking up storage on my computer, and would love to hire someone to put them together in a nice scrapbook. Your child could ask friends and family first and then research if there's a further market for this service in their area.
26. TikTok Creator
You know TikTok is all the rage, and according to their terms, you only have to be 13 years of age or older to set up an account. You can make money on TikTok with sponsored content, affiliate marketing, creator fun, and more!
27. Blogger
What is a blog? This website you're reading right now is a blog. A blog is just a website that is updated frequently with articles. You can make money with affiliate marketing and ad networks, to name a couple of ways to earn money with a blog. Here is one example of how one teen started a personal finance blog.
28. Recipe Content Creator
Is your kid good at cooking or baking? How about starting a recipe blog or food TikTok as a way to make money while doing what they love?
29. Personal Chef
If you have an older teen who loves cooking, possibly look into personal chef services. Even if they made the food in your home and packaged the meals up, and delivered them, this would cut out the need to use the client's kitchen.
30. House Cleaner
If you have an older teen, this might be a good way to bring in extra money with a small business. Now, you will need to research the laws of your area, and I'd read this article about starting a cleaning business, but it may be a good idea for someone who enjoys cleaning and maybe even offering organization services.
Let Your Child's Creativity Run Wild!
These are great suggestions and jumping-off points, but your child might have an idea already and just needs your help fleshing it out! Encourage their creativity and watch them bloom into little entrepreneurs!
Kids in Business Success Stories
Maybe you're wondering how realistic this all is and how much success a child could have in setting up their own business.
If you've ever watched the television show Shark Tank, then I'm sure you've seen some children entrepreneurs on the show before.
A couple come to mind, Carson Grill of Touch up Cup and Cassidy Crowley of Baby Toon. Carson made a deal with Blake Mycoskie for his paint storage container at $200,000 at 25% equity. And Cassidy Crowley made a deal with Lori Greiner. She was seeking $500,00 and a 50% stake in her company.
These may seem like wild examples, but it just goes to show you how amazing kids can be and how their ideas and businesses can take off!
Aline Morse came up with a lollipop that was good for you and tasted yummy too! They're called Zollipops. Morse is now the CEO of the company.
Maddie Rae not only loved slime, but she saw a need in the market and filled the need with her own slim glue. Her product, Maddie Rae's Slime Glue, is sold online and in stores.
You can read more amazing success stories at Business News Daily.
Wrapping it Up
As you can see, there are many wonderful benefits to a child running their very own business, and while you may run into potential challenges along the way, with your help, your child's business could grow into something amazing.
However, even if your child just wants a small little side-income business to kill time in the summer and make a few extra dollars, there's still so much value in that. They'll learn a lot about making money, budgeting, schedules, and more!
I don't know about you, but this article has the wheels turning in my head for my youngest son, who is 14 and needs something to do this summer.
Wishing you and your child the best with their potential business adventures.