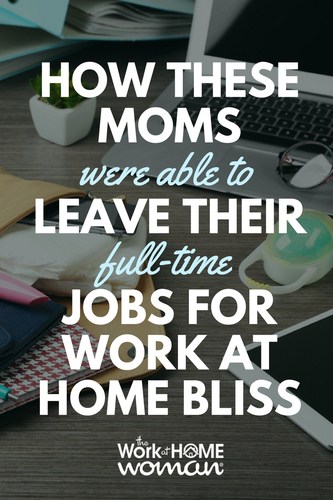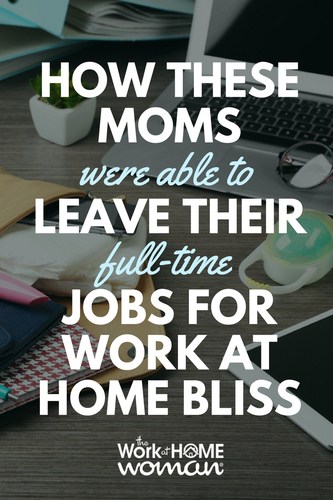 By Holly Reisem Hanna
One of the many ways in which you can work from home is by joining a direct sales company. The neat thing about the direct sales industry is there's a product or service that fits every personality type (fashion, jewelry, health and wellness, home decor, food, professional services … ) as well as a variety of methods for making sales.
Let me introduce you to our rockstar, direct sellers who were able to leave their full-time jobs, for work-at-home bliss. Petrina Hamm of Team Beachbody, Katy Kidwell of Thirty-One Gifts, and Melia Hord of Lulu Avenue. Not only are these women sharing their stories of success — but they are telling you how much they make.
Name: Petrina Hamm
Kids: Spencer (15), Kaila (13), Isabelle (12) and Stella (5)
Company: Petrina Hamm Fitness
Started: September 2011
Earns: Generally varies between $300 – $1,000+/week depending on how many people I help and how well my Team performs.
How did you get involved in direct sales?
After regaining 40 of the 90 pounds I had lost ten years ago during pregnancy with our youngest child, I started P90X to get back into pre-pregnancy shape (the gym we went to did not have childcare for infants younger than three months). I not only lost the weight, but I also became stronger and leaner than I was before the pregnancy getting way better results than I had while working out at a gym. At that point, I was hooked on home workouts and later became a Team Beachbody Coach to get discounts on Insanity and Shakeology.
When I started out with direct sales, I really just wanted to do it for the discount for the products I loved. My results with Insanity were impressive, and soon I had friends and family asking me how I did it and then my business really began to take off.
How long did it take you to make the leap from full-time employee to at home sales consultant?
When starting out, I was still doing some contract work for corporate litigation. After sales started rolling in and I began building a team five months after starting, I decided to hang up my hat and split my focus between being a stay at home Mom to our youngest and nurturing my growing fitness business.
What advice do you have for other moms who want to make the leap?
Make sure you're making the leap into an arena that you're truly passionate about – switching from a full-time job to working from home is, for many, a huge leap of faith. It's completely different from an office environment, and you'll have to be far more disciplined and consistent. Discipline and consistency come easier for those who are passionate. Your passion for whatever product or service you're offering will not only attract others to you, but it will also help you stay driven and focused – despite all life's distractions.
Name: Katy Kidwell
Kids: Morgan (21), Jake (18), Luke (16), Mason (14) and Avery (4)
Company: Thirty-One Gifts
Started: August 2010
Earns: $40,000 in 2013 — expected to earn $55,000 in 2014.
How did you get involved in direct sales?
I loved the affordable $99 startup kit and was simply hoping to make extra money. It wasn't long after I signed on, that I realized this little "purse gig" was going to get me home with kids.
Direct sales has truly become a part of me now, owning and running my own business. I have had wonderful experiences and gifts given through my business with Thirty-One. Because of Thirty-One, I'm a stay-at-home mom, and that is something I talk about often due to the gravity it holds for our family. My business guarantees my husband, or I will be at every life event for our children, big or small. We have been on trips that I earned to Cancun and the Dominican Republic – trips we would NEVER have taken or even thought about saving money for. Other incentives have paid for Christmas for the last three years!
How long did it take you to make the leap from full-time employee to at home sales consultant?
My journey began in August 2010 and by March 2011 we took a leap of faith, and I decided not to return to teaching. I was ready to focus on my business and my family full-time.
What advice do you have for other moms who want to make the leap?
Take it! We have the ability to be both a stay-at-home mom and a work-at-home mom! Create the vision and make a plan that will work for your family.
Be sure to have a support system. My husband is my biggest fan and a wonderful support for me and my business.
Make a plan for what you want to achieve — we call it our "why." My why for over a year was to grow my business, so my husband could leave his second job, where he was working for medical benefits due to me leaving the classroom. In March, he was able to finally leave.
Name: Melia Hord
Kids: Brendan (14) and Will (12)
Company: Lulu Avenue
Started: August 2013
Earns: Currently $4,000 – $5,000/month (within 7 months).
How did you get involved in direct sales?
My journey into direct sales was not planned nor was it ever my intention to do. In fact, I was one of those people that didn't believe direct sales could provide a viable source of income or fulfill my need for personal and professional success. So there was never an interest to explore the opportunities with any of the companies out there.
Boy was I wrong.
As a retired CPA and Corporate Division Controller, I couldn't see past the security of a steady paycheck and the benefits I received. On paper, it looked like I made a generous salary, but the honest reality was I barely made minimum wage when I calculated the 12 – 18 hour days and the business travel on personal time. It was hard to envision earning more money working fewer hours. It was harder to picture leaving the routine of the my job, as much as I thought about it. And it was even harder to comprehend the actual possibility of the opportunity of at home, building a success business.
But after my first son was born, I took a leap of faith and opened a full-time gift company in my home which quickly outgrew itself to a retail location. I thought I was well on my way to taking control of my life, my earning potential, and my professional career. Despite the passion and love for being my own boss, and offering a service like none other, I wasn't prepared for the grueling hours away from my family, the expense of starting the business, maintaining a facility, keeping inventory and managing the staff. That coupled with the pressure of running the business and failing miserably as a mom and wife, I felt like I was failing miserably. Balance was a daily struggle which never won. And I was tired – physically, mentally and emotionally tired.
It was an employee, and newly made friend, that introduced me to direct sales. I wasn't the least bit interested, and for months she asked me to join … and for months I said "no," because I didn't have time and I didn't need the money. But after another record Christmas season and being completely exhausted, and mentally depleted, I sat down and realized that I needed "time," I needed money, I needed fun, and I really missed my family. So I joined with the intention of giving it "half an effort" and believing I'd be out of it within six months with a great amount of great product to keep.
I started off only doing 2 – 3 shows a month. Then it was 6 – 8 shows. And within six months, I put my gift company up for sale, sold it in two months, and took direct sales full time. And I have never looked back … and my family got their mom back.
How long did it take you to make the leap from full-time employee to at home sales consultant?
I started out in direct sales only doing 2 – 3 shows a month as my full-time job was intense both in hours and time commitment. From the moment I engaged in doing those shows, my retail exploded. I didn't do anything "spectacular" to earn a high income; I just approached each event with the mindset that "tonight it's all about having fun and getting some much-needed girl time. But in reality, it was really about "escaping" the pressures and demands of the gift business and having permission to leave my problems and stress in the car for 2 hours. Over the next six months, I had more shows than I planned, earned more money – that I actually got to keep and spend on me and the family" – than I had seen in four years owning my own gift business. As a business owner of a retail gift shop, most of my profit went back into the gift shop to keep building it. So it was extremely empowering to earn money and use it for the family!
The decision to go full time came from my oldest son, Brendan, at the age of 4. I had taken my first day off from my gift company to spend the day with him and his brother at the pool. He was so excited, and I promised not to work. But while we were at the pool, one employee called in "sick." Then another called right after, and when the third girl called I had to ask "OK – where are all of you going today that you are calling in sick"? Well, they were going to Kings Island Amusement Park with a group of friends, because the weather was beautiful. And since they needed the day off at the last minute they were "calling in sick." As the owner, I didn't get to call in sick. Their desire to take a day off meant there was no one else "to open" the stop or complete the orders … except me. So I pulled my boys out of the pool and took them to work.
Brendan did not receive that well. He screamed and cried while still wet in his bathing suit, "I hate you – all you care about is your chocolate and work. Work. Work. Work – that's all you do! You don't love me. I hate you, and I hate this shop". And he ran off to his private kids' room in the facility. I stood there in shock with the reality of "he is right," and I wept. A little four-year boy said everything so blatantly that I had struggled facing for years. The reality hit. I was letting down everyone that mattered the most in my life. And the candle that was burning at both ends finally melted.
I went home that night and told my husband "I quit; I'm selling the business"! I had prepared my speech all day at the shop thinking of every good reason to tell him why I should sell the business. I never considered he might just agree with my decision; I just assumed he would think I was crazy suggesting it. I was so buried in my work that I never considered my husband had been struggling with how to ask me to sell the business. So when I proclaimed my decision in tears as I recounted the day to him, he turned to me and said "Its about time. Let's do it NOW! We make more money with your jewelry business without the headaches. I've been waiting a long time for you to say this. So glad you found something to bring you back to us!".
It took eight months to get me to a full-time business.
What advice do you have for other moms who want to make the leap?
Life is an endless stream of opportunities. You are the one that makes the decision which ones to embrace; and which ones to turn down. Direct Sales is nothing more than an incredible opportunity to build relationships with other people. And as women, this is what we do on a daily basis with our family, friends, co-workers, through children's activities, and social events. So it really comes down to asking yourself "do you believe in "YOU"? The only risk in accepting the opportunity in this business is "YOU"! There is no one holding you hostage or forcing you into a life commitment. But what IF this opportunity could change your life now, for the next few months or for a lifetime? Will you invest in "YOU"?
Anyone can do this business because we offer a quality product, provide the best training and give you an amazing support group. So whether you are working in corporate America and have a set work week and pay; you are a stay-at-home mom looking for a little "me" time, "fun" time or "something just for you"; you are about to graduate college and want experience, you are a grandmother that wants something fun to do that gives a little extra money to spoil the grandchildren; you are someone that is about to retire and want something to keep you connected to people; you work for someone else but always wanted to own a business of your own or be the boss; or perhaps you just lost your job and needed an income fast – you can do this business, and you can have a business and a life you love! It all starts with YOU and a commitment to say "YES, I'm in!" And no matter how much you can do – part time or full time, do it with a full commitment to do it well.
As my husband said to me, "the only risk I see in this business is you, and I think that is the best gamble we can ever take."
Wow, congrats on your success ladies!
You'll Also Love These Posts:
Studies have shown if you like this blog post — you will also love the following articles.