Do you love kids, but don't want to work in a school, pediatrician's office, or daycare? No problem. Today there are lots of home-based opportunities that you can do from home (or on a flexible schedule) that involve working directly or indirectly with children. So if you've been looking for a work-at-home career and you enjoy being around kids — we got you covered.
Work-at-Home Careers for People Who Love Kids
1. Tutoring and Teaching
Do you have extensive knowledge of a particular subject? Do you enjoy helping others and working with kids? Then online instruction may be the perfect home-based career for you. For most telecommuting positions, you will need to have your teacher certification, but there are some roles, like teaching ESL classes, music, and art, that do not require a teacher's certificate.
For online teaching positions:
For teaching ESL classes:
For tutoring positions:
Want to teach kids, but not academics? Then consider joining a home business opportunity like Healthy Hands Cooking, Kindermusik, or Tinkergarten. These home-based businesses teach kid-loving individuals how to educate kids in healthy cooking, music, and play. Start-up fees are minimal and include training, certification, marketing tools, business materials, as well as ongoing support.
How would you like to operate and run your own online shop catered to children? The direct sales industry has made starting an online kid-centric business easier than ever. You can sell toys, books, games, clothing, and more! As a direct sales consultant, you'll be paid a commission for each product that you sell. Many direct sales companies will also pay you additional commissions for building a team or meeting certain sales goals. Be sure to research all the details like monthly quotas, fees, and the types of training and support each one offers.
3. Children's Clothing Designer
Are you a talented seamstress? Do you have a flair for smocking? Then consider selling your own kid-friendly designs online. Third-party platforms like eBay, Etsy, and Shopify allow you to set up shop for virtually nothing, so you can be up and running in no time flat.
Back in 2008, Brandi Temple, a mom of four, started sewing clothing for her kids because she was unhappy with the selections in stores. Having some extra fabric, she decided to make a few additional items and sell them on eBay. Her designs were a hit, and her eBay storefront took off. Fast forward to 2013, and her shop, Lolly Wolly Doodle has brought in $11 million and she now sells her designs on her own website!
4. Baby Planner
Do you adore babies? Are you organized? Then maybe this next idea is your calling. Baby Planners act as personal consultants to new and expecting families. Planners can choose an area of specialty like eco-friendly, luxury, budget, or they can be a generalist helping parents make sure they have the right support, services, and gear in place for when their baby arrives. The services you can offer are endless, but many planners offer birth planning, gear consultation, registry consulting, and bed-rest services.
5. Kid's Party Planner
Are you creative? Do you like to budget, plan, and organize? Then cash in by planning parties for children. Party planners handle the details of location, budget, decorations, entertainment, food, beverages, activities, and invitations. Don't think there's much money in planning birthday parties? According to Lenzo, parents are spending anywhere from $300 – $10,000 on first birthday parties alone!
If starting a party planning business from scratch sounds daunting, check out a licensing opportunity like Elite Teepees. With this opportunity, you set up adorable, individual teepees for a magical birthday party sleepover. Once the party is over, you collect the teepees, making cleanup easy for parents. Your earnings will depend on how many parties you can do each week.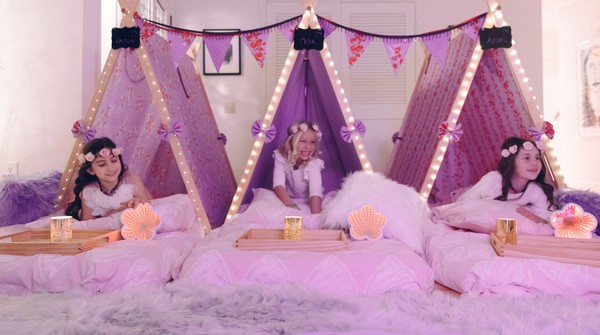 6. Kid Blogger
If you enjoy doing arts and crafts with your kids, making kid-friendly recipes, and being creative, consider working from home as a blogger! As a blogger, you can share tutorials, recipes, tips, and resources with other parents who are looking for fun activities and projects to do with their kiddos.
One blogger, who has seen a lot of success in this niche is Holly Homer of Kids Activities Blog. Holly, who is a mom of three, started blogging because she was craving some adult interaction. What began as a hobby is now a full-time business that supports her entire family.
If you're interested in starting a blog, I have a step-by-step tutorial here that will walk you through the process. And while you're at it, be sure to grab my free 28-page blogging e-book!
7. Babyproofing Specialist
Would you like to prevent accidents? Is safety always on your mind? Then this may be a good fit for you. Baby Bodyguards offers a home-based business opportunity that allows you to make money in three different ways: Car seat installation, babyproofing services, and infant and child CPR classes.
To get started with Baby Bodyguards, you'll need to invest $15,000. With this, you get training, support, and an easily replicated business in a box. So if you have a passion for keeping children safe and helping new parents, this business opportunity is worth checking out.
8. Child Care Provider
Do you love working with kids? Babysitting is probably the easiest way to make some extra cash. When I was a teenager, this is how I made the majority of my spending money. Back in the day, I spread the word by talking to neighbors, my parent's co-workers, and friends, as well as posting flyers on our church's bulletin board. Within no time, I was booked and making money. Today with Facebook, online neighborhood groups, and on-demand apps, it's easier than ever to get started.
Related Content: 10 Steps to Starting a Home Daycare Business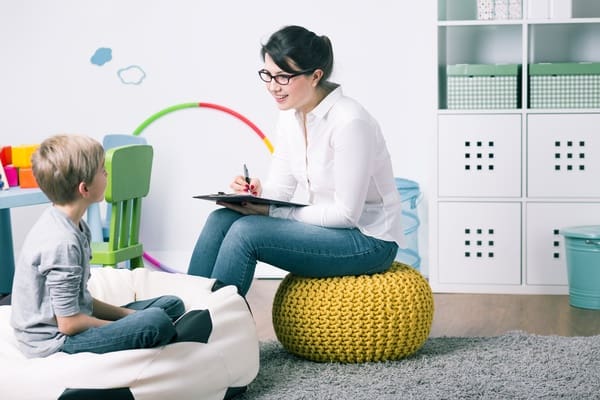 9. Children's Author
Do you enjoy reading? Do you have a great imagination? If so, being a children's author could be your calling. In fact, that's how children's author, Liz Garton Scanlon, started her career. After reading to her two girls, she was inspired to write a children's book and has since written 15 books, one being a Caldecott winner and NY Times bestseller.
According to the Society of Children's Book Writers and Illustrators, a first-time children's author might expect to split an $8,000-$12,000 advance with an illustrator with each earning 3.5% – 6% percent in royalties. Of course, if your book becomes a bestseller or gets optioned for a movie (Harry Potter, Twilight, Hunger Games), you'll earn a great deal more.
10. Kid's Swim Instructor
Do you enjoy being outdoors? Do you enjoy teaching? Then perhaps being a children's swim instructor is your calling. Infant Swim Resource (ISR) offers a home-based business opportunity where they'll train you as a survival swim instructor for babies, toddlers, and preschoolers. Instructors can give lessons from their own home or community pool (if they have one), they can travel to an individual's home pool, or they can rent a pool from a local business or neighbor.
Teaching a baby or child this method takes three-five weeks, and lessons are Monday through Friday, 10 minutes each day. ISR lessons cost $85.00 a week. I wasn't able to find the associated fees with this opportunity, but it seems like it could be lucrative. I enrolled my daughter in ISR lessons when she was nine months old, and again when she turned two.
11. Children's Consignment Seller
Are you a bargain hunter? Just Between Friends is a home-based franchise that allows you to make money by holding bi-annual consignment selling events. This franchise opportunity is available in both the US and Canada for $17,900. With your franchise fee, you'll get to use the JBF name and trademark, branding and marketing materials, an operations manual, 100-sq ft color event banner, and a custom-built website. JBF has been recognized nationally for its success as a franchise system.
12. Baby and Child Photographer
If you have a knack for getting kids to smile and laugh, and you know your way around a camera, becoming a home-based photographer may be the perfect fit for you! You can set up a photography studio in your home, or you can go out into the community and snap your shots.
One photographer that's found success in this niche is Sarah Jordan, who specializes in newborns, maternity, first birthday cake smashes, and family photo sessions. Sarah had always enjoyed photography, and when she had her son, she decided to quit her corporate career, and try her hand at running a photography business. Today, Sarah makes a full-time living from her photography business.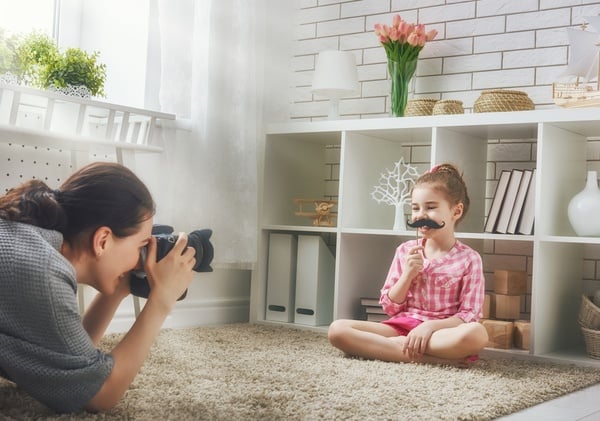 13. Remote Pediatric Nurse
If you're a registered nurse that has prior experience, you can work from home in a wide variety of roles. Types of positions include pediatric case management, pediatric content reviewer, pediatric group manager, pediatric telephone triage, and pediatric certified tumor registrar. Two excellent places to find remote nursing jobs are FlexJobs and The Remote Nurse. You can also search the companies below, as I've seen them post remote pediatric positions in the past.
Health Information Alliance
Progeny Health
UnitedHealth Group
Of course, if you're a medical doctor, therapist, or counselor, there are remote pediatric positions you can do from home as well. Check out this post for the roles and hiring companies you can work for in the healthcare field.
14. Fit 4 Mom Instructor
After my daughter was born, I craved social interaction, so I joined what was then called Stroller Strides. Three days a week, I'd meet up with a bunch of moms, who like me, either had a baby or toddler, and we'd exercise with our kids in our strollers. It was such a great way to get back into shape and interact with other moms who were in the same boat.
If you have a kiddo, and you enjoy fitness, consider becoming a Fit 4 Mom instructor or franchise owner. As an instructor, you'll need to complete and pass their instructional foundations course, as well as certification courses for the types of classes you'll be teaching. For more information on the cost of training, pay rates, and franchise info — see their FAQ page here.
Conclusion
There are many unique ways you can work from home and still interact (directly and indirectly) with kids. If you've been looking for a way to make money that involves working with kids, choose one of the options above.
Do you have a home-based job that revolves around children? Drop us a note below; we'd love to hear what you're doing
Originally published June 10, 2015. Content updated March 11, 2020.