Browse this list of remote jobs you can do from home that don't require background checks. Then, apply for a few of them today and start earning more money from the comfort of your home.
Whether you don't want to wait for a background check to happen or you are afraid you can't pass one, I have some good news for you. There are jobs out there that don't require one. I compiled an extensive list of different companies that will hire you. Most jobs that don't require background checks will be contractors, freelancers, and gig workers.
What Do Employers Look For In Background Checks?
There are a few things that will make you fail a background check. According to Monster, there are seven things companies look for when they run a background check.
Criminal Convictions – Jobs that require security clearance will take this part the most seriously.
Drug And Alcohol Tests
Credit History – Jobs that deal with money will pay the most attention to your credit report.
Bankruptcies – Employers cannot see why you filed bankruptcy, just that you did. This matters the most for jobs that handle money and finances.
Driving Record – This is very important for jobs that will require you to drive, but some choosy employers could infer that a lot of tickets can also mean that you are unreliable.
Employment History – Some employers will fact-check your resume.
Education – Employers will also verify the education credentials that you put on your resume.
Arrest Records – A potential employer wants to know you're trustworthy, and crimes like theft could signal otherwise.
Remote Jobs That Don't Require Background Checks
The good news is that there are plenty of ways to earn money without passing a background check. Browse this list of jobs and find new ways to supplement your income. Most of the jobs on this list are freelance or contractor jobs. That means you aren't an employee, so that you won't receive health insurance or other benefits, and you'll have to pay your own taxes.
1. Answer Questions Online
Do you enjoy answering questions and doing research? This can be your new job! Ask Wonder is a company that hires people to answer questions with research and citations. To get hired, you have to answer a sample question. If they like how you answered it and you are a good fit for their team, you are in!
Payment depends on the difficulty of the question you answer. It can range from $8 for a simple question to $35 for more complex queries. Experienced research assistants at Ask Wonder say they make about $30 per hour.
2. Captioning and Transcription Work
There are quite a few jobs that will hire you to transcribe audio files or write captioning for videos. If you have a good ear and can type efficiently, check out some of these jobs.
AccuTran Global – They have been around since 2002 and will hire you for a wide variety of tasks – from legal documents to video captioning.
Scribie – With Scribie, you will type out podcasts, audio, and video files into text documents. You'll earn anywhere from $5-$25 per hour, and you have to pass a transcription test before you start.
Rev – This is a freelance transcription job. You get to pick out the jobs and work at your pace. You'll earn anywhere from $0.50-$1 per minute.
3. Small Online Jobs
Another way to earn extra cash at home is by doing random small tasks from your computer and smartphone. Two different sites hire contractors for random jobs. They pay per project, so the pay isn't reliable, but it's a nice bonus.
Clickworker is like a hub for hiring people to do all sorts of computer tasks – from data processing to translating and even writing. There is no background check, and you can choose to work as much or as little as you wish. All you do is browse the list of jobs for which you qualify, and then you'll get paid after you complete them. This site gets mixed reviews, so do your research before joining.
Amazon Mechanical Turk (mturk) is another short task site that utilizes independent contractors. On Amazon mturk, you can complete tasks market research, surveys, record videos, process images, test websites, watch videos, and more. HITs (human intelligence tasks) pay anywhere from a few cents up to $20 and take a few minutes to over 90 minutes.
If you have a specialty, then list it on People Per Hour. You can browse listings and reach out to people who need to hire people for specific tasks. You even get to set your own rate.
4. Freelance Writer
If you enjoy writing, you have probably already thought about becoming a freelance writer. It's a rewarding and fun way to earn money – and they don't require background checks.
One option is to work directly with clients like magazines and online publications. This process can be pretty time-consuming. Instead, look for websites like the ones below that have a database full of people looking for writers.
Media Bistro
One of the best places to find work as a writer is Media Bistro. They list jobs for anyone from professionals to hobby writers.
SkyWord
Another website that connects top brands with freelancers is Skyword. They specialize in the art of storytelling – they also hire more than just writers. You can work as a graphic designer or videographer too.
Verblio
Verblio is a growing service that connects companies with freelance writers. Browse the database of open jobs and then create your content. Verblio is an SEO agency, so knowledge about writing content that will rank in search engines is a plus.
5. Freelance Designer
If writing isn't your thing, but art is, consider a rewarding job as a freelance graphic designer. When you do this, you'll be able to design a variety of projects, from logos to product art.
Work for 99designs as a freelance designer. There is no background check, and you work directly with the client.
Another popular freelance website where you can find jobs is Fiverr. The gigs on Fiverr tend to pay less, but if you build relationships with clients, you have the potential to charge more.
6. Virtual Assistant
From huge brands to individual lifestyle bloggers, many companies hire virtual assistants for various tasks. This can range from scheduling tasks and managing calendars to social media post creation and even communications.
One of the best ways to earn the most money is by working directly with people and charging your own rates. This way, you keep the entire billed amount! The downside of this is that you have to go out and find the work.
If you don't want to find clients and be responsible for the billing and other items, you can work for Fancy Hands. You'll get paid anywhere from $3-$7 per task you complete as a Virtual Assistant.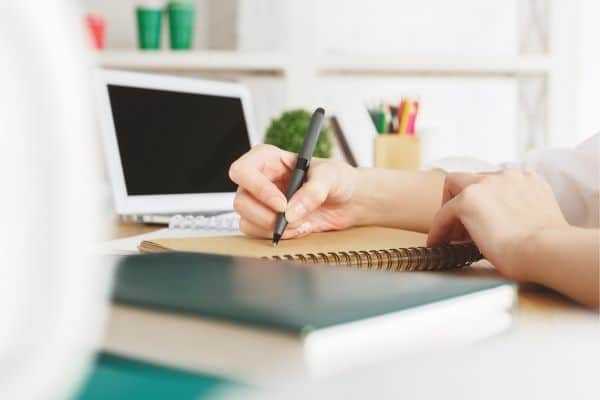 7. Customer Service Reviewer
When you work for Humanatic as a Customer Service Reviewer, you listen to the calls between customers and customer service representatives. You are sorting the calls and categorizing them for the company. This is a subcontractor position.
8. Website Testing Jobs
There are quite a few sites that hire people to test out websites. With this kind of job, you will click around and use a website and then provide your impressions, questions, and even frustrations. Website owners will use this information to improve accessibility and user-friendliness.
With this side earner, you'll get paid per project. These gigs are sporadic, so don't expect a full-time or even part-time income from website testing. However, this is a fun way to supplement your income. Again, these are independent contracting roles.
Here are some sites that use website testers:
UserTesting
Get paid as a contractor from UserTesting. Payment is $10 for every 20-minute test you complete – that's a pretty decent pay per hour.
TryMyUI
TryMyUI is another site that hires contractors to test out websites. You get paid $10 for each test you take, which lasts about 20 minutes.
UserFeel
You'll have to adhere to all the UserFeel guidelines as you test out websites. These tests take about 15 minutes and pay $10 per test.
Userlytics
With Userlytics, you will interact with websites and mobile apps and then give your reactions. Payment differs per project and varies from $5 up to $90.
9. Online Surveys and Tasks
Another company that hires contractors per project without background checks is Appen. They will hire you to take surveys or even participate in projects that last a few months. It's always a variety of different things.
A really fun one is IntelliZoom. You'll get paid to take surveys and participate in consumer testing and studies. Most studies take about 20 minutes. Some studies will pay $10 each and some $2.
Pinecone Research is another survey site to check out. For each survey you complete, you'll earn 300 points which equals $3.00!
Slice the Pie is another fun way to get paid for giving your opinion! With this platform, you'll get paid cash for leaving reviews on things like clothes, music, and more. The more in-depth your review, the more you'll earn!
Related Content: How to Get Paid to Listen to Music Online
10. Data Entry
There are many data entry jobs online – but Lionbridge has the roster with the biggest names. You'll work for brands like Nokia, Pearson, and Adobe. This job is best for anyone that is excellent with details and can type quite fast.
Related Content: Legit Data Entry Jobs You Can Do From Home
Do You Have a Felony?
I recently spoke to an individual who had a non-violent felony that applied with Concentrix and Continuum Global Solutions. While they run criminal background checks, they look at each individual on a case-by-case basis. The US government gives companies a Work Opportunity Tax Credit for hiring members of ten targeted groups, one being felons. So, if there is a company that you want to work with, you may try applying and see what happens. The individual I spoke to received job offers from Concentrix and Continuum Global Solutions and is happily working for the latter.
Some companies I found that run background checks but consider felons for employment are U-Haul, Kelly Services, and Robert Half. U-Haul hires remote sales and reservations agents, and Robert Half and Kelly Services are staffing agencies where you'll find many professional roles.
If you need help finding companies that offer felons a chance, check out Felony Record Hub. They have job listings, company information, helpful resources, and so much more!
There Are Jobs That Don't Require Background Checks
Yes, some jobs don't require background checks; you just have to look for them. Since most work is freelance or subcontractor work, set aside some of your money for taxes, you will also have to find a way to pay for your health insurance. These jobs can mean freedom since you can work them from wherever you are, as long as you have the Internet.
Originally published November 16, 2020. Content updated February 2022.