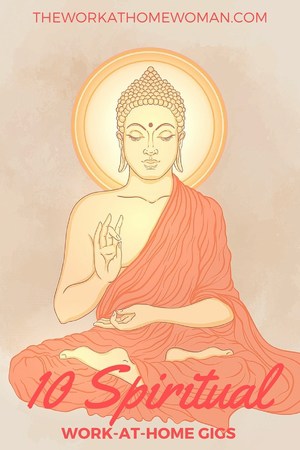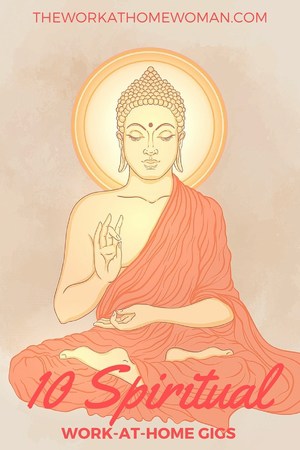 Have you ever been intrigued by the life of spiritual workers? Many people think that you must be born with an innate sense of psychic ability to work in the spiritual field. However, nothing could be less true.
Like every other profession, spiritual workers have to practice their skills to be considered good enough to charge money for their services. So, while some people claim to be born with natural abilities, they too must practice to attract and keep customers.
This unique field is not only fascinating, it's also creating a wide variety of home business opportunities for women.
Here are 10 spiritual work-at-home gigs to consider:
1. Tarot Card Reader
Did you know that you don't need to be a psychic to read tarot cards for someone? Tarot is considered a game that has been used as far back as 1440.
Many psychics use tarot cards in their readings. However, there is a misconception that you have to be a psychic to provide a tarot reading for yourself or someone else.
Once you gain experience in reading tarot cards, there are several platforms on the internet that will hire you. Or, you can start your own business as a professional tarot reader.
2. Palm Reader
Just like tarot reading, anyone can read palms. There is no metaphysical, "gifted" power that you need to be born with to read someone's palms. There are plenty of books on how to read palms to predict someones' past, present, and future.
3. Spiritual Advice Blogger
Blogging is one of the quickest ways to jumpstart your career in a spiritual profession. The possibilities are endless when it comes topics to write about and ways to monetization. Owning your own blog can be one of the best jobs that you've ever had because of the freedom you have to create and inspire.
Don't think there's a demand for spiritual advice bloggers?
Leo Babauta, the blogger behind Zen Habits and Lori Deschene, the blogger behind Tiny Buddha have both had incredible online success. In fact, according to Worth of Web, Zen Habits and Tiny Buddha are estimated to be worth 2 million dollars each – not bad!
4. Yoga Instructor
One thing that I love about yoga is that almost anyone can do it. You don't have to be a certain shape or size to practice yoga. One option for teaching yoga is to teach classes online via YouTube, Uscreen, or Popexpert.
5. Reiki Master
Reiki Masters are spiritual healers that promote healing by channeling their energy into the client. Many people who perform Reiki can do so out of their own homes or outdoors.
6. Massotherapist
Guide your massage therapy sessions in a spiritual journey to provide your business with a unique quality that stands out.
Many massage therapists utilize:
Hot stones to relax sore muscles
Healing gemstones to balance chakras
Sound therapy to relax and repair mentality
7. Spiritual Artist
Can you make beautiful mandalas or do you have a knack for weaving dream catchers? Consider mingling your love of spirit with your creative skills to open your own spiritual-related craft business. And selling your crafts online has never been easier with platforms like Etsy, CraftStar, and Zibbet.
8. Aromatherapist
Aromatherapy is one of the latest crazes in spiritual ambiance. It's also very therapeutic and beneficial for a variety of problems. Aromatherapists mostly work as their own bosses, which is the ultimate dream, isn't it?!
9. Hypnotist
Hypnosis can be considered both therapeutic and spiritual-related. Almost any time that you cross over into another realm, you have a spiritual experience.
Most hypnotists only need a certification to practice the trade. However, there are other levels of hypnosis, which involve hypnotherapy, which will regular extensive training and certain credit hours.
Many people seek hypnotists for a variety of reasons including:
Quit smoking
Repressed memories
Lose weight
Nail biting
Pain
Phobias
10. Astrologist
Astrology is the study of the movement of the planets and stars and the impact it has on human life. If you have ever read your horoscope, then you have read something that was created by astrology! Since there are very few places that hire astrologists, most work would be found as an entrepreneur or business owner.