Are you searching for work-from-home non-phone jobs? Then keep reading; we have a whole list of ideas and hiring companies that don't require speaking on the phone!
One of the most common work-from-home jobs is that of a customer service representative. But what if you have a house filled with kids running around and dogs barking, or you just don't want to work on the phone?
I completely understand.
I worked as a prior authorization nurse for Medicaid, and I was on the phone all day, approving nursing visits and medical equipment. It was exhausting and made me want to crawl into a cave at the end of the day.
Fortunately, there are many work-from-home jobs where you don't have to be on the phone.
Whether you need an entry-level job, a full-time job, or a part-time side hustle, this list of work-from-home non-phone jobs has you covered.
31 Best Work-From-Home Non-Phone Jobs
1. Bookkeeper or Accountant
If numbers and organization excite you, then bookkeeping may be right up your alley. Help business owners organize and input their monthly income and expenses. Some of these companies require experience or an accounting degree to apply; check them out for more details.
Are you interested in becoming a bookkeeper? Here's a free training program to check out!
2. Chat Agents
Do you enjoy assisting people but prefer not to talk on the phone? Then provide customer service detail via live chat, social media, text, and email. Most companies require individuals to be proficient typists with excellent spelling and grammar. With this non-phone job, positions vary greatly, some are independent contracting roles, and others are full-time positions.
3. Data Entry Clerk
Data entry work is one of the most common work-at-home jobs I receive questions about. I'm hesitant to include some of these gigs because they pay so little – I'm talking pennies per document. But here are some places where you can find data entry jobs. Sometimes, you'll need to provide other administrative services in addition to data entry.
4. Freelance Writer
One of the best non-phone jobs is freelance writing! People are always looking for talented writers to write blog posts, newsletters, articles, advertising copy, grants, and so much more. You can search for jobs on some of the major freelance sites, or you can pitch your bloggers and companies that have blogs and always need fresh new content.
5. Complete Short Tasks
Short tasks or micro-tasks are just what they sound like – jobs that take a short time to complete, often only minutes. Payouts and functions (watching videos, surfing the web, testing websites, taking surveys, reading emails, and playing video games) vary greatly. The nice thing about short tasks is most of them can be done on your smartphone during your spare time, making it a great way to earn a little extra money.
Check out these sites:
6. Use Smartphone Apps
Don't worry; with this one, you're not talking on the phone but instead using its digital capabilities to make money.
Nowadays, online competition is fierce, so companies are getting creative with how they reach consumers. Instead of spending marketing dollars on traditional advertising, brands are reaching out to consumers in unique ways, like smartphone apps.
The great thing about using your smartphone to make money is there are actual customer reviews for each app, so you can get a better idea of which ones are legit and which ones to stay away from.
7. Paid Surveys
There are many legitimate websites where you can offer your opinion in exchange for cash, rewards, and sweepstake entries. While you're not going to get rich from participating in online surveys, it is a fun way to share your thoughts on products and services, and you'll receive compensation for your time.
8. Transcriber
Do you have excellent listening skills? Are you a fast and accurate typist? Then help businesses transcribe audio files into written documents. With transcription work, you're not paid by the worked minute but, instead, by the audio minute.
A transcriptionist who is experienced usually has a 3-to-1 turnaround rate, meaning that it takes them 3 minutes to produce 1 minute of transcribed audio. Most transcription jobs are freelance positions, so you'll be responsible for paying self-employment taxes, but you get to create your own schedule, and no phone work is required.
Here are some companies that hire online transcribers:
9. ESL Instructor
Do you have a thorough understanding of the English language? Do you enjoy learning about other cultures? Then consider working as an ESL (English as a second language) instructor. While you're not working on the phone, you will be giving English language instruction via webcam. For some of these positions, you'll need to get your TEFL or TESOL certification, which takes 120 hours to complete.
Here are some companies that hire independent contractors for these positions:
10. Search Engine Evaluator
If you are detail-oriented and enjoy doing web research, this next work-from-home job is for you! Search engine evaluators evaluate whether internet search results are accurate and relevant to the search query's intent. A couple of things to note about these positions are they are part-time freelance roles that pay around $20 per hour (according to Glassdoor). I've also heard that the preliminary test you have to take to do these roles is quite difficult.
Here are a few companies that hire for these roles: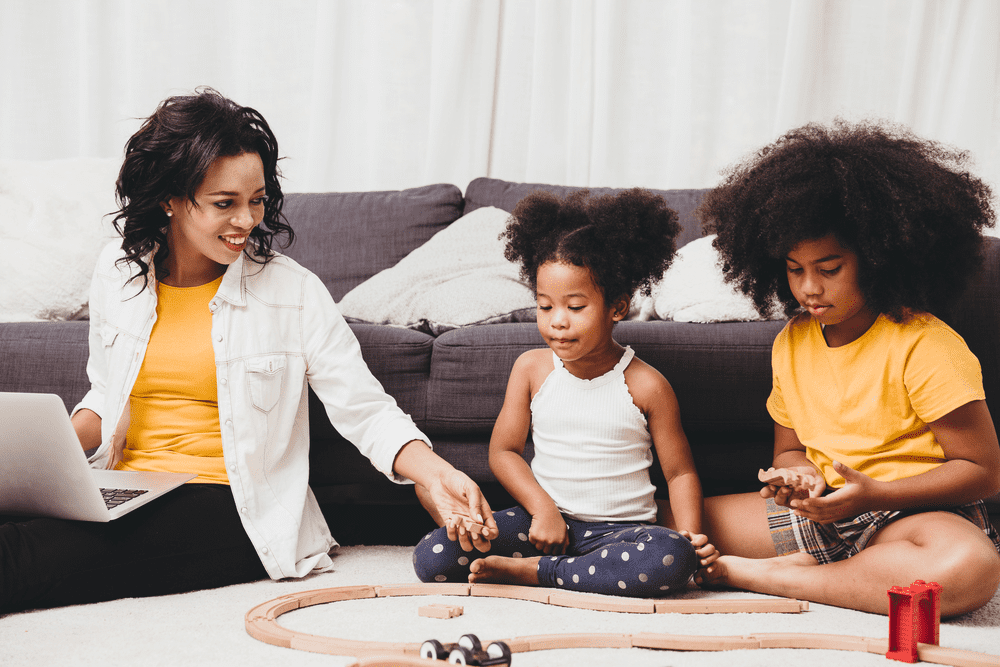 11. Proofreader or Editor
Do you have an eagle eye? Do typos drive you crazy? Then consider working from home as a proofreader or editor. Most positions are freelance, which means you have a flexible schedule and you can take on as much work as you can. Others are full-time roles that come with benefits. The training and education you'll need will vary greatly depending on the employer. If you're interested in becoming a proofreader, check out this free training webinar.
12. Community Moderator
If you love working online, consider working as a community moderator. In these positions, you'll oversee forums, online groups, and social media accounts to ensure that rules are being followed, questions are being answered, and spam and junk content are being removed.
If this sounds like a fun opportunity, check out the companies below:
13. Website Tester
Did you know that companies will pay good money to ensure their websites are user-friendly? It's true! While you're not going to get rich completing website audits, it is a flexible and straightforward way to make some extra cash. You don't need a phone to complete these assignments, but you will need a laptop with a webcam and microphone to record your findings.
Check out the companies below if you'd like to get paid to test websites for usability:
14. Social Media Marketers
Do you have a passion for social media platforms like Twitter, Facebook, Instagram, LinkedIn, Pinterest, and TikTok? Do you have excellent written communication skills? Then consider working from home as a social media manager or content specialist.
As a social media manager, you'll create social media posts; you'll monitor conversations online, and promote various products and services online with paid ads. The pay rates for social media marketers vary greatly and depend on factors like education, effectiveness, experience, and creativity.
15. Internet Researcher
Do you love surfing the web? Are you great at finding the needle in the haystack? Then consider working as an internet researcher. In this non-phone job, you'll be completing research tasks for various individuals, companies, and businesses.
16. Marketing Associate
Do you have a marketing or advertising degree? Do you have previous marketing experience? Then use your skills and knowledge to land a remote marketing position. With digital marketing, you can work in a wide variety of specialties, including SEO, paid search, video creation, account management, influencer marketing, consulting, and more!
Here are some companies that regularly hire for these remote positions.
17. Online Tutor
Are you a math or science whiz? Online tutoring can be an excellent home-based opportunity, especially for those people who have extensive knowledge of a subject, such as a college student who is majoring in English, a school teacher, or a person who is fluent in a foreign language.
While these positions don't require being on the phone, some require face-to-face interaction via a webcam or online software like Skype or Zoom. With others, you can answer homework questions via email or text.
18. Personal Stylist
Do you love fashion? Are you a creative individual who has an innate sense of style? Then try your hand at online personal styling. In this role, you'll curate a set number of clothing items and accessories based on the client's fashion profile.
19. Image Reviewer and Photo Editor
Do you have an eye for execution and detail? Then maybe working as a freelance image reviewer or editor is your calling. These positions require some experience but are perfect for individuals with a creative flair, and they can be completed 100% online.
20. Closed Captioner
Are you a visual learner? Can you type quickly and accurately? Then consider working from home as a closed captioner. In this position, you'll view video clips and transcribe the audio portion into text — no phone work required! Here are a few hiring companies to check out.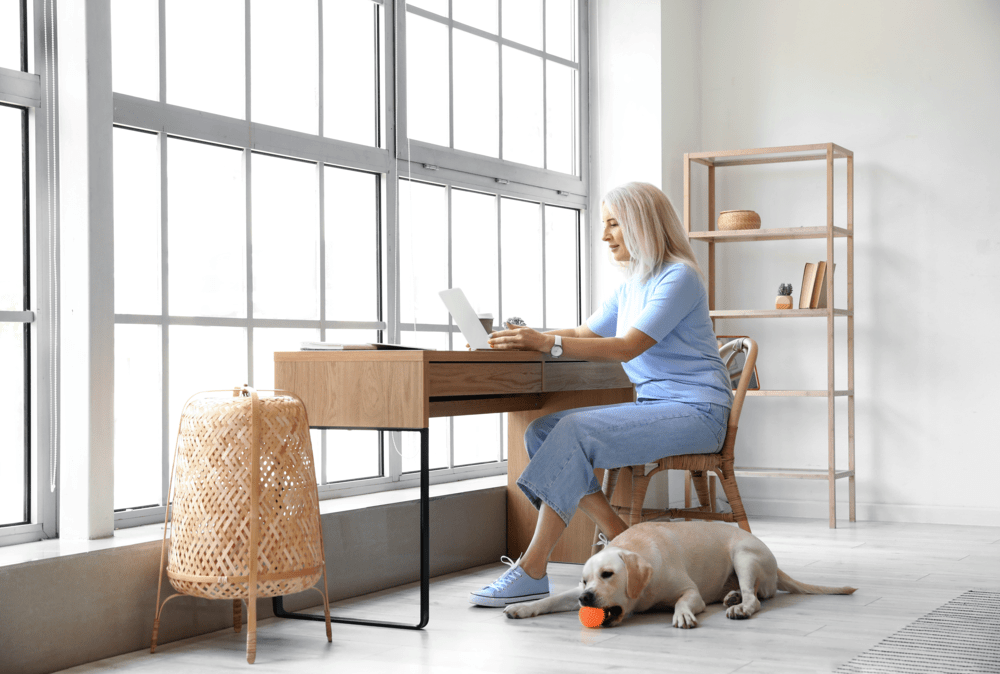 21. Virtual Assistant or Paralegal
Virtual assistants (VAs) perform various administrative tasks like answering emails, data entry, blog management, bookkeeping, editing, proofreading, marketing, research — and the list goes on and on. The services that you offer will all depend on your skills, experience, and education. There may be an occasional phone call that you need to make, but for the most part, this position is phone-free!
If you want to work in the legal field, helping lawyers with research, filing documents, and case preparation, online paralegal work is a good non-phone option. You'll generally need a bachelor's degree and online paralegal training for these roles.
If being an online administrative assistant sounds appealing, check out the following companies.
22. Online Test Scorer
If you have a bachelor's degree and you would enjoy reading student essays and short answers on tests, becoming an online test scorer may be your calling. Most online test-scoring jobs are seasonal with part-time hours — look at these companies for openings.
23. Translator
If you have a working knowledge of two or more languages, along with excellent written communication skills, you can work from home as a translator. Translators take one language and translate it into another; the types of projects are varied from simple documents and sub-titles to full-on books.
24. Graphic Designer
If you're skilled in using platforms like Photoshop and Canva and have a creative flair, you can work from home as a freelance graphic designer. From logos and branding materials to building websites and creating social media content — there are a wealth of opportunities for the taking.
25. Medical Coder and Biller
Did you know that each service a doctor provides to a patient has a unique billing code? And did you know these billing codes must be used when doctors bill insurance companies? If helping doctors and medical professionals file claims sounds appealing, medical billing and coding may be your path to working from home. You will need specialized training, which you can complete in 4-6 months through an online program like CareerStep.
26. Instructional Designer
Instructional designers research, write, design, and create training courses and manuals for a wide range of people like educators, students, and employees. Some instructional designers are tasked with training, but most of your job duties in this role are behind the scenes. To work as an instructional designer, you'll either need a degree in the subject being written about or a degree in education; you should also enjoy writing and editing.
27. Non-Phone Remote Nursing Jobs
Believe it or not, there are remote nursing positions that don't require you to be on the phone. Specialties like HEDIS (Healthcare Effectiveness Data and Information Set) nurses, utilization review nurses, clinical research associates, and data abstractors work with data and compliance, ensuring procedures are followed out correctly and that they are medically necessary. If this sounds appealing, check out the hiring companies below.
28. Fraud Investigator
Financial institutions, e-commerce stores, healthcare companies, and insurance companies hire work-from-home fraud investigators to look at financial transactions for fraud, abuse, and irregularities. For this non-phone position, you should be detail-oriented and enjoy doing research. Some companies only require customer service experience for these roles, while others require a criminal justice degree or a CAMS certification (Certified Anti-Money Laundering Specialist).
29. Video Editor
With the popularity of platforms like TikTok and YouTube, the demand for skilled video editors has skyrocketed. With this non-phone work role, most of your work time will be spent behind the scenes working on lighting, sound, transitions, and special effects. Most of the remote video editor roles that I've seen don't require a college degree; hiring companies are more interested in your portfolio and the ability to use software programs like Camtasia and Adobe Suite. With video editing, there are part-time, freelance, and full-time roles, so this is a great flexible work opportunity.
30. Netflix Tagger
I learned about this work-from-home job on TikTok; however, I've never seen an actual job posting on the Netflix website for this position. According to this interview with Greg Harty, an actual Netflix tagger, it is a real position that requires a love of movies and, likely, experience or education in radio, television, and film.
In these roles, you watch movies and tag them with the appropriate keywords, genres, and descriptions. It sounds like a dream job, right? Well, beware because there are tons of fake postings for these jobs on random job boards. The only place you can apply for these non-phone jobs is on the Netflix website, and I actually think they are now called content editorial analysts.
I found one content editorial analyst opening in Korea (that was not remote), and the primary job duties were to "analyze, tag, research, and write about Korean movies and TV shows with attention to detail while also understanding the underlying creative intent".
If you want to keep tabs on this role, you'll need to periodically check the Netflix website for future job openings. Unfortunately, they do not have a way to set up job alerts. They do, however, have other non-phone remote work roles in areas like tech, engineering, and data.
31. Provider Enrollment Specialist
Another non-phone work-from-home job is that of the provider enrollment specialist. In these roles, the specialist researches, reviews, analyzes, and manages provider enrollment applications to ensure they are in compliance with guidelines. In this position, you may have to make an occasional phone call to obtain information, but you're not taking inbound calls like a customer service agent.
Most provider enrollment specialist jobs require prior experience in medical terminology, appeals, claims, or customer service. Some companies will also require an associate's or bachelor's degree. You can easily find these remote positions at hospitals, insurance companies, and medical clinics.
Here are some companies you can explore for openings:
Conclusion
Whatever your reasoning is for not wanting to work on the phone, there are plenty of non-phone jobs for remote workers. Whether you're a mom with kids and pets running around and lots of background noise, or you find customer service work draining, there are good options for you to make money from home without being on the phone!
Want more non-phone job leads? Sign up for our free newsletter, where we send out new work-from-home job leads biweekly.
Originally published February 5, 2014. Content updated April 2023.